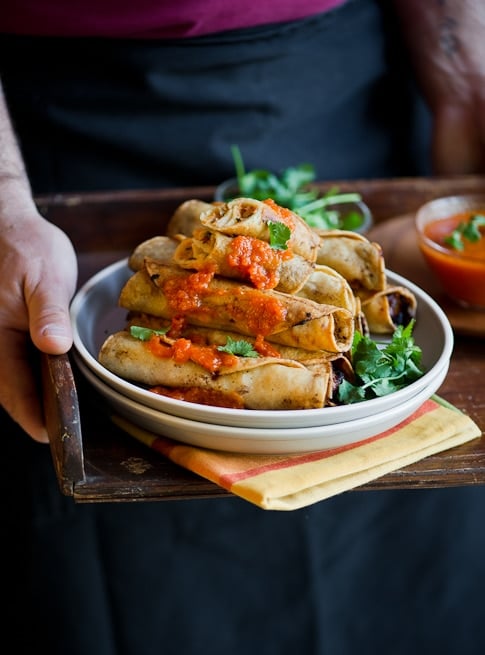 It's safe to say that regardless of how many tacos we eat, we can always find room in our stomachs to fit more.  Layers of fresh salsa, pickled vegetables and warm chile heat make tacos so exciting to eat. Each is unique, customized and no two tacos are alike.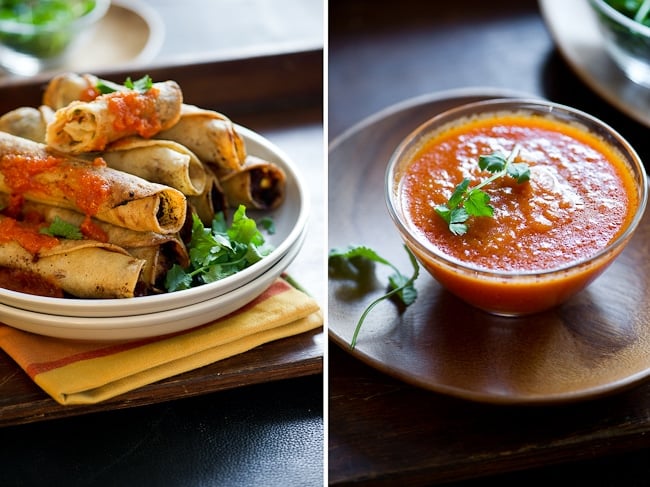 Then there are the crispy tacos. Oh, crispy. Tacos.  We've fried up tortillas, folding them in the process and had crispy tacos that way. But Chef Rick Bayless introduced us to his version of a rolled crispy tacos with fresh tomato broth. This warm, crispy, crunch takes the eating experience to a whole nother level.
When we first saw the recipe, we didn't think they were tacos at first sight. Because they were rolled, taquitos and floutas came to mind. Then we googled to see what the difference between the two were and it basically came down to the size and/or type of flour/corn tortilla they were made of.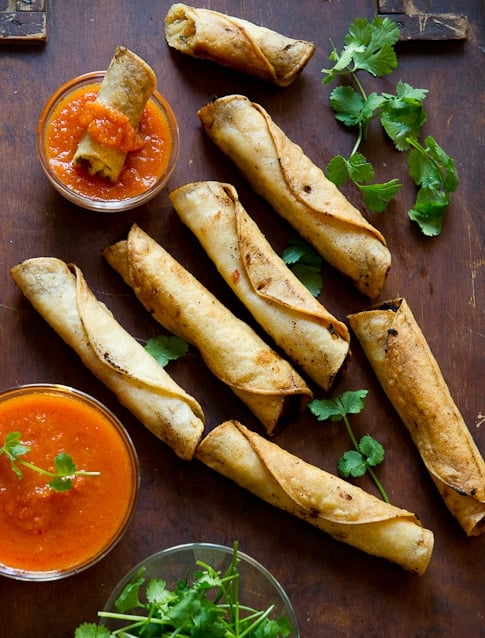 After about 30 minutes of delving into the research of tacos, taquitos and floutas, it's obvious we left the computer more hungry than ever before. Rick Bayless's version is wonderful with the contrast of the crispy hot tacos against the flavorful tomato broth. Best of all, they're quite simple to make. The only problem is that they're so addicting to eat, you'll have to prepare at least 5-6 per person. For us, these tacos became a full dinner, rather than just a appetizer.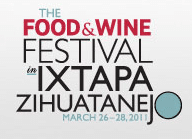 Rick Bayless will be in Ixtapa/Zihuatanejo for this years Food & Wine Fesitval celebrating all the beautiful flavors of Mexico. This will be a fabulous 3 day event and if any of you were planning to do an eating tour of Mexico, this would be a great time! The event will not only showcase the food of the local Ixtapa/Zihuatanejo region, but all of Mexico as well.
We'll be attending as well to celebrate the 32 tastes of Mexico's diverse 32 states. Hope to see some of you there!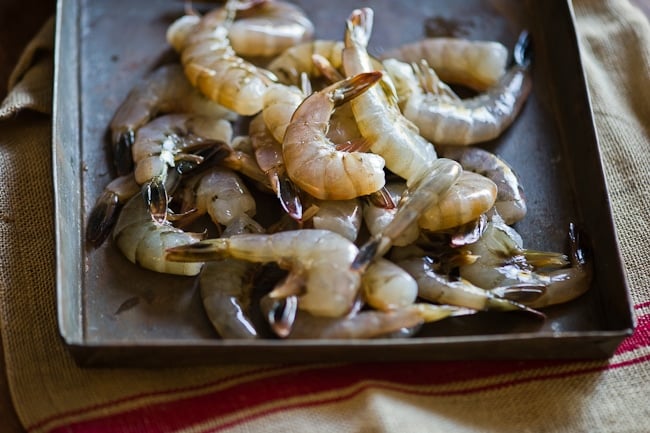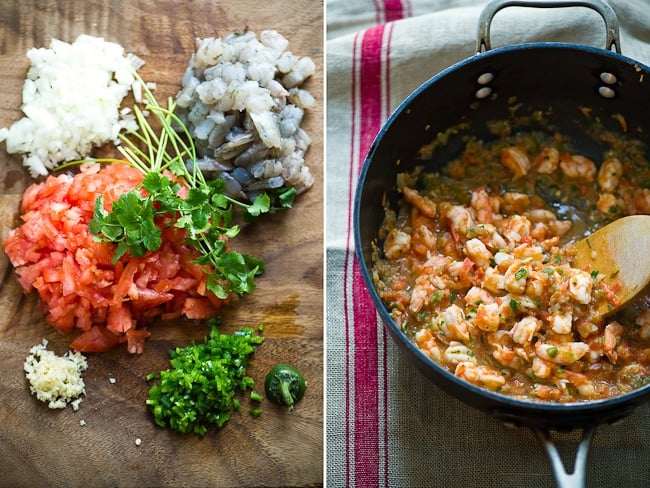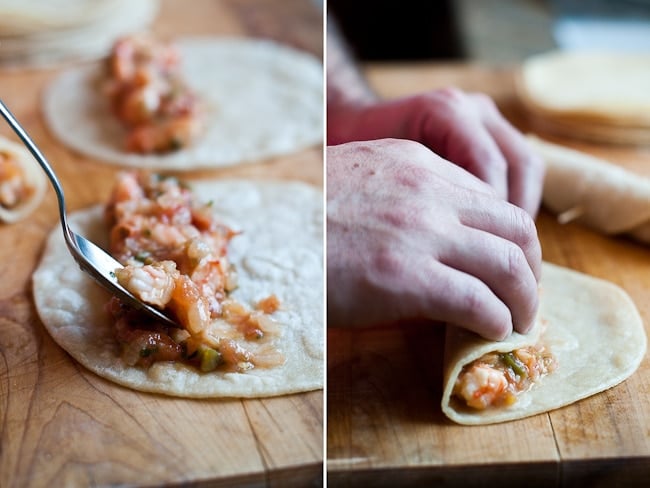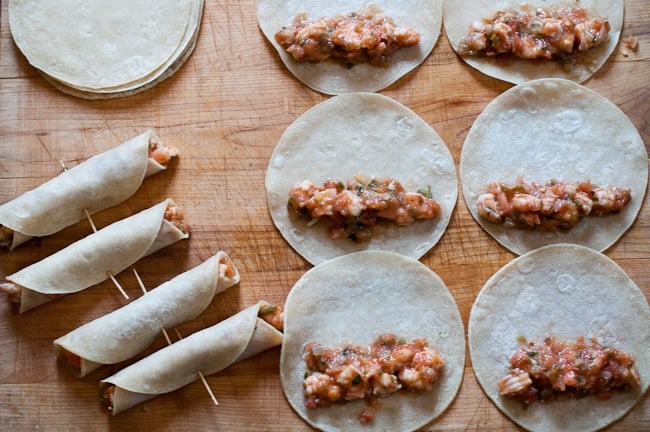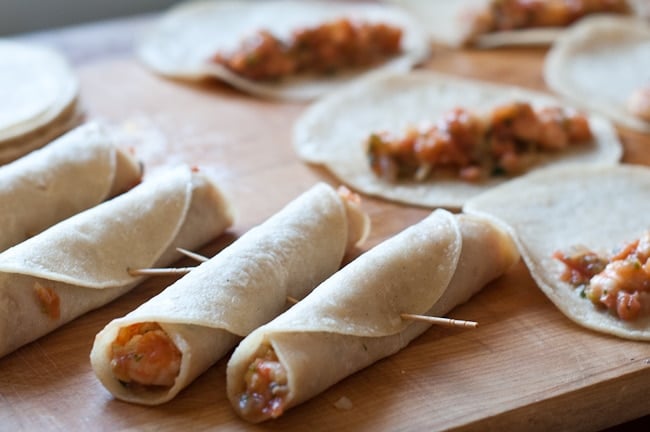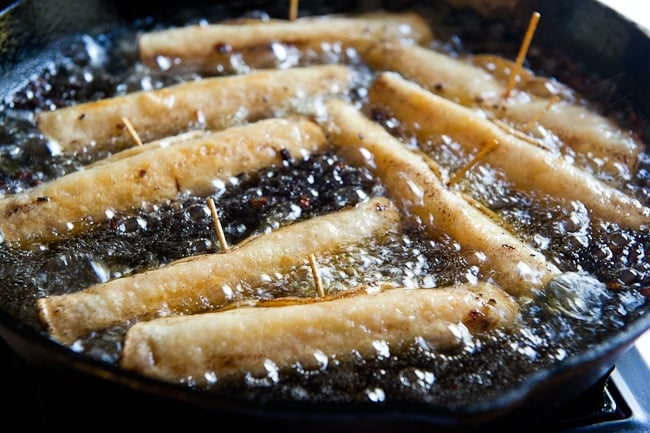 Crispy Shrimp Taco Recipe
Yield: 3-4 (12 tacos)
Cook Time: 20 min.
Adapted from Rick Bayless' Fiesta at Rick's. The crispy tacos are fantastic on their own, but Rick's suggestion of serving them with a tomato broth (*recipe follows crispy shrimp taco recipe) takes the shrimp tacos over the top. Feel free to serve with your favorite salsa, guacamole, or even a mango salsa.  Or maybe add some diced avocado into the tomato broth.  Make sure your oil is properly hot when frying, it makes all of the difference between a mediocre crispy tortilla and a fantastic one. The shrimp filling and tomato broth can be made the day before if needed.  Make sure to keep them stored in the refrigerator if you are prepping them ahead of time.
Ingredients:
Taco Recipe Ingredients
1 T (15ml) Olive Oil
1/2 medium Sweet Onion, cut into 1/4" dice
2 Garlic Cloves, crushed or finely chopped
preferred Spicy Chilies to taste, usually about 2 Jalapenos, finely diced
1 t (5g) ground Cumin
3/4 lb. (340g) Tomatoes (@ 2 medium sized tomatoes), diced into 1/4" or ran through food processor's coarse grating disc
1 lb. (455g) Shrimp, peeled, de-veined, and cut into 1/2" pieces
3 to 4 T chopped fresh Cilantro
Sea Salt, to taste
12 thin Corn Tortillas
Oil for frying (enough to have a depth of 2" in your pan), preferably Grape Seed Oil or Peanut Oil
Tomato Broth Recipe Ingredients
3/4 lb (340 g) ripe Tomatoes, roughly chopped
1/2 med.  Sweet Onion, roughly chopped
2 cloves Garlic, peeled and roughly chopped
1 T Olive Oil
2 c Chicken or Shrimp broth
Sea Salt to taste
Directions:
Taco Directions
Make the filling
1. In a large saute pan, heat olive oil over medium heat. Add onion and cook, stirring occasionally, until translucent, @ 3-4 minutes, then add garlic, chilies, and cumin and cook for another minute.
2. Add the tomatoes and cook, stirring occasionally, until it reduces to a thick sauce, about ketchup consistency. Add the shrimp and cook for one minute.  Remove from heat and allow to cool.  Stir in cilantro and season with sea salt to taste.
If serving with Tomato Broth, make now.  *recipe follows
Roll and  Fry Tacos
1. Heat the oil to  about 350-375º, or until hot enough a drop of water reacts quickly when flicked in oil. Grab two tortillas at a time with a pair of tongs, and dip them for few seconds in the oil to soften then.  Pat dry with paper towels and pile them into a single stack.
2. Spoon 3 T of filling in a line across the bottom of the tortillas. Tightly roll them up the tacos, then skewer with toothpicks to keep them closed.
3. Fry the tacos in the hot oil for about 1.5 minutes, then turn over and finish frying until golden. Drain on paper towels and serve immediately with tomato broth poured over.
Tomato Broth Directions
1. Combine tomatoes, onion, and garlic in a blender. Puree until smooth.
2. Heat the olive oil in a medium saucepan. When hot enough to sizzle a drop of the puree, add all of the puree, cook and stir until noticeably thicker and darker, @ five minutes. Add the broth, bring to a boil and simmer on medium-low for 30 minutes. It should have a "soupy" consistency. Add a little water if necessary. Season with sea salt to taste.
Hello! All images & content are copyright protected. Please do not use our images without prior permission and do not re-publish this recipe. Simply link back to this post for the recipe. Thank you.
Recipe Note for Salt: All recipes containing salt are based on kosher or sea salt amounts, not table salt. If using table salt, reduce the amount used to taste.
[ad]