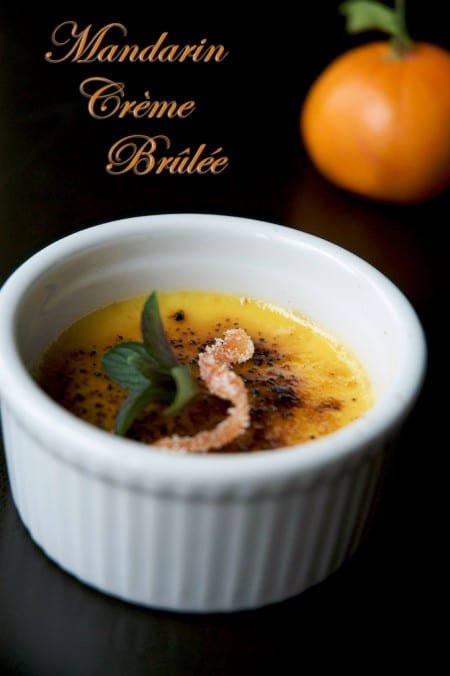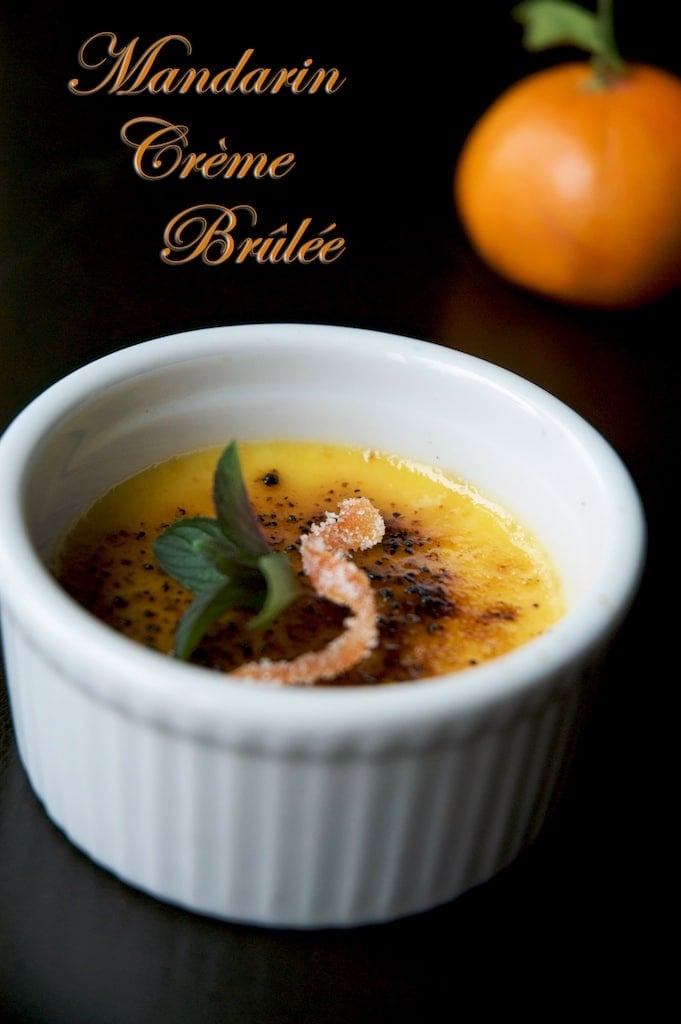 Just before Diane left for Club Med Bahamas, all of you twitter followers may have seen her tweet purring about me making her a mandarin creme brulee.  Yes, I admit, I am a closet pastry fiend.  I loooovve desserts.  It started with a love of eating them (I have not a sweet tooth, but a sweet jaw), then progressed (many eons ago) into a love of making them.  Diane is our household cakemaker girl so those I leave for her pleasure,  but the rest of the desserts are mine.  Few culinary accomplishments make me happier than when I nail a dessert.
In the garden, here at the WORC household, spring is in full stride.  The strawberries are turning from white to red, the wisteria is in bloom, and the various stone fruits have been sending out their flowers, begging for the little pollinators to come visit.  But above all, the citrus is going f@#$ing crazy.  There is new growth everywhere, flowers are popping up aplenty (we saw our first yuzu flower yesterday!!!) and the fruit is plumping up and filling with delicious, succulent sugars.  At this time of year there is one citrus which has ripened ahead of all the rest.  Our beautiful fremont tangerine.
Only two years ago, our tangerine was a little "charlie brown" citrus trees. Then at the beginning of last year, the roots hit a sweet spot and it EXPLODED!  Now the tangerine is our pride and joy, and to make anything with it's fruit is pure pleasure (thankfully it puts out more than we can eat straight up.)
You may be asking yourself, "What's the difference between a mandarin and a tangerine?" We certainly did, and here is a brief synopsis of what we found.  Nothing.  They are one and the same.  Mandarin in the general term for this type of citrus.  Mandarins most likely originated in China.  As they made their way around the world, they took on different names and they developed subtle variations.  Those going through Tangier-Morocco took on the name tangerine.  In Europe, the clementine became it's own variation.  Asian varieties more or less kept mandarin. And over the centuries, more and more subtle variations ensued.  Today, the plant varieties found in nurseries will offer many of the variations, demonstrating how global our world has become. Although in marketing many times the names will be misused or used interchangeably.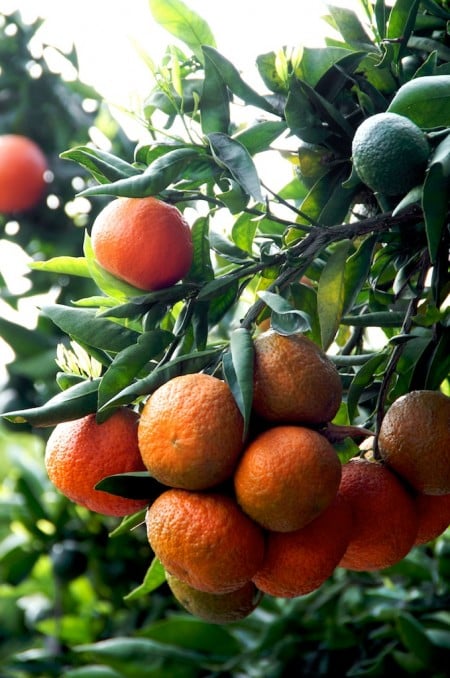 our tangerine/mandarin tree
So what is the proper naming?  Mandarin is the most general term to refer to them all.  The rest is variation details.  Just like a cognac is a type of brandy, a tangerine or a clementine  are types of mandarins.  But that isn't to say there aren't excellent specific types of mandarins.  Those varieties that developed in Asia will still often carry the mandrin moniker in the common name. Make sense?  If not, just ask Tangerine Man, who says that they are "two words for the same thing, technically Citrus reticulata Blanco."
-Todd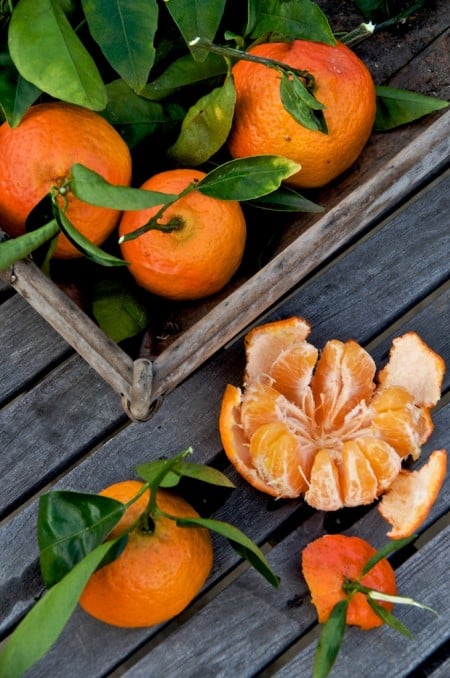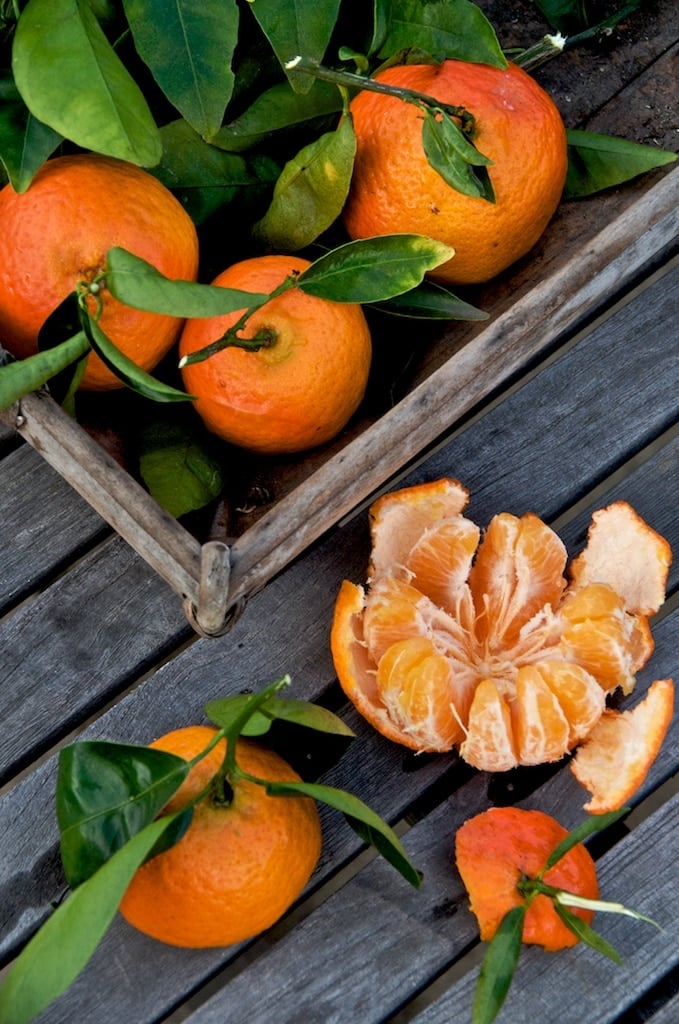 This recipe adapted from Bo Friberg's The Professional Pastry Chef book creme brulee recipe.  Through Mr. Friberg's book we've learned (among a million other things) of a beautiful little twist that will make your creme brulee a notch better than most others out there…  Brown sugar for the topping.  "But brown sugar is too moist!" you protest.  Not with Bo's savvy technique.  Dry out the sugar in the oven, the presto, perfect creme brulee topping.  In addition, this creme brulee recipe, with our little additions, is the best we've  ever had. Smooth and silky with the gentle citrus notes to brighten up the custard.  Our summertime variation of creme brulee is a lime creme brulee which has an incredibly brilliant flavor.  However for winter and spring, our mandarins are king and so to keep with the seasons, give us a little variation, and to find one more way to enjoy our garden's bounty, we have created this, our Mandarin Creme Brulee.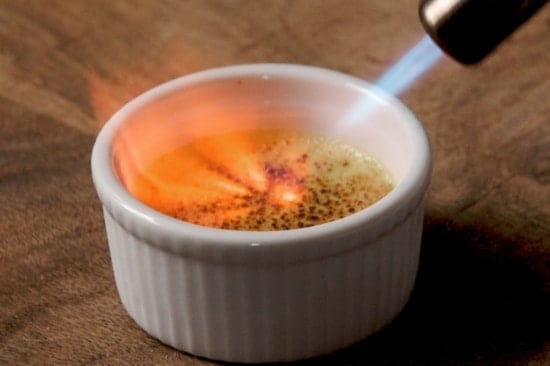 Mandarin Creme Brûlée Recipe
This recipe adapted from Bo Friberg's The Professional Pastry Chef book creme brulee recipe.  Through Mr. Friberg's book we've learned (among a million other things) of a beautiful little twist that will make your creme brulee a notch better than most others out there...  Brown sugar for the topping.
Ingredients:
Creme Brûlée Ingredients
3 large eggs
5 large egg yolks
4 oz (112g) light brown sugar
1/2 cup (120ml) fresh mandarin(tangerine) juice
2 1/2 cups (600ml) heavy cream
zest from 6 full-sized mandarins (tangerines)
1/2 teaspoon (3g) salt
1 teaspoon (5g) vanilla extract
Topping
3 oz (85g) light brown sugar
Directions:
Mix (do not whip) the egg yolks, eggs, mandarin juice, and 112g of brown sugar until everything is nicely combined.  Put cream into a saucepan, add mandarin zest, then over medium heat, warm cream to scalding point (stirring occasionally).
Gradually pour the egg mixture into cream, stirring constantly.  Add salt and vanilla. Strain custard (it will still be liquidy) into a container that is easy to pour out of, using a fine mesh strainer.
Preheat oven to 350° F.  Put ceramic ramekins (ideally should be between 3 1/2"-4 1/2" in diameter) into a roasting pan or other suitable dish (has to be taller than ramekins.)  Add hot water until it reaches about 3/4 the way up the ramekins.  Divide the custard between your ramekins filling about 3/4" deep.
Bake custards for @ 25 minutes, or until they are set. Do not overcook or it will mess up the texture. Remove custards from the water bath and allow to cool for about 20 minutes.  Then refrigerate them until they are thoroughly chilled.  The custards will keep for 4-5 days, just keep them well covered to keep other fridge smells from permeating them.
The second set of brown sugar is for the topping (pay attention here folks, this is huge!) Preheat oven to 300°F. Line a sheet pan with baking paper, spread out brown sugar into an even, thin layer.  Put in oven for a until it starts to dry out (@3-5 min.).  Remove from oven, allow to cool, then roll with a rolling pin to break up into granules again.  Reserve until you are ready to serve the creme brulees.
Serving time!  Sprinkle an even layer of the dried brown sugar on top of the custards.  Torch it with quick swirling motions.
Hello! All images & content are copyright protected. Please do not use our images without prior permission and do not re-publish this recipe. Simply link back to this post for the recipe. Thank you.
Recipe Note for Salt: All recipes containing salt are based on kosher or sea salt amounts, not table salt. If using table salt, reduce the amount used to taste.
Don't forget Pi Day coming up… 3.14.09 of course! That's only a few days away.  We plan on making a pie featuring another treat in the garden.  Any guesses as to what that may be?  Check our Victory Garden page if you forget what we have growing.
P.S.  Did everyone see the latest "No Reservations" where Bourdain went to Vietnam again? That's the Vietnam Diane & I love.  Even though they didn't say specifically, one of the beach shots is where a large part of Diane's family lives.  Watching it made us miss Vietnam even more than usual, and inspired us to finally create some videos from our travels in Vietnam.  Stay tuned for an upcoming Vietnam video series from us, the WORC.
[ad]