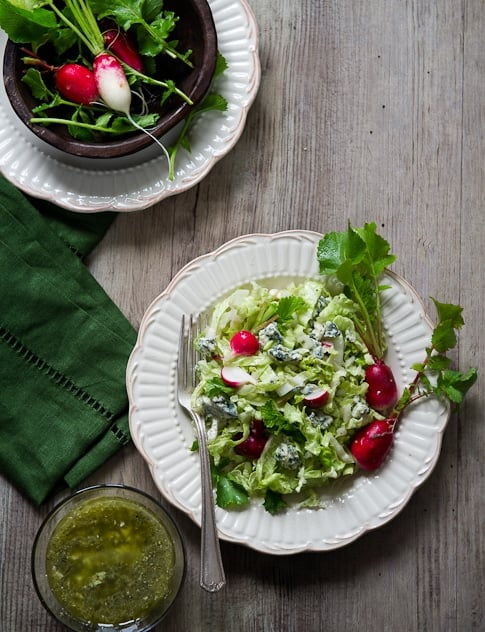 We're half way through April 2011. How did that happen? Are we the only ones feeling like we should still be in February? From the sound of all the snow falling throughout the cold regions of the country, we certainly should be in February!
Obviously we've been hammered with work and we're definitely not complaining. It's been a wild and wonderful ride so far this year. With some ups and downs lately, we've been able to pick up and start over again and we still love our job.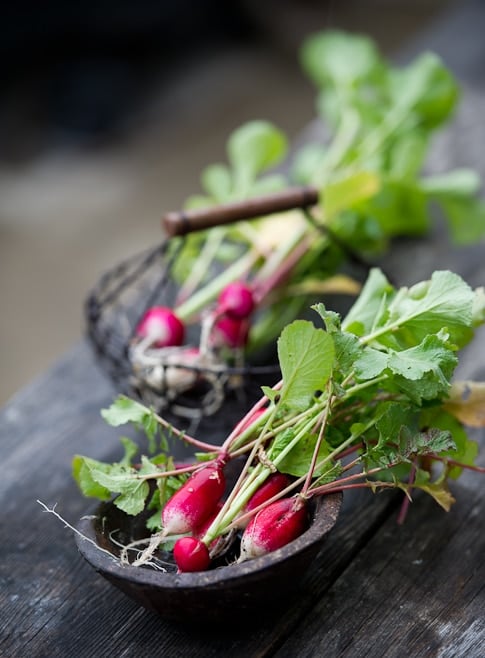 With so much time away from the garden, it's always such a treat to see Spring vegetables explode in the recent warm weather. Unfortunately, we haven't been able to keep up with some of the radishes that have been flowering faster than we can eat them. Luckily, the wonderful thing about about radishes is that they sprout and swell so quickly. Within a few weeks we can have basket full of tender, bite sized radish roots. What a culinary treat and gardeners dream they are.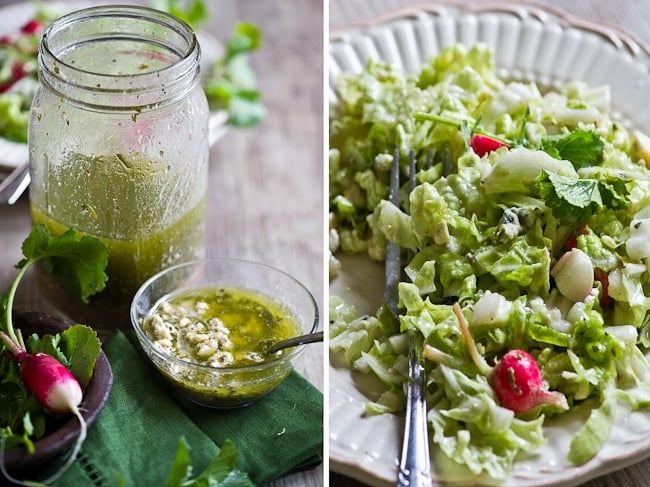 Napa cabbage makes a wonderful chopped salad
With the greens still thriving before we hit the springtime/summer heat, it is a perfect time for a chopped salad. A little crunch and spice from the radishes, a little green roughage, and an herb laden blue cheese dressing… how perfect of a spring salad is that. Delicious!
This dressing is an adaption from My Nepenthe, a cookbook/memoir of the funkadelic, gastronomic Big Sur institution, Nepenthe. It is really good. But just about anything with blue cheese is really good.  It's kinda like pork belly or bacon. Automatic gastro love.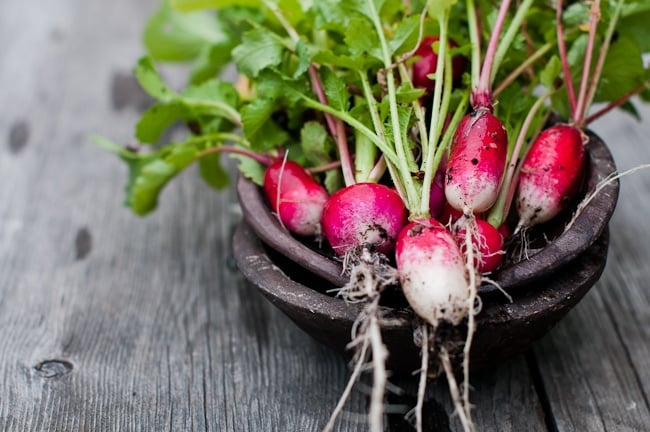 Sierra guarding the precious radishes
Squirrels might steal the radishes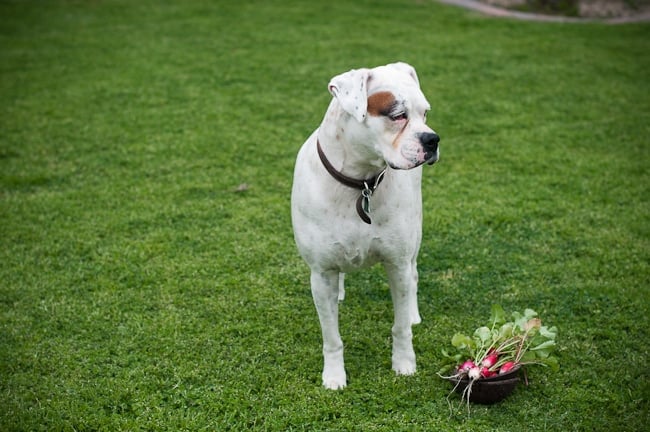 Radish protector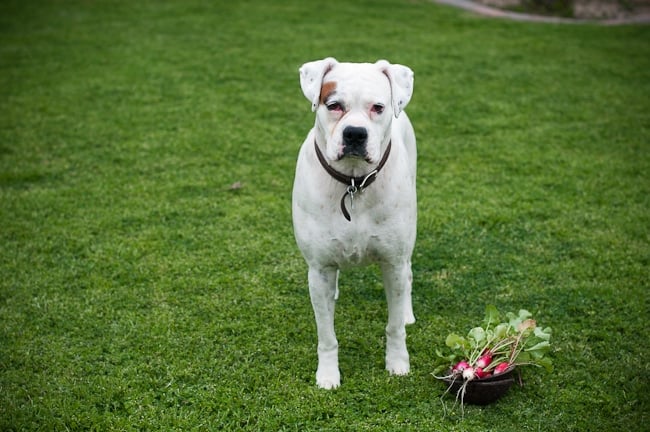 Chopped Salad with Blue Cheese Dressing
Yield: Serves 4-6.
Total Time: 5 minutes
Dressing adapted from My Nepenthe. Feel free to substitute whatever your favorite chopped salad ingredients for the salad part.  The dressing is the champion of this recipe.
Ingredients:
Blue Cheese Dressing
2 Garlic Cloves, crushed
2 t finely chopped Basil
2 t finely chopped Oregano
2 t Hot Mustard Powder
2 t fresh cracked Black Pepper
2 t Brown Sugar
1 t Sea Salt
6 oz (170g) Blue Cheese, crumbled
2/3 c (155ml) Red Wine Vinegar
1/2 c (120ml) Olive Oil
1 c (235ml) Grape Seed Oil (or canola oil)
For the salad:
about 3 cups of chopped napa cabbage or regular cabbage
fresh radishes or other vegetables, chopped
Directions:
Assemble all the dressing ingredients in a large bowl or jar. Combine well.
Toss dressing over cabbage and vegetables.
Hello! All images & content are copyright protected. Please do not use our images without prior permission and do not re-publish this recipe. Simply link back to this post for the recipe. Thank you.
Recipe Note for Salt: All recipes containing salt are based on kosher or sea salt amounts, not table salt. If using table salt, reduce the amount used to taste.
[ad]