Blackberry Tom Collins cocktail
This blackberry Tom Collins recipe was one of our first recipe posts back in 2008. It's fun to see how our photography and garden has changed over the years!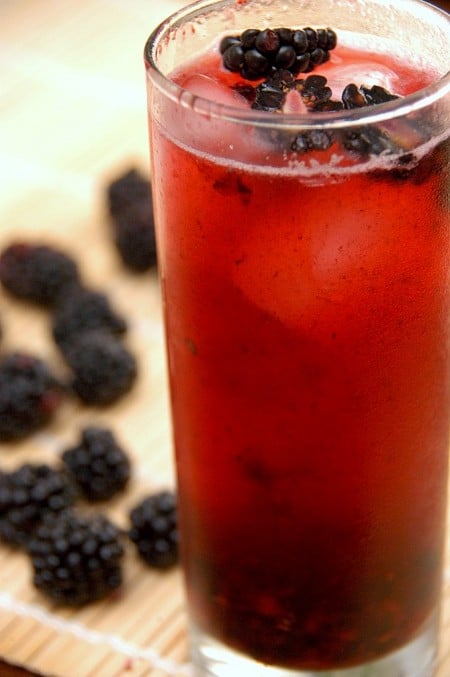 This post is dedicated to Miss Kaweah, the sweet and lucky black lab that gets to hike, romp and swim in Colorado's outrageously amazing wilderness. She's at a summer puppy camp now, enjoying a little break away from her parents.
We're envious of not just Kaweah, but of her mommy and daddy too, known to everyone as Jen Yu and Jeremy of Use Real Butter. Everyone knows that Jen's super duper fine photography skills keep us drooling over her delicious Asian dishes and picture perfect sweet desserts. We've always been jealous fans of this trio of nature lovers because they are always teasing us with their skiing pics, something we really wish we could do more often and learn better.
So when they decided to take some time out during their California trip to stop by our place, it was time to finally meet them face to face, to let them know EXACTLY what we thought of them after some good eats and intoxicating cocktails. When they walked through the door with a bottle of wine and a beautiful photograph of Colorado columbine flowers, we forgot to release all our bottled up ski, snow, mountain, lake, river and wildflower resentment. We all just squealed out our greetings, hugged and held back a little tears (well, Diane did).
Jen & Jeremy are the real deal: they're smart, fun, funny, totally down to earth, sincere , loving and one of the best couples we've met. We see lots of us in them too, they're WORC's! But they can ski, we can't! Jeremy is the quiet intellectual type, warm and a total sweet heart. But most importantly, the guy knows his drink, loves coffee and our cocktails, two things that made us instant friends! Jen brings joy to the room when she enters and when she laughs. We all immediately succumb to her infectious, powerful and radiating rays of strength, joy and love. Breast cancer has battled against Jen, but this damn disease has no fighting chance against her strength and all the love that she has to give to all living things. She has so much crazy love to give, all the beauty of the world is on her side.
The five hours we spent together went by in a flash. But in that time, we were able jet down to Little Saigon's tropical fruit stores, sip on some fresh sugar cane juice, munch on some fresh baguettes and head back to our place for an outdoor meal. After some serious grub, booze, viet iced coffee and more espresso's, it was time to say good by. So much food, laughter, doggie ear rubs, Dante's crotch sniffing and fun passed in the short time that we spent together, it was sad to say goodbye. All we needed was to have Kaweah complete the circle.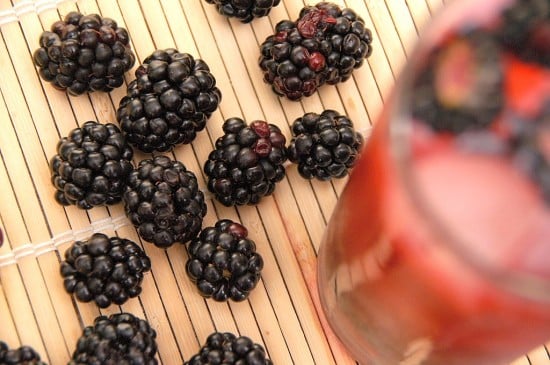 We ate so much food! For the beverages we made lots of Vietnamese iced coffee and an awesome cocktail which is basically a Blackberry version of a Tom Collins. We were first inspired to make this after Jen (a different Jen) at Modern Beet left a comment on how she was hooked on a Blackberry Bramble, which is a very similar cocktail. The blackberries have been fantastic lately in one of our favorite markets, so this has been a regular beverage right now. Thanks Modern Beet Jen for getting us started on these blackberry cocktails.
Cheers!
-Todd and Diane
Start with blackberries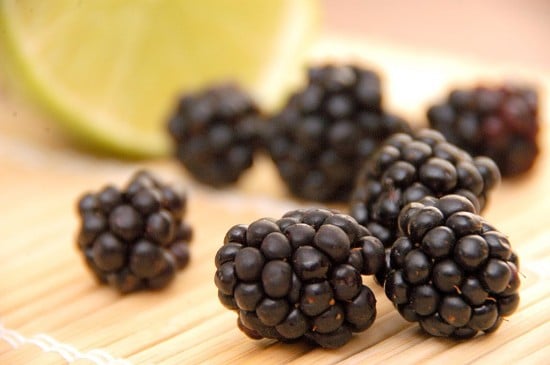 Lime juice & sugar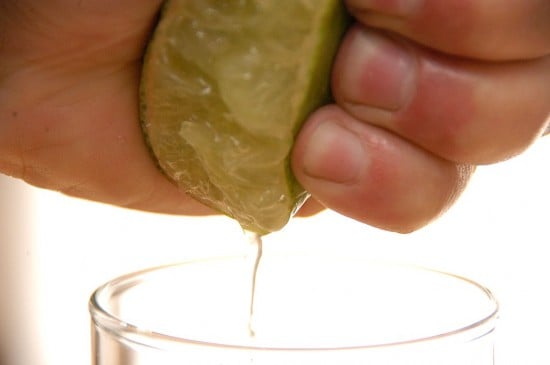 muddle, muddle, muddle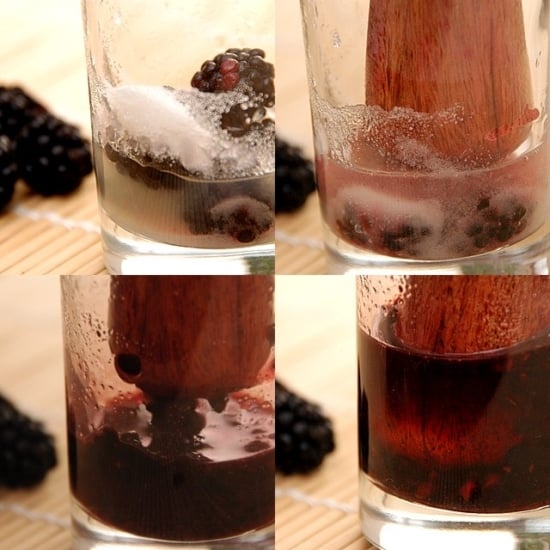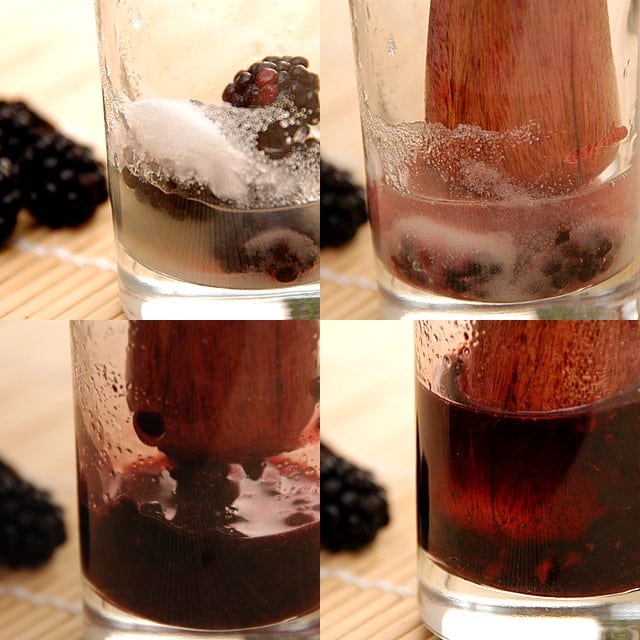 add ice, gin, and soda water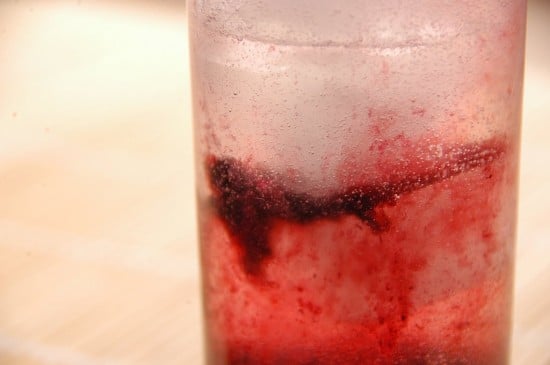 stir & garnish
Check out our Cocktail Recipes Here and our Complete Whiskey Guide.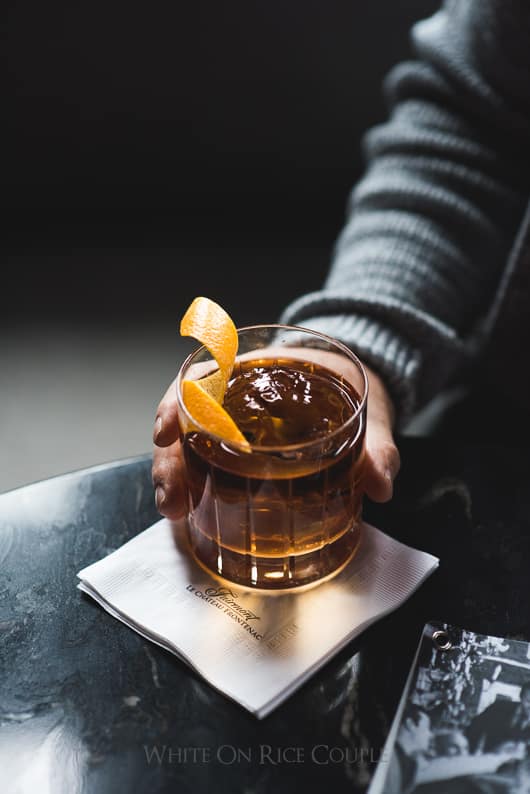 Print Recipe
Blackberry Tom Collins Cocktail
Gins will vary in flavor quite a bit. We are huge gin fans and have found some are great straight, some are great in cocktails, and others are great left on the store shelf. If we had one to choose that we would be able to get in most towns, it would be Hendricks Gin. Great in nearly any gin cocktail and it nice straight up.
Servings: 1 Cocktail
Ingredients
3 large Blackberries
1/2 ounce (15ml) fresh Lime Juice
1 teaspoon (5ml) Sugar or 1/2 oz. simple syrup, or to taste
2 ounces (60ml) Gin
3-4 ounces (90-120ml) Club Soda
Instructions
Put blackberries in a highball glass, add lime juice, and sugar (or simple syrup) and muddle (you know, smash it all together with a pestle or something similar)

Add ice, then pour in gin and club soda. Stir, garnish with a couple cut blackberries if you'd like, and enjoy.
We are a participant in the Amazon Services LLC Associates Program, an affiliate advertising program designed to provide a means for us to earn fees by linking to Amazon.com and affiliated sites.