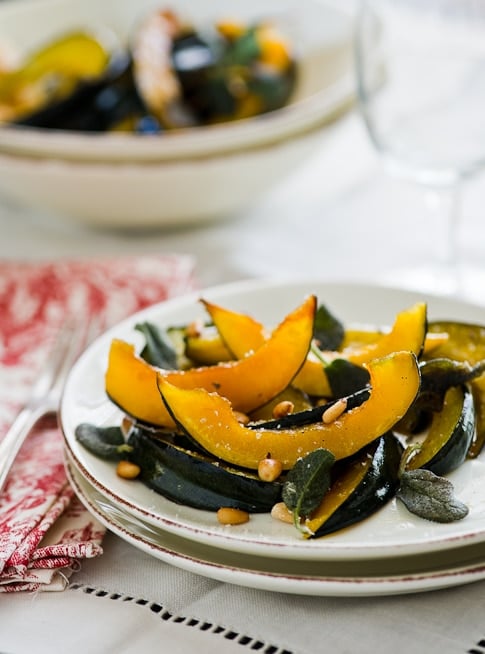 Baked acorn squash was never a dish that I obsessed over. Because of my love of butternut squash, acorn squash always seemed to hide in in the shadows of my other squash love affairs. It wasn't until I started food blogging that I really understood the appeal of these cute acorn shaped globes.
After 2 holidays of food blogging, I read a mountain of blog posts about roasted or baked acorn squash and every single post was dripping with amazing butter, sugar and more butter and sugar. I was visually hooked and put this dish on my mental notes of "must.try.soon". Now I wish I had tried it sooner because now I'm asking: Dear Acorn Squash. Where have you been all my life?!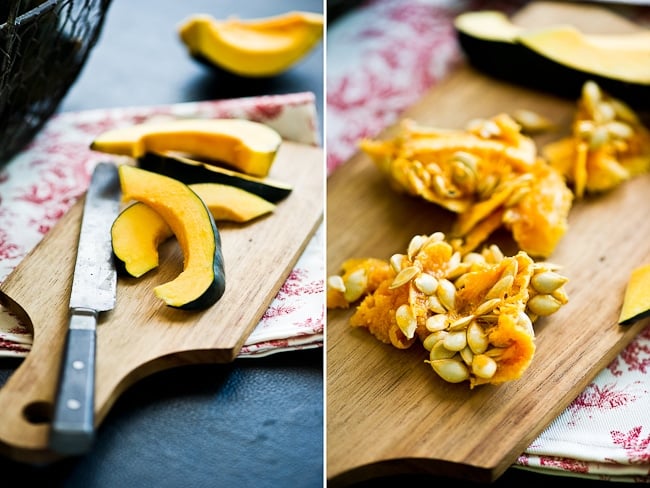 I won't make such a broad generalization that this recipe is so EASY.FAST.and SIMPLE (although that's the truth) because there is one step that can be intimidating. If you're a home cook who doesn't own a good sharp knife, beware.
Sliced squash and fresh sage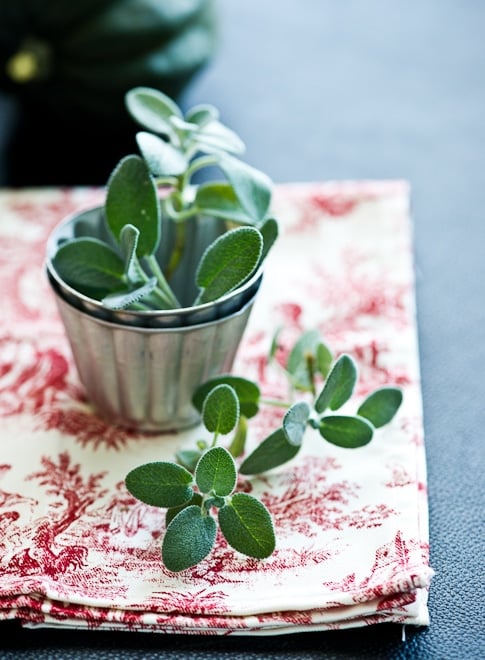 The only difficult part about preparing acorn squash (or most hard winter squashes for that matter) is that it's  as hard as rock when it's raw. One can probably use it as a lethal weapon and if thrown with enough force, the acorn squash can probably take our your enemy pretty quickly. Personally, I've never toyed with this thought, although hard squashes do make great paper weights.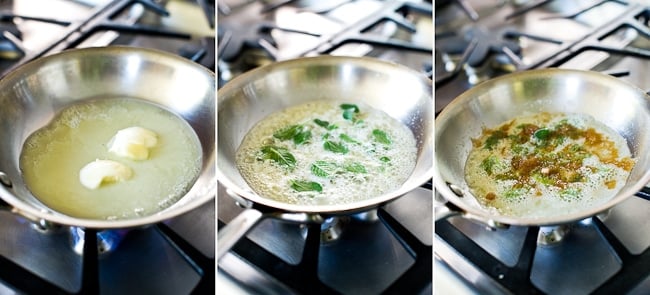 Butter, sage, sugar. Oh yeah.
If you can get past the initial cuts with a good sharp knife with safety and all your 10 digits still attached to your hand, this acorn squash recipe is as easy as pie and will be a sure winner to any holiday meal.
The oven roasting aromas of browning butter, sage and toasted pine nuts had me humming Christmas songs in the kitchen. Yes, this silly little dish put me in a good mood. Go figure. Before I knew it, the squash was finished and I was eating the warm, flavorful slices like candy.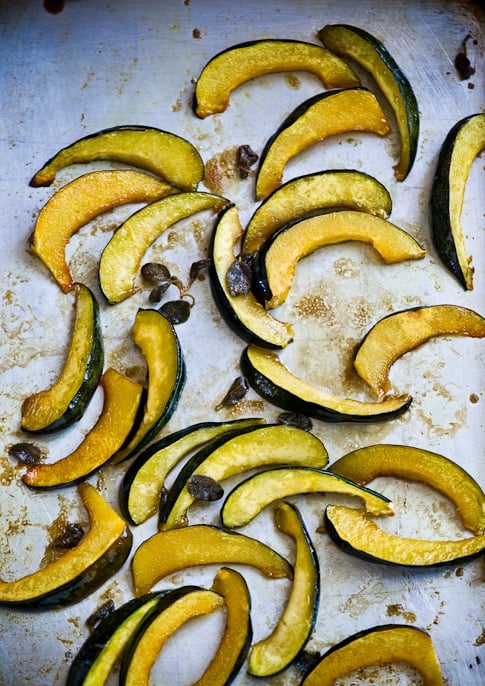 I'm obsessive about acorn squash now and it took me this long to finally discover their flavor and cooking appeal. I've found a new squash love and Dear Butternut Squash, please don't be jealous.
Happy Holidays! xoxo
Diane
More Acorn Squash Recipes from bloggers that got me hooked:
Simply Recipes Classic Baked Acorn Squash
Matt Bites Molasses Glazed Acorn Squash
The Pioneer Woman Roasted Rosemary Acorn Squash Wedges
Savory Sweet Life Acorn Squash with Brown Butter Sauce
Chez Us Roasted Acorn Squash with Goat Cheese and Tahini Dressing
Roasted Acorn Squash with Sage & Pine Nuts Recipe
Yield: 4 servings.
Total Time: 30 minutes
Ingredients:
2 T unsalted Butter
2 T Brown Sugar
@ 20 2" Sage Leaves
1 medium acorn squash (@2 lbs), sliced into 1/2" thick wedges
2 T toasted Pine Nuts
Sea Salt and fresh cracked Black Pepper to taste
Directions:
preheat oven to roast at 375°F
Melt butter a med. saucepan over med. heat. Continue cooking until the butter stops sizzling, then add brown sugar and sage leaves. Stir until everything is mixed well, then remove from heat.
Toss acorn squash and pine nuts with sage leaves and brown sugar to coat completely, then spread out into an even layer onto a sheet pan. Season to taste with sea salt and fresh cracked pepper.
Roast for 15-20 minutes or until tender. Serve warm.
Hello! All images & content are copyright protected. Please do not use our images without prior permission and do not re-publish this recipe. Simply link back to this post for the recipe. Thank you.
Recipe Note for Salt: All recipes containing salt are based on kosher or sea salt amounts, not table salt. If using table salt, reduce the amount used to taste.
[ad]