Focaccia with Pork Belly and Cipollini – Thank You Nancy Silverton
This is Focaccia Pork Belly is real special treat to share. It's also the perfect appetizer to pair with wine.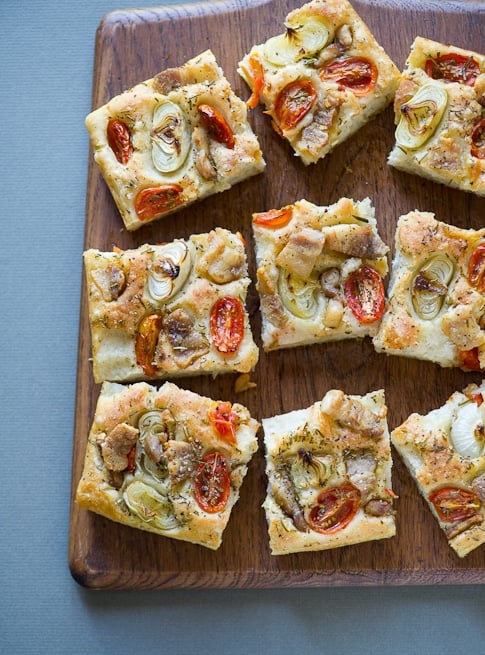 Focaccia Pork Belly
Thank you Nancy. Thank you Shirley. Thank you for your hunger for knowledge. For your brilliance. And an exceptionally deep thanks for generosity in sharing and inspiring. My baking obsession has been once again been roused and it is due to these two phenomenal ladies. The siren's call to the oven first began about two weeks ago with an article in the LA Times Food. Nancy Silverton, one of LA's restaurant matriarchs, shared her focaccia insights with one and all.
LA's bread master wasn't inspired by pans of focaccia until a few years ago when she experienced the Italian bread in its motherland. Aroused and determined to recreate the love she found in Italy, Nancy did a little culinary PI work in the kitchens of Italy.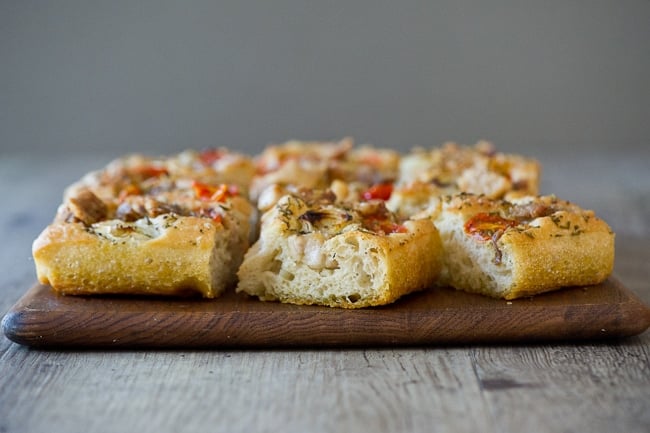 There are those who would sever a pinky to learn some of Nancy's secrets. Nearly every dough-based item coming out of Mozza leaves the uninitiated with their jaws dropped. Hell, even after having the pizzas dozens of times, ours still get a little slack-jawed, at least until we can get another bite. Now, Nancy was saving the digits, and sharing that which she knew with all who wanted to listen.
With the baking mojo beginning to flow through my veins, I stumbled upon my second breath of baking brilliance at IACP in Austin this past weekend. Saturday afternoon Diane and I were presenting a seminar on photography, so we were attending IACP with that more on our minds then actually learning from the other seminars.
We arrived only in time for the final two days due to a heavy workload at home and we still had our seminar to polish. The few other seminars we were able to sit in on were fun and led by brilliant people, but our minds were a bit distracted. Until Saturday morning.
We sneaked into The Science of Baking seminar a little late, grabbing a couple chairs in the back. There was this cute, plump Southern grandma getting all giddy about flour up on stage. I liked her.
At first, listening to Shirley was more entertaining than anything. This darling Southern-drawling grandma, all excited waving her arms around to describe the flaky texture of pie crust. And occasionally making fun of her husband's lack of kitchen savvy. She was absolutely adorable.
The more she talked, the more it became evident, this woman was f*&!-ing brilliant. She had gone through this "puff pastry phase", making puff pastry for months on end. She came up with a technique of brushing the puff pastry with ice water in between turns. This did accomplished several things: it kept the dough chilled-allowing it to be turned repeatedly instead of having to be chilled between turns, it made the dough easier to work, and it added additional layers of water to the dough, giving more steam (and more puff) to the dough when baking. F*%!-ing brilliant!
Listening to Shirley, in her excitement and wisdom unleashed my baking fervor. Give me some butter, flour, and eggs and get me to a kitchen now! Even the 20 year baking CIA veteran who was "assisting" Shirley was blown away by her insights. I want this woman to be my 3rd grandma!
I can't wait to get my hands on Shirley's book, BakeWise. It is on order and awaiting delivery. These two brilliant women, Nancy and Shirley, through their generosity and pure culinary savvy have re-light a fire in this baking boy's heart.
Here's a little derivative off of Nancy's focaccia recipe: our Focaccia Pork Belly version. I've taken our household staple bread dough, the Five-Minutes-A-Day basic dough, then used Nancy's advice of a baking in a cake pan generously coated with olive oil. Top everything with pork belly, cipollini onions, cherry tomatoes, and some fresh chopped rosemary pressed into the dough. A little sea salt, fresh cracked pepper, and a touch more olive oil. Momma mia!
-Todd
How to Make Focaccia with Pork Belly
Focaccia Pork Belly Dough before rise and after. Don't try to stretch it all the way to the sides before rising. It will spread on its own and the dough won't get overworked.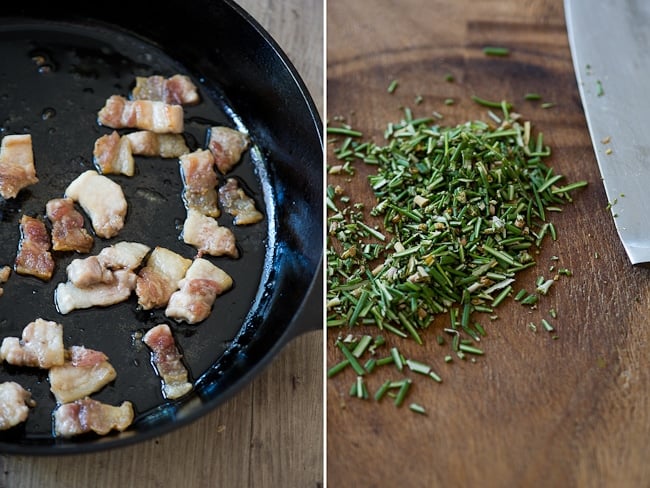 Rendering the fat from the pork belly. Love some fresh rosemary.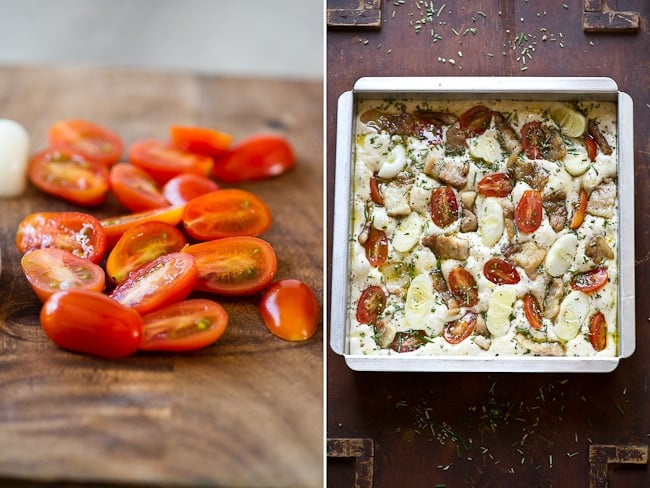 Cherry tomatoes are perfect. Slice in half and stuff in.
Press all the ingredients into the dough. Gently push them down and out towards the sides of the pan.
Brush everything with a final coat of olive oil to give the top a nice crispiness.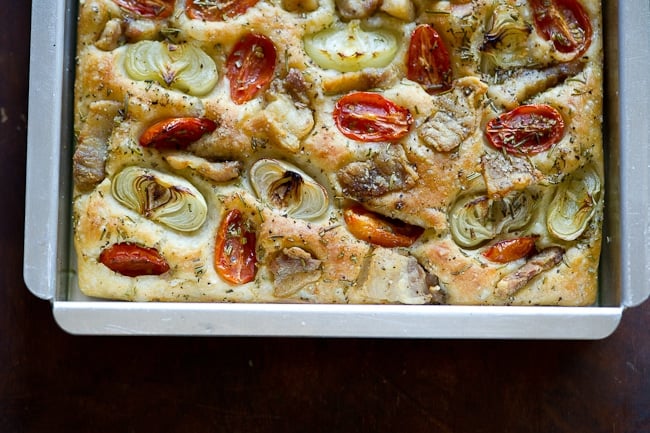 Golden.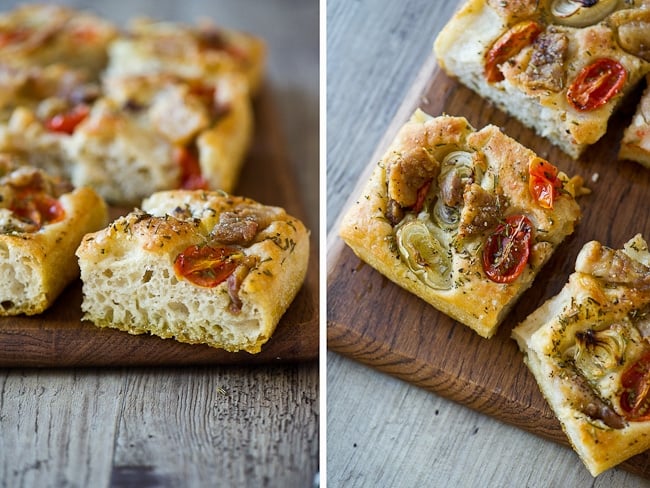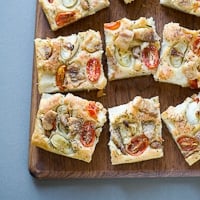 Pork Belly & Cippollini Onion Focaccia Recipe
The dough keeps easily for a week or so. It will start to develop a little sourdough flavor the longer it sits, but the texture starts to change a bit over time, so you don't want to store it too long in the fridge. If you don't have cipollini onions, substitute some thickly sliced sweet onions or shallots instead. Thick bacon will work instead of the pork belly, you just won't have as much control over the thickness of the pork. Depending on the thickness of your bacon, you probably won't need to render the bacon beforehand. Just cut it and push the uncooked bacon into the dough. It is much easier to make the dough using weigh rather than volume. After I started baking this way, life in the kitchen became easier, faster, and more accurate.
Ingredients
1 1/2 cups (350ml) Warm Water @ 115ºF/45°C
2 teaspoons (7) Active Dry Yeast (or 1 pkg.)
2 teaspoons (10g) Kosher Salt
3 1/4 cups (450g) Bread Flour
1/4 cup (60ml) good quality Olive Oil
1/3 lb. (150g) Pork Belly , sliced 1/4" thick
5 Cipollini Onions , peeled and sliced in half
Handful of Cherry Tomatoes , sliced in half
1 Tablespoon chopped Fresh Rosemary
Flakey Salt , to taste
fresh cracked Black Pepper , to taste
extra olive oil for brushing
Instructions
Combine water, active dry yeast, and sea salt in a large resealable container or bowl. Mix to dissolve yeast. Add flour. Mix to incorporate flour, cover, and set in a warm spot to proof until doubled in volume (usually 1-3 hrs depending on initial water temp and warmth of proofing area).

Chill the dough for a bit (will keep fine in fridge for several days if you want to make the dough ahead of time) to make it easier to handle (this can be skipped if you don't have the time.)

Coat a 9"x9" cake pan with 1/4 cup of olive oil, working the oil up the sides of the pan as well. Flatten dough a bit and place in pan (it won't spread all the way to the sides yet. Don't worry, as it rises it will fill the pan.)

Allow dough to rise for 1-2 hours in a warm place. (If you press your finger in the dough and it springs back, it needs a little more time. If it leaves a divot, it is ready to bake.)

While the dough rises, heat a large saute pan over medium-high heat. Add pork belly and cook for a minute or so each side to render the fat. Strain out of pan and place on paper towel to soak up excess fat.

Preheat oven to 450º F

When dough is ready, press pork belly slices, onions, and tomatoes into the dough. Sprinkle with rosemary, sea salt, and fresh cracked black pepper, then gently brush the top with olive oil.

Bake for 25-30 minutes until the top becomes a light golden brown. Place pan in the very bottom of the oven and bake for 5 minutes more to get the bottom of the focaccia a little extra crispy.

Remove from oven and all to cool a bit. Slice into 9 squares and serve.
Nutrition Information
Calories: 322kcal, Carbohydrates: 36g, Protein: 8g, Fat: 16g, Saturated Fat: 4g, Cholesterol: 12mg, Sodium: 529mg, Potassium: 161mg, Fiber: 2g, Sugar: 1g, Vitamin A: 84IU, Vitamin C: 5mg, Calcium: 18mg, Iron: 1mg
We are a participant in the Amazon Services LLC Associates Program, an affiliate advertising program designed to provide a means for us to earn fees by linking to Amazon.com and affiliated sites.