Club Med, Ixtapa Mexico and Pina Colada Recipe
This pina colada recipe story was originally shared in 2008 that was inspired from our Club Med Mexico Trip.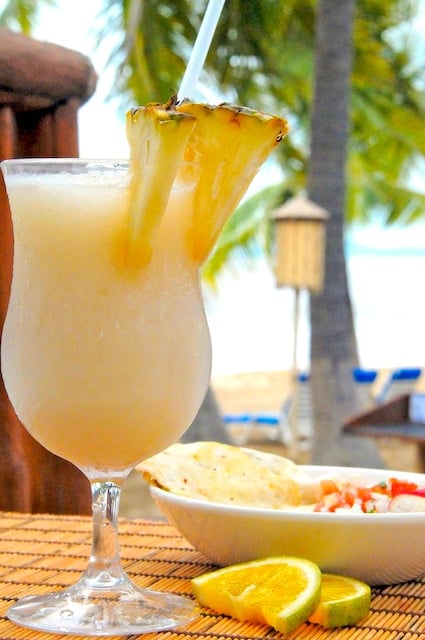 Easy Pina Colada Recipe
I'm baaaack, nicely tanned, ten pounds heavier and three bottles of Tequila richer! I just returned from 6 glorious days with Jaden of Steamy Kitchen at the luxurious Club Med resort in beautiful Ixtapa, Mexico. This trip has me spoiled, lazy and yearning for taco's and spicy habanero chili's. For a "roughing it" type of traveler gal like me, this trip to a magnificent, all inclusive, resort was like being Cinderella in Mexico. Why was I such the lucky ducky to attend the Food and Wine Event at Club Med? Well, it was like winning the lottery. But when you have famous, talented, and generous blog friends like Jaden, the odds of winning are better! Jaden was invited to a press event at Club Med in Ixtapa, Mexico and Jaden asked me to be her videographer for her cooking video's. The answer was quite obvious when she asked me (Yes!!!) and before I knew it, I was drinking mojito's all day long (while trying to keep the video camera still) and eating five course meals every night in a surreal setting that looked like what I always dreamed of in magazines.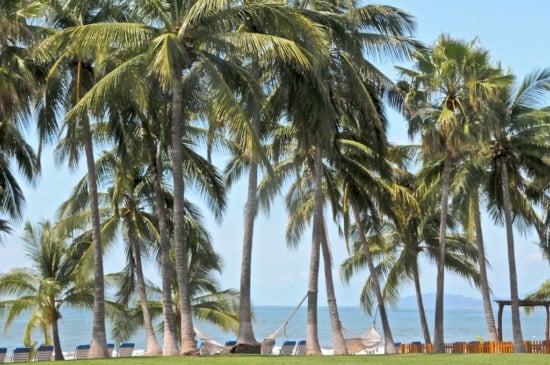 Club Med Resort in Ixtapa, Mexico
Club Med in Ixtapa was just phenomenally beautiful, peaceful and extraordinary! What an amazing place of beach, sand, sun, great food, free food, great drinks, free drinks, great activities, free activities and wonderful people! With many locations throughout the world, Club Med has put so much time, money and effort to making themselves the King of all inclusive, family focused, resorts. I was just amazed at the detail in service, the variety of activities and the professionalism and friendliness of the of the staff. I really got to know the fantastic, worldly and multi-talented staff who not only entertained me, but guided me in all my Club Med activities. Leaving there was like leaving family and paradise.
Attending the Food and Wine Festival was an added BONUS. With informative food and mixology demonstrations every day and five course dinners paired with wine in an insanely gorgeous tropical restaurant setting. The whole event was non stop food paradise. Each of the meals were prepared by talented Chefs who were flown in specifically for the event. The diversity in culinary backgrounds of each Chef made every meal unique, interesting and exciting.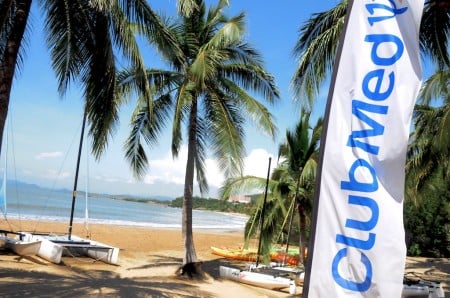 It's impossible for me to get into detail all that we ate, visited, explored and experienced at Club Med. There will be plenty of follow up posts about this super work/vacation trip. At an all inclusive resort like this, everything and anything offered at the resort is at my disposal, so I indulged in as much as I could. But one of the things that I thoroughly enjoyed were the delicious offering of cocktails all day long. One of those many cocktails that I loved was the refreshing ( and very, beach side appropriate) pina colada. Infused with lots of fresh pineapple juice, this cocktail is something that I can drink lots of and never feel it hit me till later!
Best Pina Colada Cocktail
So tonight, Todd and I whipped up a few glasses of this pina colada recipe to celebrate my homecoming. This is just the start to my many stories of my Mexico adventures with Jaden. I hope you all stay tuned (and patient) for the future series of food and wine event posts. Until then, thank you to Jaden, Morgan, Kim H., Jay, Kim S., Kate, Hugo and everyone at Club Med, Ixtapa for making this a marvelous and memorable trip! Hope you enjoy this pina colada recipe as much as i do. – Diane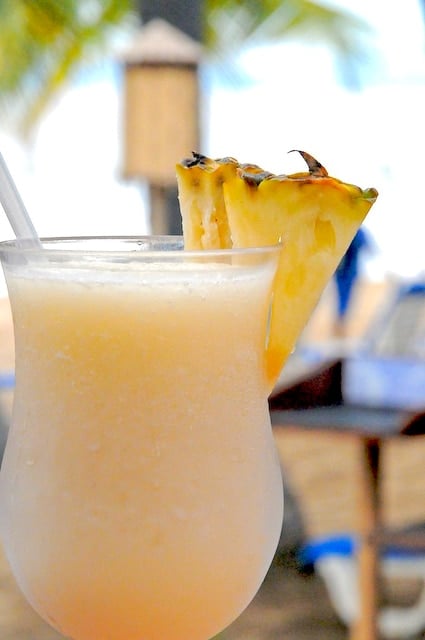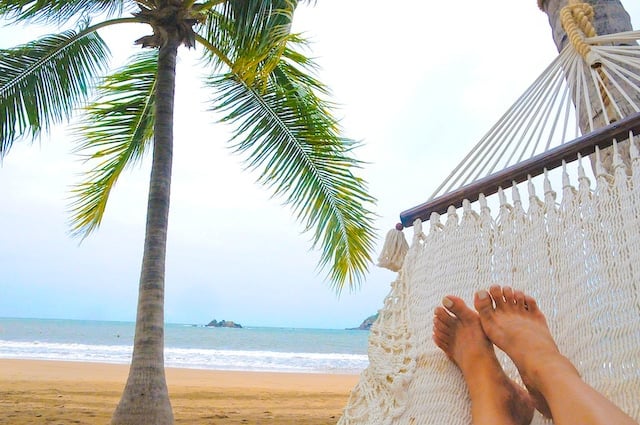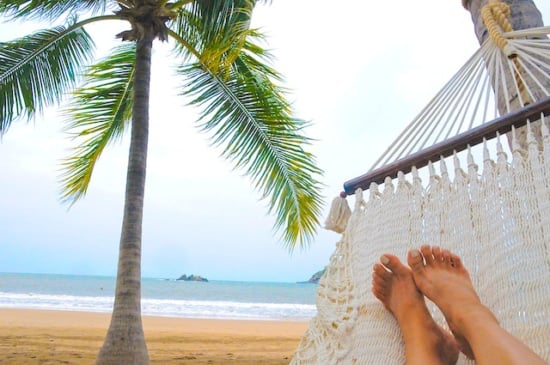 Check out our Cocktail Recipes Here and our Complete Whiskey Guide.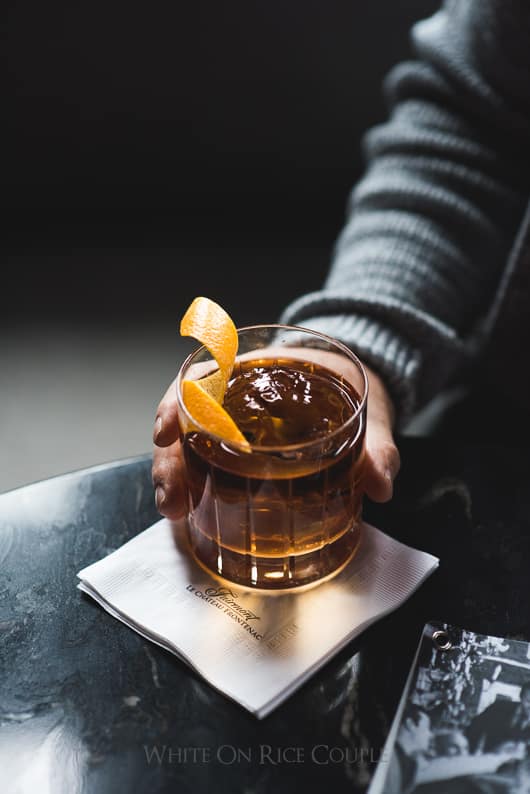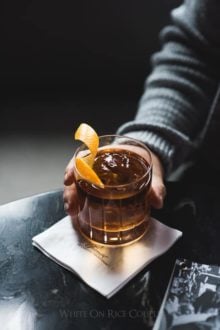 This is not a sponsored post. All opinions are my own and honest. Thanks Club Med for sharing the recipe! Here's some more refreshing cocktail recipes.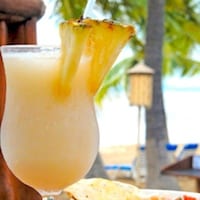 Pina Colada Cocktail
This quintessential tropical cocktail is super refreshing when made with fresh pineapple juice, but any pineapple juice will work well. Literally translated as "strained pineapple", Pina Colada is fresh and addicting.
Ingredients
3 ounces (90ml) light Rum
6 ounces (180ml) pineapple juice (fresh or canned)
2 ounces (60ml) coconut cream
1/2 oz fresh lime juice (optional)
2 cups (475ml) ice
garnish: pineapple spears
Instructions
If you're using fresh pineapples: core, chop and blend. Strain the pineapple to extract the fresh juice.

In blender combine rum, pineapple juice, coconut cream, fresh lime juice and ice. Blend until all ingredients combined. Serve in tornado or highball glass. Add straw. Garnish with pineapple spears or triangle wedges.
Nutrition Information
Calories: 239kcal, Carbohydrates: 13g, Protein: 1g, Fat: 10g, Saturated Fat: 9g, Sodium: 3mg, Potassium: 212mg, Fiber: 1g, Sugar: 9g, Vitamin A: 8IU, Vitamin C: 11mg, Calcium: 15mg, Iron: 1mg
We are a participant in the Amazon Services LLC Associates Program, an affiliate advertising program designed to provide a means for us to earn fees by linking to Amazon.com and affiliated sites.