Pickled Green Tomatoes & The Butcher and the Vegetarian
This year's tomato track record isn't all that bad yet and we're immediately jumping on the pickling band-wagon. The current tomato plant count is 4 out of 20 died due to disease, which is much less than what we suffered last year. In 2009, the whole nation suffered a tomato crisis where a late blight hammered many crops and home gardens.
Some tomatoes are more disease resistant than others, so with fingers tightly crossed, were thinking that the dead plants were the weaker varieties.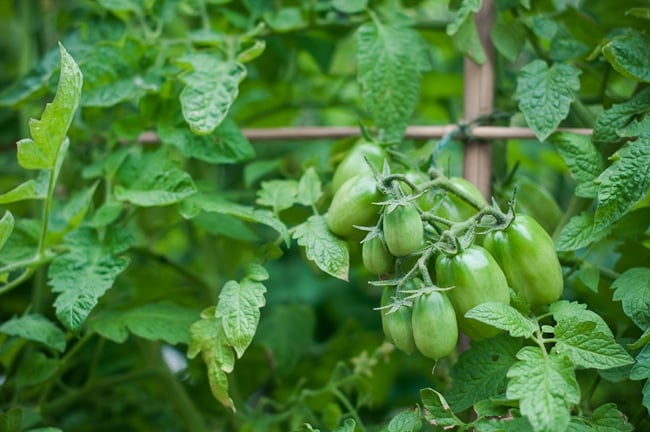 Too many green tomatoes to count!
Pickled Green Tomatoes Recipe
Still, all the little green tomato globes hanging on the vines are examples of mother nature at her best. Different shapes, shades and sizes of green tomatoes are popping up everywhere and we can't keep up with the count. If all goes well, these tomato babies will be plump, red , sweet, juicy and ripe in a month or so!
Again, our fingers are tightly crossed for a bumper tomato crop. The wait for the clusters to change hue is always rewarding because every day, they change a little bit in color, size and shape. Yes, we stalk our tomatoes every morning, like every good gardener should. 😉
The vines that did start to die back didn't all go to waste. After treating the plants with organic neem oil and clipping back the weaker branches, some survived their initial scare and we were able to gather the green tomatoes and pickle them using Tara's basic brine recipe.
Tara Weaver, writer of the lovely blog Tea and Cookies, had an easy and perfect basic pickling brine that can be customized in all sorts of directions. She suggested a sweet and sour option, which would be a refreshing take on our standard salty-sour brine. Like she says, play with your pickling brine and have fun.
If you're a lover of great writing, then you probably are already reading Tara on her scrumptious blog. If you aren't reading Tara yet, then you'll be treated to her gorgeous prose. It's a brilliant collection of essays that instantly transport you along in her food travels. Everything that Tara produces is a must-read. Her writing is an escape to a better place when you're in need of something funny and uplifting.
Her award winning writing is like chatting with a good friend. Tara's visual, comforting posts, candor and raw honesty are real and genuine.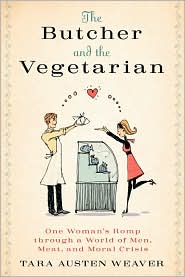 Tara's newest book, The Butcher and the Vegetarian, is a lovely example of why this woman has so much talent in every single one of her writing digits. We were immediately connected to this book because the premise of the book was a mirror image of us. When we first met, I was a vegetarian and Todd was all about the meat (he grew up on a cattle ranch).
While I was feasting on grilled tofu, he was gnawing on his favorite t-bone. He's forever my cowboy.
This fun, funny, intelligent and thought provoking book about food and life says it all in the title: "One Woman's Romp through a World of Men, Meat and Moral Crisis". One would think that Tara's book is a chick-flick on paper, a girl's romantic Cinderella story about being swept away by an opposite, a knife wielding butcher.
But her book is so deep in her personal journey about eating meat for health reasons and she goes knee deep into the whole business and politics of meat. The culture of meat and its place in our current food chain are just few of the topics she touches on in some eye-opening chapters.
This book needs to be made into a movie and it's so good that we won't be surprised that it will one day. Grab a copy and read it now before our predictions come true.
Happy Summer & Green Tomatoes to you all!
-diane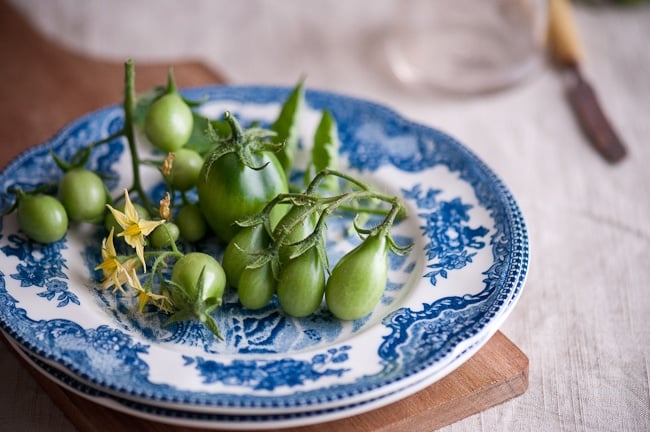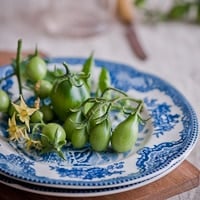 Pickled Green Tomatoes Recipe
Serve these great pickled tomatoes as a side to grilled dishes or sandwiches. The basic brine was based from Tara's basic pickling brine recipe.Makes about 1 lb. of pickles.
Ingredients
3 pounds small, green tomatoes (washed, stems removed)
2 quarts water
1 cup white vinegar
1/2 cup canning & pickling salt (can use sea salt or kosher salt, just make sure it fully dissolves)
2 teaspoons celery salt
2 cloves minced garlic
chili flakes (optional for a little heat!)
glass containers for pickling
Instructions
In a large enough saucepan, add water, vinegar, kosher/sea salt bring to a strong simmer, stirring until the salt has all dissolved.

Sterilize your glass containers by submerging them in a pot of boiling water.

Place tomatoes in glass containers and add hot bring until the tomatoes are completely covers.

Allow the bring in the jars to cool, then cover and put in fridge. You'll want to wait a few days for the to flavor develop before eating.

The tomatoes can keep in the fridge for a few months, as long as no mold, scum, spoiling occurs. Check the jars regularly.
Nutrition Information per Serving
Calories: 46kcal, Carbohydrates: 9g, Protein: 2g, Fat: 1g, Saturated Fat: 1g, Sodium: 7689mg, Potassium: 347mg, Fiber: 2g, Sugar: 7g, Vitamin A: 1092IU, Vitamin C: 40mg, Calcium: 37mg, Iron: 1mg
We are a participant in the Amazon Services LLC Associates Program, an affiliate advertising program designed to provide a means for us to earn fees by linking to Amazon.com and affiliated sites.