Nectarine & Raspberry Cobbler – Summertime Memories
This is a fantastic Nectarine Cobbler Recipe for Summer. Few desserts embody summertime for me more than chin-dripping, sweet nectarines combined with plump, slightly tart raspberries slowly baked together under a rustic country-style topping. Cobblers, crumbles, pies, crisps laden with juicy summer fruit, may the gods help me from eating the whole thing in one sitting. Especially with a dollop of fresh whipped cream or ice cream served alongside.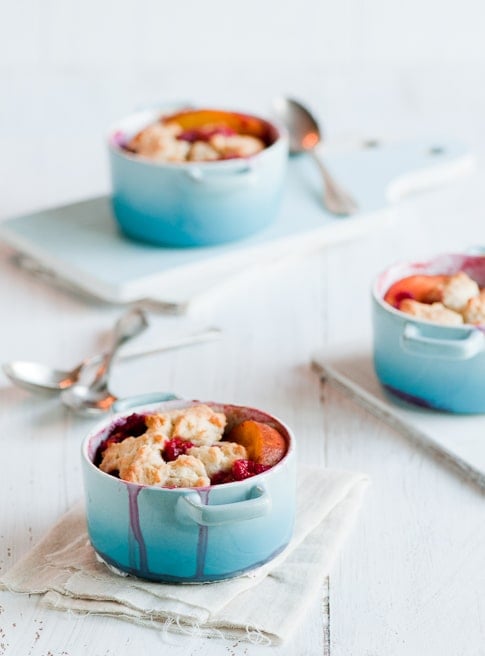 Nectarine Cobbler Recipe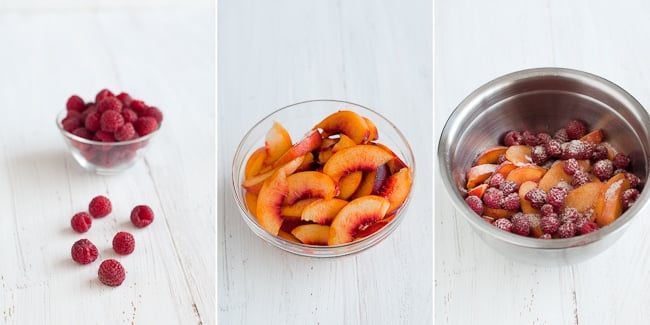 The star ingredients: sweet, fresh nectarines and raspberries for this Nectarine Cobbler Recipe
Over the years, I've become more aware of how precious seasonal foods can be, savoring fruits in the height of their season. Growing up in farming valley I was ignorantly lucky to have my palate imprinted with the flavors and textures of amazing fruit. I had no idea how good those nectarines, cherries, and watermelon really were. They were just consumed in the naive exuberance that defines youth. Thankfully, I've never forgotten.
Now, even as culinary skills have been honed and palates become well-traveled, it is often the rustic country-style desserts which come to mind when making a sweet pleasure out of perfect summertime fruit. It rekindles the scents, feel, and love of summertime from childhood. Days upon days of exploring the land throughout our ranch. Carefully lifting rocks in the creek hoping to find a crawdad or traipsing up and down the creek's length on our property discovering the best fishing holes. Saddling up Sandy, or Frosty, or Jamboree (whoever was my horse at the time) and riding up in the hills, grasshoppers exploding from the grasses at every step.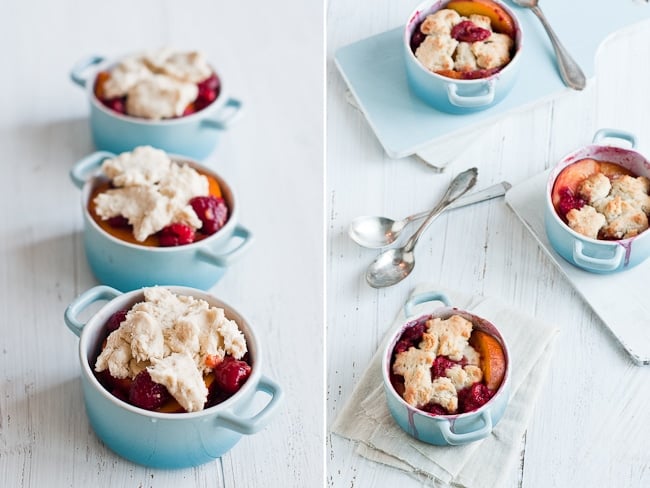 Left: before the bake with the raw dough and right: after the bake.
Loving Cobblers
We didn't even have cobblers very often growing up. More often, it was popsicles or ice cream. Maybe a cake made for a potluck or birthday. But as my memories expand and mingle, the best of all the roads I've traveled over the years begin merge in my heart. Through my mind flash indescribable and precious little moments like a great wedding slideshow capturing the joy and love of a special moment.
There is such a simple beauty to all of those cobblers and kin of summertime. They are easy and quick to make. The fruit is amazing. And the memories are the gentle euphoria of life.
You know, now after reminiscing, maybe I see why I want to eat the whole cobbler in one sitting. Enjoy this nectarine cobbler recipe and try our peach and heirloom salad. It's another great Summer recipe.
-Todd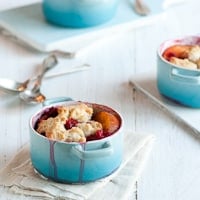 Nectarine (or Peach) Raspberry Cobbler
You easily substitute peaches or blackberries in this recipe and it will still be utterly divine. Since nectarines cling to their seeds, it is easier to cut all the slices while the nectarines are whole (if you are comfortable holding the nectarine up in one hand and slicing it with the other) then peeling the small individual slices off of the seed.Makes one 10" cobbler
Ingredients
2 pounds (910g) ripe Nectarines , sliced in 1/4" wedges
cinnamon sugar to taste (1 part cinnamon, 3 parts sugar)
1/2 pound (225g) fresh Raspberries
Cobbler Topping
1 cup (160g) all-purpose Flour
pinch Sea Salt
2 teaspoons (10g) Baking Powder
2 Tablespoons (30g) cold unsalted Butter , cut in small chunks
3/4 cup (195ml) Heavy Cream
Instructions
Preheat oven to 400° F

Put nectarine wedges in a bowl and gently toss with cinnamon sugar. Add raspberries and gently pack into a baking dish.

Sift together flour, sea salt, and baking powder in a med. bowl. Add butter and pinch butter with flour until it is the size of small peas. Pour in heavy cream and mix to form a soft dough (be careful not to over-mix).

Pinch the dough into small flattened chunks and place in random or artistic piles (should look rustic) on top of nectarines, leaving a little room around the edges for the juices to bubble and allow the peaches to peak through. Sprinkle a little cinnamon sugar on top.

Place in oven and bake for approx. 30-40 min or until top is golden. Set aside for at least 30 min. before serving to allow to cool and for juices to absorb into crust. Serve with ice cream or fresh whipped cream.
Nutrition Information per Serving
Calories: 224kcal, Carbohydrates: 28g, Protein: 4g, Fat: 12g, Saturated Fat: 7g, Cholesterol: 38mg, Sodium: 115mg, Potassium: 304mg, Fiber: 4g, Sugar: 10g, Vitamin A: 801IU, Vitamin C: 14mg, Calcium: 89mg, Iron: 1mg
We are a participant in the Amazon Services LLC Associates Program, an affiliate advertising program designed to provide a means for us to earn fees by linking to Amazon.com and affiliated sites.