O-hayō from Kyoto – and Mister Donut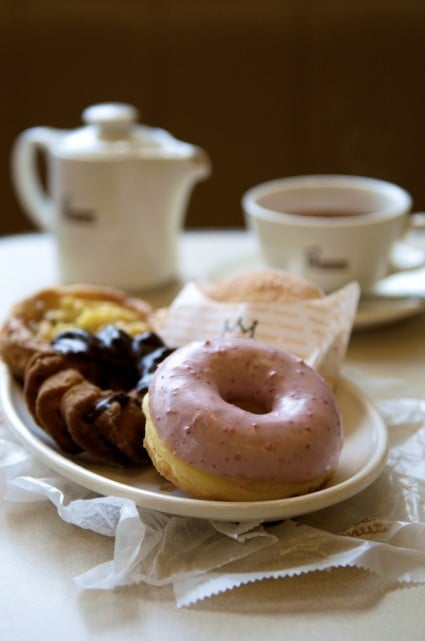 Kyoto is the culinary heart of Japanese cuisine. It is here where many claim Japanese cuisine is done on it's finest level. Kaiseki cuisine (seasonal dishes, immaculately prepared and presented in the highest level of art) births from Kyoto. So what incredible meal did we have our first morning in Kyoto? Mister Donut.
Our first full day in Kyoto, we were excited to start exploring, so we hopped on our loaner bikes and pedaled toward downtown. Our stomachs were stirring in the balmy Kyoto morning air, but we figured to pop into a noodle shop for some pre-exploring sustenance. Block after block passed by, with nary a shop open and our bodies began growling for attention.
Unlike Viet-nam where there were vats of pho, bun and other such tasties steaming off of the streets before we could even open our eyes, the Land of the Rising Sun seems be less street breakfast savvy, except for the hard working, early A.M. busting areas like Tsukiji (more on that in the next post!) Perhaps the Japanese are just more civilized and partaking their morning meals at home before heading off for a day's work. That doesn't do us, the starving travelers, much good.
Just as soon as we remarked how it seemed like nothing was open, Destiny's light showed, and Mister Donut appeared before us.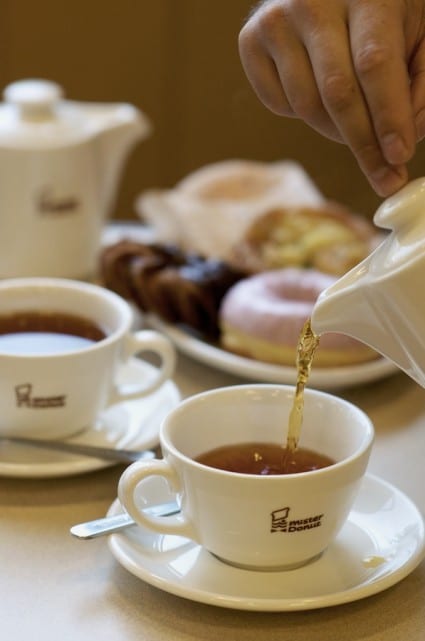 We have been hounded by many food bloggers to experience Japan's pop culinary culture. Yoshinoya, Mos Burger, and Mister Donut were being touted as "don't misses" in Japan. At first we didn't even consider it, but after eating a Yoshinoya in Tokyo (we didn't even know it was a Yoshinoya until after we ordered and noticed the emblem) and finding ourselves happily satisfied (the unagi -bbq eel- on rice was an awesome Shinjuku morning starter) we decided we may have to listen to the Japanese fast food advice.
Our starving bellies enticed us to give Mister Donut a chance, so we parted our bikes on the curb and ducked in. The offerings looked good, so we point-ingly and half Japanese-ingly, ordered up a little medley to give a range goods to find out why Mister Donut had been so highly and frequently recommended.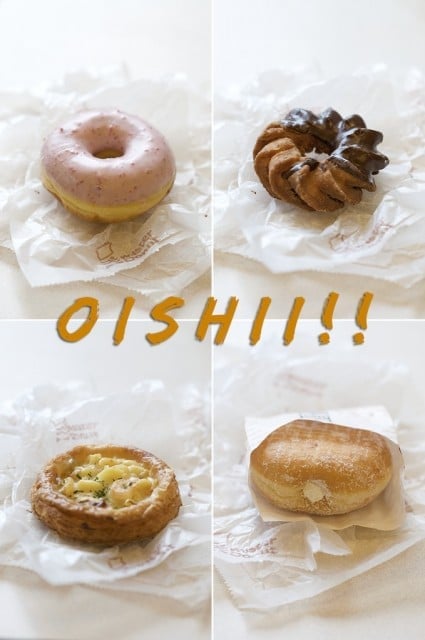 Verdict: For donuts they were damn good. One item was actually more puff pastry-ish with a savory filling of seafood and pasta and it was both of our immediate favorite. It was as satisfying as our regular delicious fix of the Vietnamese pate chaud. Another, the Angel Cream Donut, was delicately light, with a perfectly sweetened cream filling. The strawberry glazed donut was another winner, with a great texture and by not being heavy or overly sweet. Only 1 of the 4 we ordered wasn't to our liking, but that may be more to it being a type we weren't that fond of, rather than due to it being poorly made.
We must say, "Doomo Arigato, Mister Donut." You started off our Kyoto adventures quite well. Another thanks to those of you who recommended we give Mister Donut a chance. And to the rest of you, "You have to try Mister Donut when you are in Japan. They make a damn good donut!"
-Todd & Diane
Coming up for tomorrow's post ….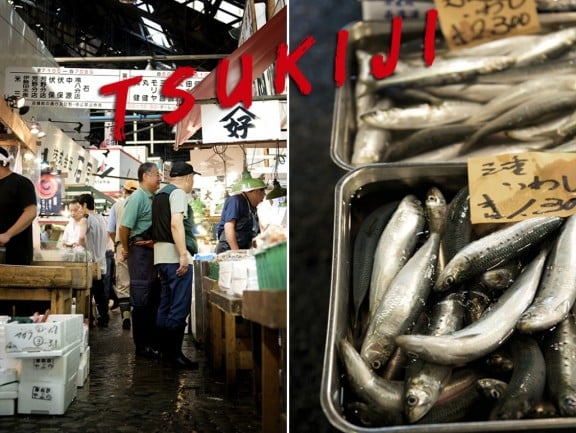 More Konichiwa Japan! posts for this trip:
Follow us on Twitter & get updates about our Japan adventures!
[ad]
We are a participant in the Amazon Services LLC Associates Program, an affiliate advertising program designed to provide a means for us to earn fees by linking to Amazon.com and affiliated sites.