Lamingtons: A Special Australian Sponge Cake & A Trip
Our laminations recipe was fun to create and we're obsessed with this popular Australian dessert. It's seriously one of our favorite cake recipes, ever.
How to Make Lamintons Recipe
When we first laid eyes on a lamington, it was like whoa. Double whoa. A sight for sore eyes. How is it that you can ignore a wonderfully tender cake dipped in chocolate and covered with shredded coconut? You can't and you shouldn't. If a lamington was filled with creme or jam, would it convince you that this is an amazing dessert ? It didn't take long to convince us to create a lamingtons recipe.
Lamingtons, originated in Australia, are considered the "national cake of Australia". It's a combination of everything that we love to eat in a dessert. And best of all, we must familiarize ourselves with Australian specialties because we're headed to the land of awesome herself. That's right, we're headed to Australia, the land of the lamingtons!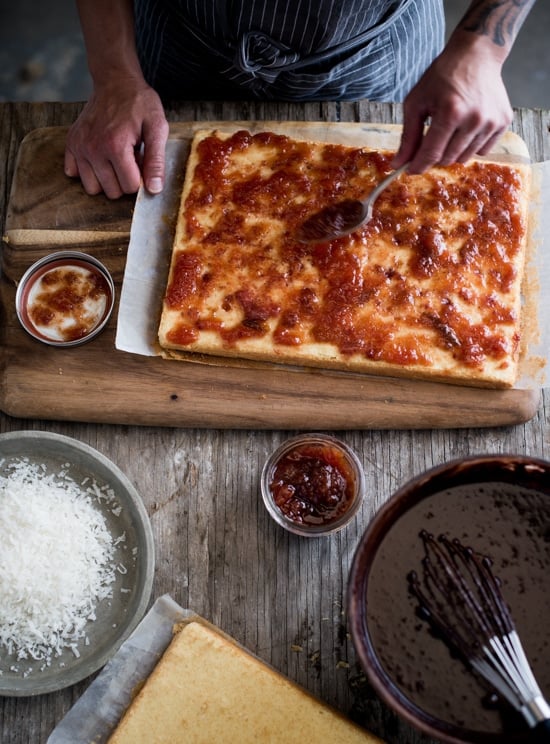 Australian Lamingtons Dessert Recipe
Heading to Australia has always been on our life list of places to visit. Australia is one of those destinations that instills in us a sense of adventure and exploration. We've been dreaming of going to Australia eventually, when ever we were able to make the time to check off our list. Each year we make time for an international trip to explore culture and search for understanding of how people live, work and play. Traveling to far off destinations isn't just about explorations. But rather, an opportunity for us to challenge ourselves and to be open minded to everything that is different from how we life.
As far as we've traveled around the world, we always find that there are many more similarities that connect us all than there are that separate us. If we make the time to understand each other and search out our commonalities, we discover that we really are part of a world family.
Traveling to Australia
Our international trips to Cuba, Viet-Nam, Japan, Mexico and Puerto Rico in the last five years proved that we have so many things in common with the local people, even if we didn't all speak the same language. And now we get to do it all again in Australia, but this time, we'll all be able to understand each other! The incredible founders of GoMighty.com have set up a site for folks to list their life dreams and goals. It's a gathering space for folks all around the world to make your dream list of goals and to do something about it. It's not a place to just jot down ideas or to tuck it away in a box somewhere.
Go Mighty is a community space filled with people around the world who want to support you make those items on your list to become a reality. This is the world wide family that helps you put aside your fears and excuses. And sometimes they can even help get you funded to pursue that life long list. So it was a cool surprise to be contacted by Go Mighty and Tourism Australia to help us pursue our goal of heading to Australia! We're invited to participate in #goaustralia, a opportunity for us and a few other bloggers to journey down under on our own time and make our travel goals become reality.
So if you've been to Adelaide and/or Melbourne Australia and have any rec's, we need to hear about it, please. And for those of you who have Australia as a destination-goal, the kind folks at Tourism Australia, Go Mighty and Air New Zealand are giving some lucky folks two opportunities to venture there as well. For all the details just visit Go Mighty #goaustralia, Fill-a-Plane and "Win a Wildcard Ticket to Australia" links for all the information. Make your travel dreams come true!
Enjoy the lamingtons recipe ! Hugs.
-diane and todd
Yes, we made our lamingtons recipe bigger than most Aussie versions. But in America, we like our things bigger. Right?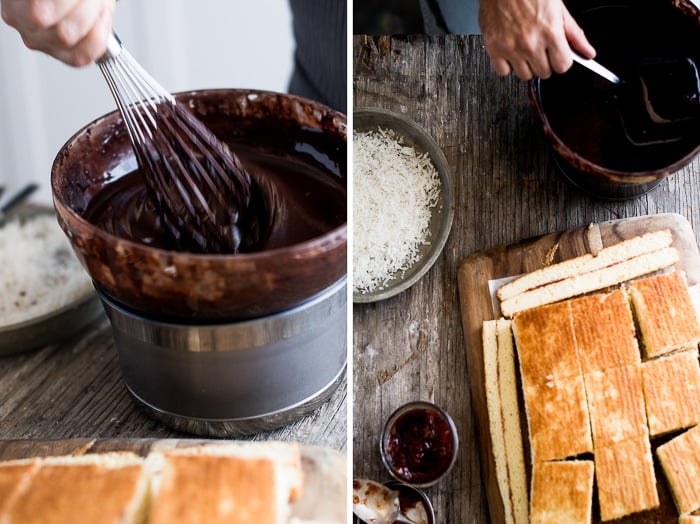 carefully dip the cake in chocolate, but if you made them smaller, then dipping should be a piece of cake. Ha. ha. hee.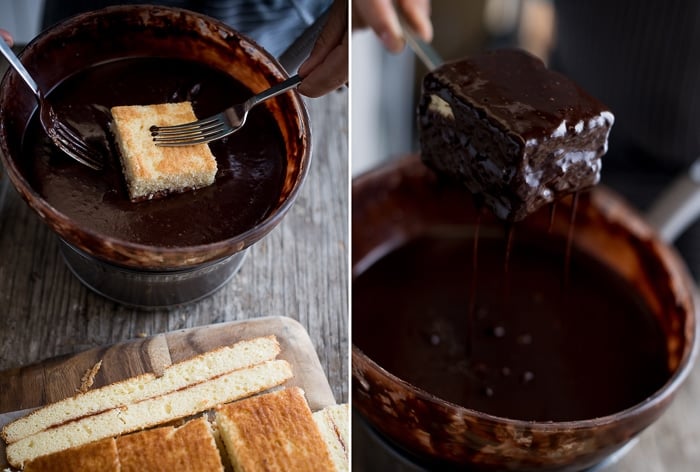 Traditionally, dessicated coconut is used. But we like our coconut flakes bigger too (actually, we just couldn't find dessicated coconut in our close-by stores). So we used sweetened coconut flakes.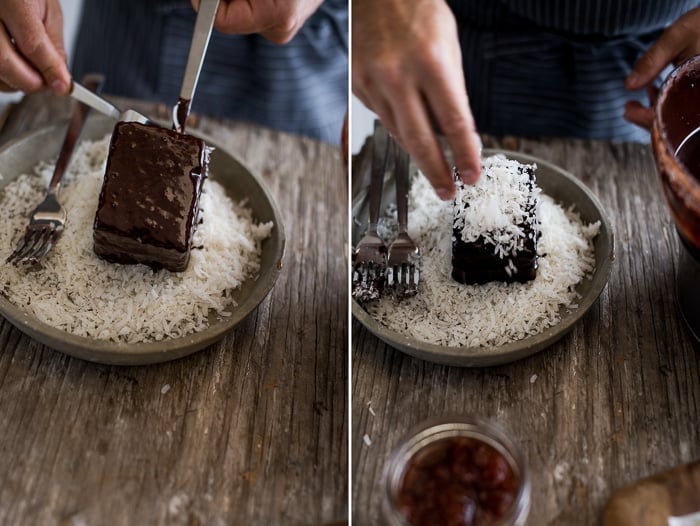 Ta da! The mongo White On Rice Couple version of the traditional Australian Lamingtons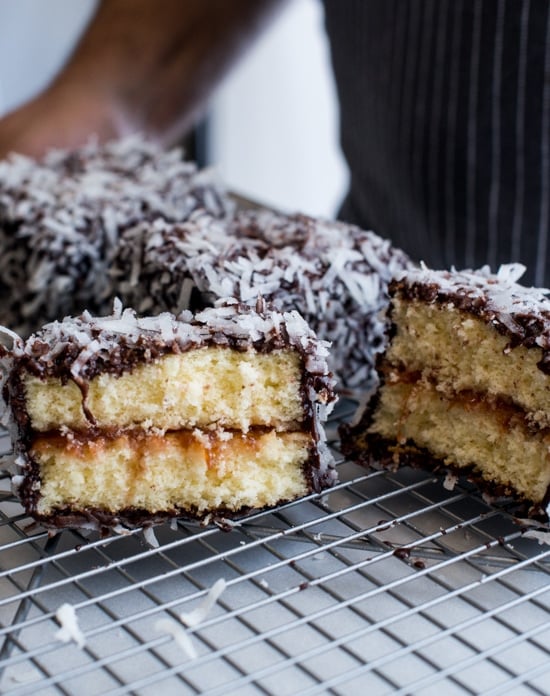 Now we'll have to compare our version to the real-deal back in the land of Lamingtons. #goaustralia !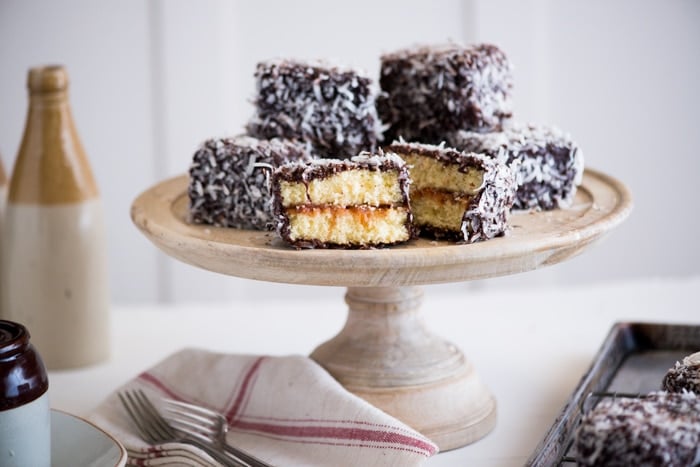 Here's more great recipes you might enjoy: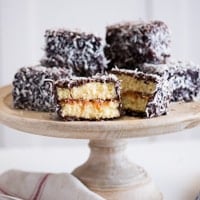 Lamington Recipe
Try to find cake flour for the recipe, the texture will be lighter if you can. If you have to use all-purpose flour, reduce the flour amount by about 1/3 of a cup. Recipe adapted from MarthaStewart.com.
Ingredients
cake ingredients
3 cups (340g) cake flour (not self-rising), plus additional for dusting pans
2 teaspoons baking powder
1/4 teaspoon salt
1 cup (2 sticks - 227g) unsalted butter , room temperature, plus additional for greasing pans
1 1/2 cups (300g) sugar
2 teaspoons pure vanilla extract
4 large eggs
1 cup (240ml) milk
chocolate icing ingredients
1 cup (240ml) milk
4 tablespoons (1/2 stick) (60g) unsalted butter
1 tablespoon pure vanilla extract
8 cups (960g) confectioners' sugar , sifted
1 cup (90g) cocoa powder , sifted
additional ingredients
1 cup (240ml) jam (we used our homemade strawberry peach jam, but use whichever flavor you'd like)
1 pound (455g) desiccated coconut (or shredded sweetened coconut if you can't get desiccated coconut)
Instructions
Preheat oven to 325°F. Lightly butter two 9"x13" baking pans, line the pans bottoms with parchment paper, then butter the parchment. Dust the pans with flour, tapping out the excess flour.

In a large bowl, whisk together the flour, baking powder, and salt for 30 seconds. Set aside.

In the bowl of a mixer fit with the paddle attachment, cream the butter and sugar together until light and fluffy, at least 3 minutes (don't shortcut the time - the beating of air into the butter is important to the cake texture).

Beat in the vanilla and then the eggs, one egg at a time until incorporated. Fold the part of the flour mixture into the batter, then the milk, and then fold in the remaining flour into the batter until just incorporated.

Divide the batter between the two baking pans, spreading evenly.Bake at 325°F for about 30 minutes or until a cake tester comes out clean in the middle of the cakes. Cool slightly in the pans, then lift out of the pans and finish cooling completely on wire racks.

After the cakes have cooled completely, spread the jam over the top of one of the cakes. Place the other cake on top, and then using a serrated knife, trim the edges of the cake and then cut into 24 two-inch squares (or whatever size you prefer).

Make the icing; in a small saucepan over medium heat, combine the butter and milk, heating until butter is melted. Remove from heat then stir in the vanilla extract, confectioners' sugar, and cocoa powder. Stir until combined. Pour the icing into a metal bowl and then place over the top of a saucepan filled with at least 2-inches of gently simmering water.

Put the coconut in a bowl and set aside. Dip a cake square into the bowl of chocolate icing, using forks to turn the square, coating all sides. Allow excess icing to drip off, then place the square in the bowl of coconut. Using clean forks, turn the square to coat all sides with coconut (we find it easiest to place it in the bowl of coconut, sprinkle a bunch of coconut on the top, then start turning in coconut to get all sides coated). Place the square on a wire rack and allow to sit for at least 15 minutes to set. Repeat with all of the remaining squares.
Nutrition Information
Calories: 543kcal, Carbohydrates: 81g, Protein: 6g, Fat: 24g, Saturated Fat: 18g, Trans Fat: 1g, Cholesterol: 55mg, Sodium: 59mg, Potassium: 260mg, Fiber: 5g, Sugar: 61g, Vitamin A: 368IU, Vitamin C: 2mg, Calcium: 60mg, Iron: 2mg
We are a participant in the Amazon Services LLC Associates Program, an affiliate advertising program designed to provide a means for us to earn fees by linking to Amazon.com and affiliated sites.