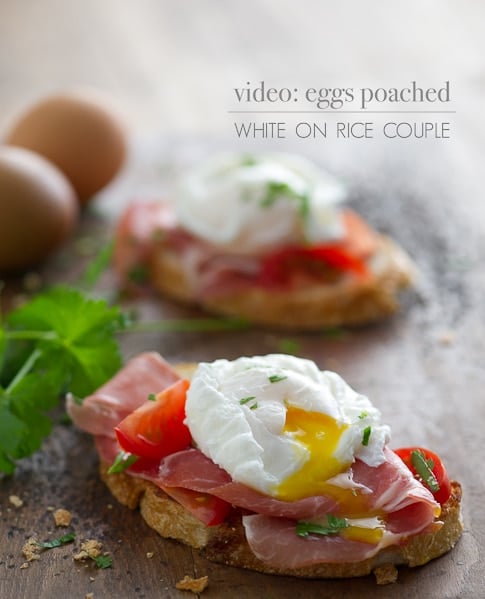 ** At the request of those who have seen it, we're finally sharing this private poached egg video we produced back in December 2011. We've only shared it at our Cuba photo night event, KitchenAid Luncheon and Food Blog Forum Orlando. Hope you enjoy it!
It's the little details in life that always fascinate us. We often just sit and witness the small life moments that happen both in and out of our kitchen. It's those little things that are so inspiring to us to have endless hours of conversations. These thoughts and ideas drive us to become more creative and how to share the story filled with life detail up close.
Poaching eggs is a wonderful morning ritual we love sharing. Often times, the beautiful process of poaching eggs can often be overlooked. But for us, every step of this egg poaching process is full of inspiration. From the moment we patiently wait for the water to boil, to the mesmerizing swirl of the water bath, to the final pierce of the egg, all this is a gorgeous event happening before our eyes.
So, back in December we wanted to share the story of poaching an egg. We weren't wanting to make a "how to" video per se, because there are so many great instructional videos out there.
Instead, we wanted to share an egg poaching story and the journey of an inspiring morning ritual.
For some, poaching an egg is a process to get a meal on the table. But for us, egg poaching is one of those life moments that we love. One of those regular rituals which fill in the details of our daily lives.  And we love every single little step along the way.
Hope you all take a moment to appreciate one of those life details in the kitchen.
And hope you enjoy our eggs poached story.
Have a great day to you all,
diane and todd
[ad]