Dark Chocolate Mousse with Raspberry Puree
Dark Chocolate Mousse Recipe
It is too easy for the daily "I love you" 's and quick kisses to have the same depth as a "what up, bro" or a "hey, girlfriend". Happens to the best of us. Well maybe not the best, but at least us mortals.
Now you don't have to bust out the Marvin Gaye, blindfold and feed each other, (although that was a great scene in Mostly Martha), or cover the bed in rose petals. Unless that is your thing and you want to rock that.
But at least take the time to remember the things you love about the one beside you. Slow life down and look into their eyes when you tell them, "I love you." Kiss a little softer and longer, even if it is just on the way out to work. And make something special for dinner or dessert. It does wonders for the flame in the heart.
-Todd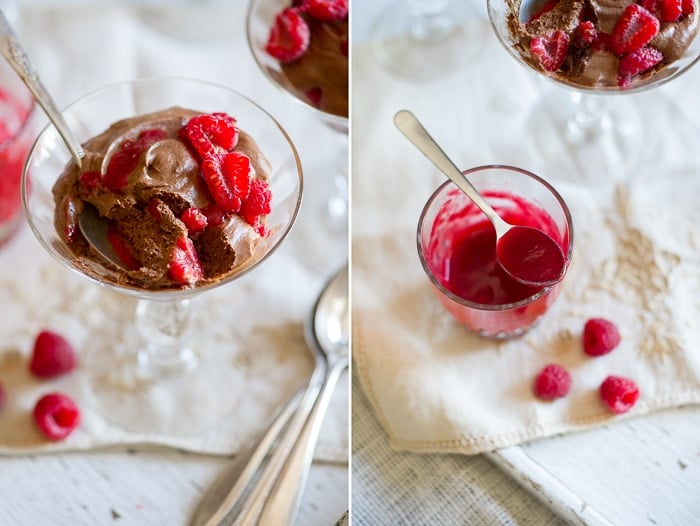 P.S. This is the second time we've posted a dark chocolate mousse. This first time was an adaptation from The Professional Pastry Chef. It is a great recipe although a bit more complicated. In looking for a simpler version we came across Julia Child's classic recipe for chocolate mousse and then later when browsing online saw David's adaptation and praise of the recipe, we knew we had to make this one. If David calls it perfect, you know it is damn good.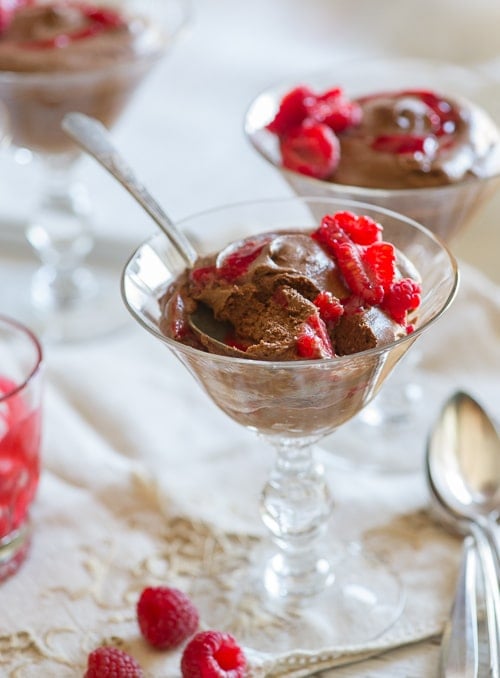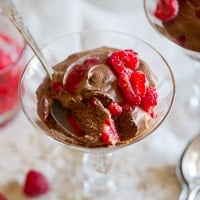 Dark Chocolate Mousse with Raspberry Puree
Recipe adapted from Julia Child's Mastering the Art of French Cooking. We used dark chocolate because we love it, but the recipe works fine with milk chocolate as well. In the recipe we used orange bitters, which any cocktail making household hopefully has, but in case you don't feel free to use an orange liqueur instead of the bitters and brandy. And if you don't have an espresso maker, use a strong coffee instead. The recipe is quite easy, but it does require a bit of hand whipping to develop the mousse's desired fluffiness. Great for an arm workout or it may also be good time to bust out the hand mixer.
Ingredients
Dark Chocolate Mousse Ingredients
4 Eggs , separated
3/4 cup (150g) superfine Sugar
1/4 cup (60ml) Brandy
several dashes Orange Bitters
6 oz. (170g) Dark Chocolate , chopped (or use dark chocolate chips)
1/4 cup (60ml) Espresso
3/4 cup (1 1/2 sticks - 170g) unsalted Butter , softened and cut into pieces
pinch of Salt
1 Tablespoon (15g) Sugar
4 oz. (115g) fresh Raspberries optional
Raspberry Puree Ingredients- Makes @ 1/3 cup
6 oz. (170g or 1 heaping cup) fresh Raspberries
1/4 cup (50g) Sugar
1/2 teaspoon fresh Lime Juice
Instructions
Chocolate Mousse Directions
Prepare a pot of barely simmering water that your medium bowl with fit over and prepare an water bath that will fit the same bowl.

In a medium bowl, beat the egg yolks and superfine sugar until it forms a slowly dissolving ribbon when it falls back on itself. Whisk in the brandy and orange bitters.

Set the bowl over pot with simmering water. Continue beating for about 3 minutes or until it thickens to a runny mayonnaise texture.

Place bowl in water bath, whipping frequently for 3-4 minutes or until it is cool again.

While the egg/sugar mix cools, place the chocolate and espresso in another medium bowl and melt the chocolate over the hot water. Remove from heat and stir in the butter a few pieces at a time. Stir until everything is smooth.Stir the chocolate into the egg mixture.

In a separate bowl, whip the egg whites and salt to soft peaks *see note 1. Add the tablespoon of sugar and continue to whip to stiff peaks.Stir in 1/4 of the egg whites into the chocolate mix. Fold in the remaining egg whites.

Place in serving dish or cups (if using optional fresh raspberries, layer raspberries while filling cups) and chill at least 2 hours to overnight. Serve with raspberry puree or fresh whipped cream.
Raspberry Puree Directions
Combine ingredients in a small saucepan. Over medium heat, cook until the raspberries release their juices and soften.Continue cooking until the juices are syrupy thick.

Stain through a fine mesh strainer to remove the seeds. Taste and add more sugar or lime juice if necessary. Allow to cool and store the in refrigerator. (After puree cools and you feel it is too thick, you can thin it by adding a touch of water to your desired consistency.) Keeps for a few days in the fridge or store for several months in the freezer.
Nutrition Information per Serving
Calories: 600kcal, Carbohydrates: 54g, Protein: 7g, Fat: 38g, Saturated Fat: 22g, Trans Fat: 1g, Cholesterol: 171mg, Sodium: 53mg, Potassium: 334mg, Fiber: 6g, Sugar: 44g, Vitamin A: 894IU, Vitamin C: 13mg, Calcium: 56mg, Iron: 4mg
We are a participant in the Amazon Services LLC Associates Program, an affiliate advertising program designed to provide a means for us to earn fees by linking to Amazon.com and affiliated sites.