Cookbook shoot with Cristina Ferrare & New Oprah Winfrey Network show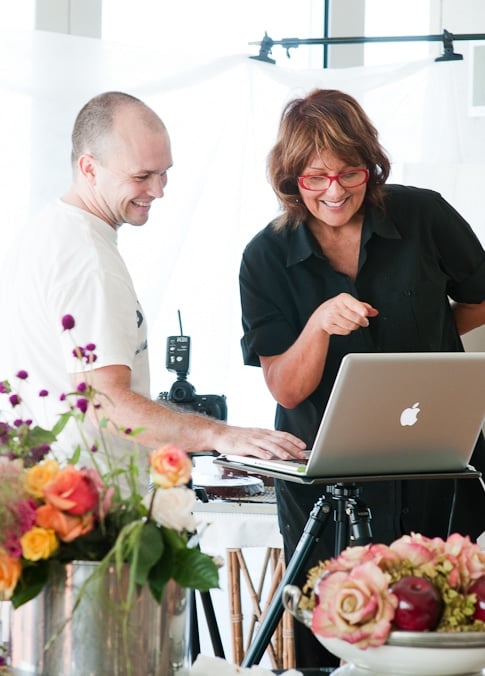 Todd & Cristina Ferrare previewing the cookbook images
We've worked with some lovely people during our photography career, but yet have we been able to meet anyone so sincerely generous and kind as Cristina Ferrare.
All her success, both past and present, are well deserved. No wonder Oprah Winfrey loves Cristina so much and we adore her immensely.
Cristina Ferrare is an author, TV personality and former supermodel who graced the cover of such fashion magazines as Cosmo and Harpers Bazaar, but she's so down to earth and humble and never talks about herself.
Over the past few weeks, we've been working diligently on Cristina's new cookbook ( A Big Bowl of Love) due out in May 2011. This cookbook will have over 100 recipes that Cristina puts so much love in, thus, it's all A Big Bowl of Love.
We photographed all the recipes and lifestyle shots for her cookbook in her home, where we created a makeshift food photography studio in her dining room. She was patient and kind as we swallowed up a part of her house to find the right lighting and shoot!
Cristina, a master in the kitchen, cooked all the dishes with the same devotion as if she was cooking for her family and friends. All the food we photographed was real, edible and fabulous. I think we all gained about 10 lbs. each while shooting the cookbook.
Hopefully all of you will get a chance to meet Cristina one day because she truly is a grand soul and genuinely loves people and embraces everyone and everything that comes her way. She'll be giving a cooking demo in Los Angeles at Surfas on Saturday November 13th and she'll be back on the Oprah Winfrey Show next month for a holiday cooking segment!
And of course, look out for her cooking show, A Big Bowl of Love once the Oprah Winfrey Network launches at the beginning of the year!
Please say hello to Cristina on Twitter at @CristinaCooks, we're sure she'd love to say hello to you all!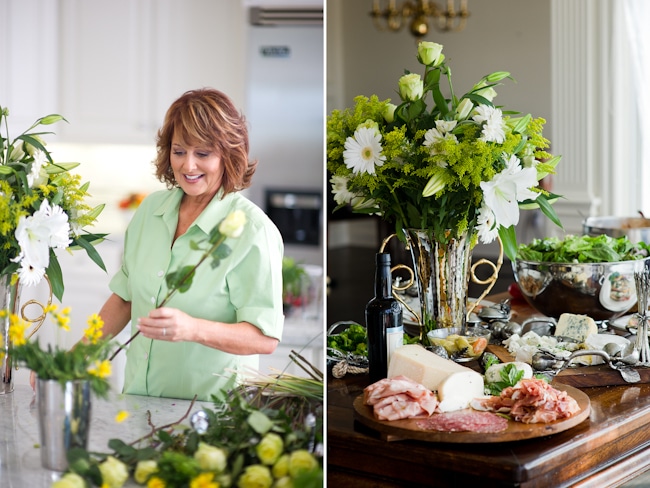 Cristina arranged all the flowers in the cookbook, as well as cooked & help style the recipes!
Todd checking exposure & focus for the action chocolate shots
Adorable Cher watching the shoot and patiently waits for a treat. Such a good girl!
[ad]
We are a participant in the Amazon Services LLC Associates Program, an affiliate advertising program designed to provide a means for us to earn fees by linking to Amazon.com and affiliated sites.