Chocolate, Berry and Cream Cheese Danish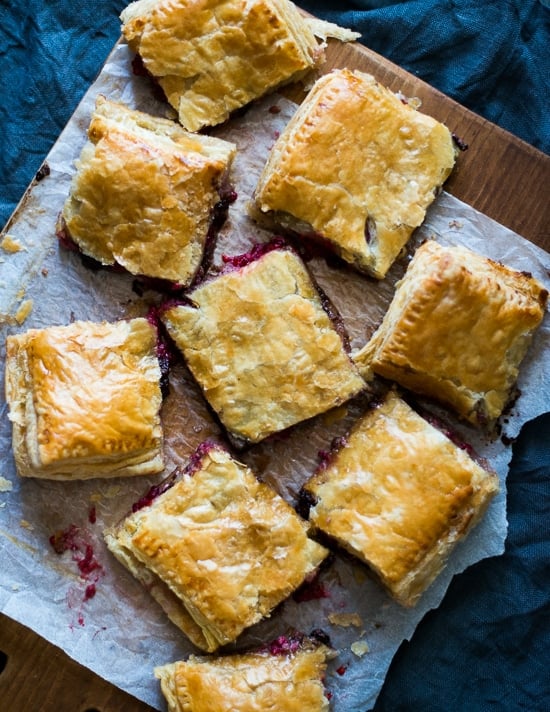 Chocolate Berry Danish Recipe
Rarely do I ever watch television. Call me a tv-hermit, but between the newspaper, the internet and twitter, I seem to be caught up with everything that I need to know.
Then there was the straight 12 hours I sat on a flight from Australia to Los Angeles that forced me to either sleep (which wasn't all that easy) or stare at the blank tv screen in front of me. I felt helpless, sleepless and restless. Reading wasn't so much of an option because I have a tendency to get air-sick when I read.
So my only choice was to watch a movie or watch tv and watch lots of it. I chose the television route because it seems more entertaining for me to keep scrolling through the different channels rather than focus on a single 2-3 hour movie.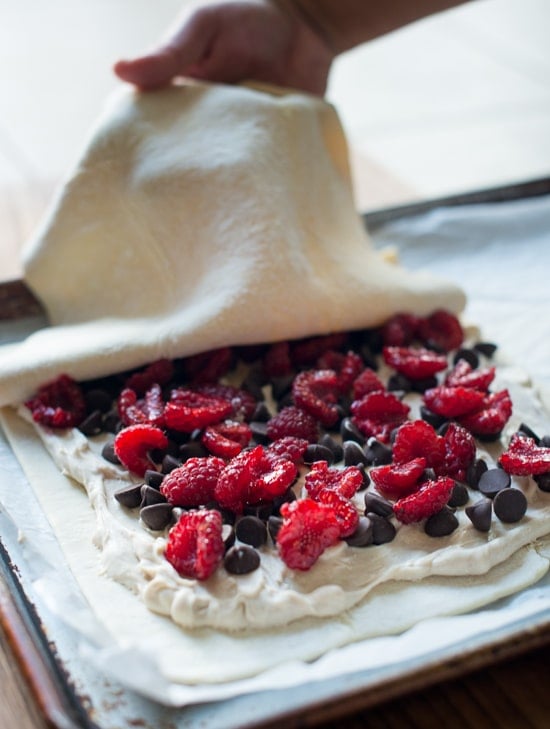 Channel surfing was a good thing because I ended up (surprise!) watching about 4 hours of Food Network. Is this a good thing to admit? Watching 4 straight hours of Food Network? This was way more Food Network than I have watched in the last 3 years combined. Wow, I hit a milestone and a record.
During those 4 hours I watched one of Ree's holiday shows (Hi Ree!), Giada, Trish, Ina, Guy, more Ina, more Trish, more Giada and way too much Guy.
But I have to say, I was superbly entertained because some of what I saw was truly remarkable. Like Trish's take on thanksgiving where she made a dry-looking turkey casserole instead of serving the whole bird. Why?
And another remarkable television moment was seeing Guy eat way too many sandwiches, burgers and fries with the same expression and remarks—"wow! Incredible!". Has he ever had a bad meal in his life? Probably. But we'd never see that in the final cut.
And then there was the delicate little Giada. I didn't think I could take more than an hour of Giada cause she has such perfect teeth…. all the time… even when she's zesting her lemons.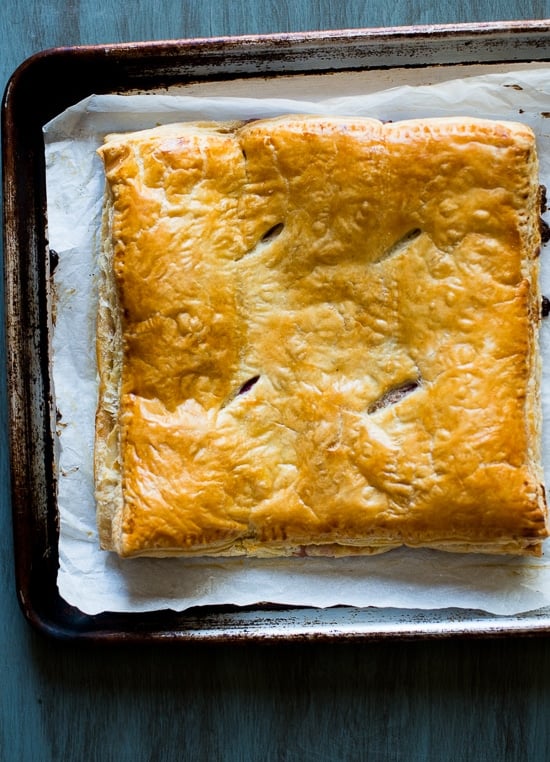 Anyways, I was thoroughly inspired by Giada and many of her dishes. As simple as they appear, she made them elegant yet approachable, something I admire in recipe developers and cooks. Being able to take a seemingly complicated or time consuming looking dish and making it easy to the home cook is a skill. And talent.
On hour 2.5 of Food Network, I saw Giada make these chocolate and cheese danishes. By the end of the show I was inspired and even more so, I was CRAVING one of these with a cup of coffee. Trust me, after the 7th straight hour on the plane, I would have loved to eat anything warm, fresh and baked. All I had to choose from were Doritos and hard cookies out of a bag.
A few days after we landed, I made an attempt to re-create what inspired me so: these chocolate and cheese danishes. But I made them a little different, with Thanksgiving in mind and needing to feed an army, I made these danishes on a sheet pan.
It was so much easier to feed a Thanksgiving crowd with this version of the danishes. It's basically making one huge sheet pan Danish, then cutting them into individual servings. That way, all the cheese, chocolate and fresh berries can cook together nicely in one beautiful big puff pastry crust.
This chocolate, berry and cream cheese Danish was such a hit at our Thanksgiving gathering, I might just make another batch (or two) for Christmas. It's that easy and delicious. And best of all, everyone enjoyed it down to the last finger lick of chocolate and berries.
Enjoy!
diane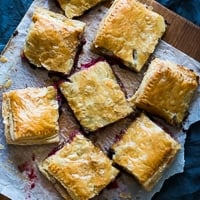 Chocolate, Berry and Cream Cheese Danish
Ingredients
17 ounces packaged frozen puff pastry (2 sheets), thawed
8 ounces cream cheese , softened
1 egg yolk
2 Tablespoons brown sugar
1 teaspoon ground cinnamon
1/2 teaspoon vanilla extract
1/8 teaspoon kosher or sea salt
½ - ¾ cup chocolate chips , depending on how much chocolate you like
6 ounces fresh berries (if using strawberries, slice the strawberries)
1 egg , beaten for brushing the puff pastry
Instructions
Pre-heat oven to 400° F and make sure to have the oven rack in the center of the oven. Line a 15x10 inch baking pan with parchment paper. Set aside.

In a medium bowl, mix together the softened cream cheese, egg yolk, brown sugar, cinnamon, vanilla extract and salt until smooth.

Carefully place one full sheet of the thawed and soft puff pastry dough on the parchment paper. Gently spread the cream cheese mixture on the puff pastry sheet within one inch of the puff pastry edge. Then evenly sprinkle chocolate chips and berries over the cream cheese mixture.

Lay the remaining sheet of puff pastry over the cheese/chocolate/berry mixture. Gently press the edges of the top puff pastry on to the bottom puff pastry to seal the whole pastry.

With a sharp knife, gently cut 2-3 small slits in the top pastry sheet to allow steam to escape during baking. Brush the whole pastry with the beaten egg.

Bake pastry for about 40-45 minutes or until the pasty if puffy, golden and cooked on the bottom.
Nutrition Information
Calories: 312kcal, Carbohydrates: 23g, Protein: 5g, Fat: 23g, Saturated Fat: 8g, Trans Fat: 1g, Cholesterol: 51mg, Sodium: 192mg, Potassium: 69mg, Fiber: 1g, Sugar: 4g, Vitamin A: 303IU, Vitamin C: 1mg, Calcium: 31mg, Iron: 1mg
We are a participant in the Amazon Services LLC Associates Program, an affiliate advertising program designed to provide a means for us to earn fees by linking to Amazon.com and affiliated sites.