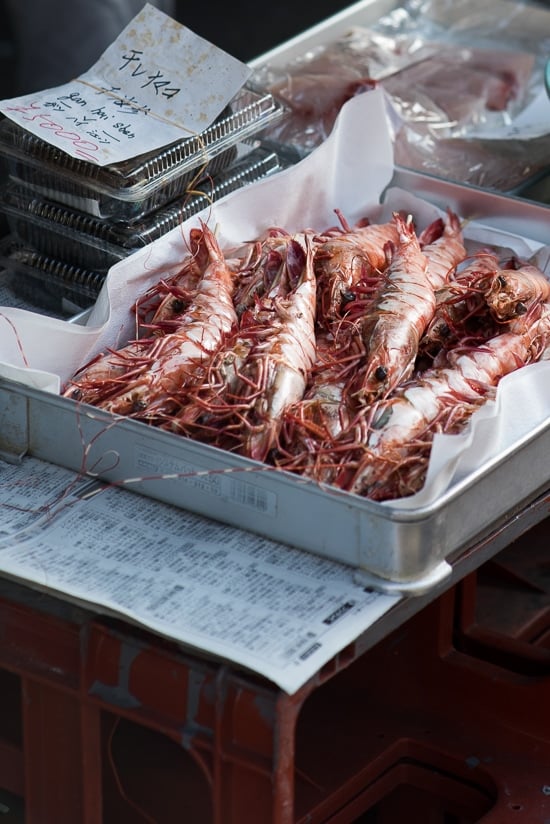 Hello from gorgeous Tokyo! We're here for a week on a feasting adventure and cultural photo project thanks to a wonderful collaboration with All Nippon Airways (ANA). We shared our inspired recipe for this trip a few days ago. You can read about it here. We've made the most of our 3 full days here so far. There's so much to share, we don't know where to start.
Exploring food culture and photographing Tokyo's diverse culinary scene has been incredible. We wanted to give you a glimpse and taste of what it's like to be at one of our favorite places in the world: Tsujiki Fish market.
The market is divided up into two different sections in which we shared back in our 2009 visit. You can read about the two parts: the Tsukiji outer market here and the Tsujiki inner market here. Tsukiji stimulates all our visual senses, taste buds and is full of some of the freshest fish in the world, including dynamite sushi stalls and tasty street munchies.  It's hard to not be so inspired, but at the same time, difficult to share within a post.
So we made a video, to show you exactly some of the things we're eating. Enjoy!
With open minds, hearts and bellies, we're documenting as much delicious stories as we can to share with you all. And we want to thank ANA for supporting us on our adventures here. We couldn't do this without them!
Off we go to explore and document!
-diane and todd