Carrot Cake with Cream Cheese Frosting
Simple and tasty, this carrot cake recipe is inspired by Ree. Enjoy it for breakfast, brunch or dinner. It's perfect anytime of day, actually.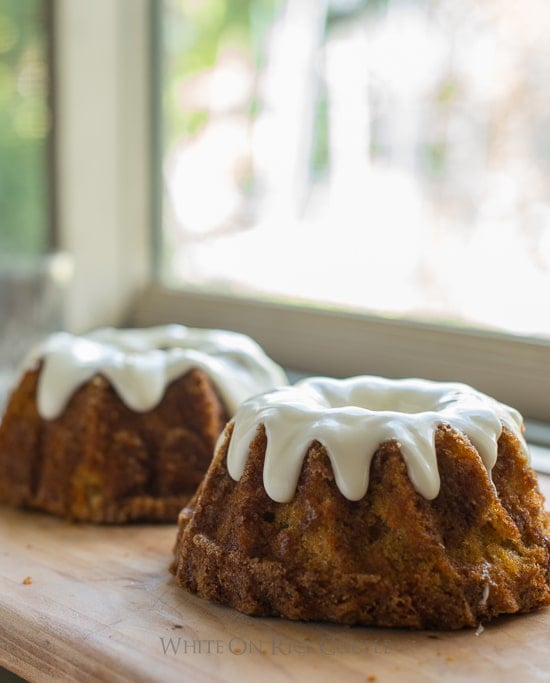 Carrot Cake Recipe with Cream Cheese Frosting
To make a long story short, we triangulated the US in the last seven days from Long Beach, to New York City to Seattle and back to Long Beach. After stumbling off the last flight and back into the house, we found Ree's new book waiting for us on the dinner table. What a sweet treat to come home to after a week of travel. This made us smile. It wasn't soon after, we were craving to cook again and before you knew it, we were diving into one of the best carrot cakes that we ever had.
If you've been searching for the easiest and most tender carrot cake recipe, then look no further. This is THE carrot cake to make. Two well deserved credits are tied to this recipe: Ree, The Pioneer Woman and her mom's longtime friend, Sigrid. We've never met Sigrid before, but we owe her a big hug for passing on such an heirloom recipe. And we owe Ree a big hug for sharing such a timeless, winning recipe and a big congrats on her latest book, A Year of Holidays.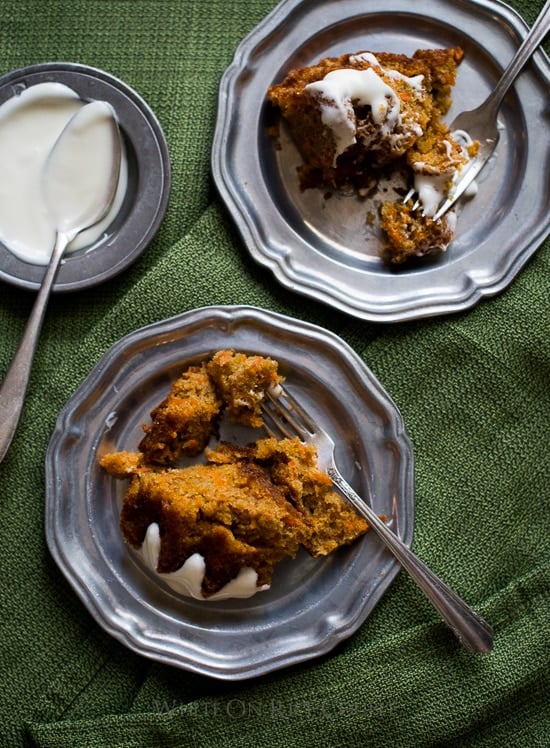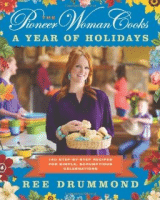 Ree's cookbooks are like no other and for any of you who have flipped through one, you'll know it's a warm invitation into her home. It's just not her life that flows through the pages, but the lives of everyone dear to her. Including her doggies, whom always have a special place in our doggie-loving-hearts. This latest book is special because the recipes revolve around the holidays, a yearlong seasonal feast for the most special days of the year.
Indeed, there's plenty of family pictures too and it's fun to see how her kids have matured. They've grown like weeds!
Though this carrot cake recipe was in the Easter chapter, we feel that this is the type of cake that embodies the sensibilities of Fall too. Warm spices like cinnamon, ground ginger and nutmeg (we added these extra spices) lend perfectly to a holiday table. It's even perfect for Halloween, so don't rule it out as an option for the kiddies!
Paired with a great cup of coffee, fragrant hot tea, warm apple cider or holiday eggnog, this carrot cake comes even more alive on the senses. It's the perfect sweet treat to share on your holiday table. And the carrot cake is true to the title of the book, it's worthy for a year of holidays!
Enjoy and eat more cake!
-diane and todd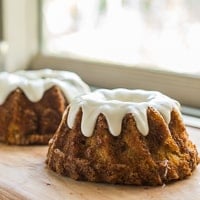 Carrot Cake with Cream Cheese Frosting
Inspired from The Pioneer Woman Cooks A Year of Holidays. Ree attributes her recipe to Sigrid, a longtime friend of her mom, declaring the carrot cake one of the best in the Northern Hemisphere. After trying it, we'd have to agree whole heartedly. It is delicious. We adapted the recipe, adding a few more spices, increasing the amount of oil, and by changing the frosting to be a bit more fluid since we like to drizzle over the bundt shapes rather than spread. It is super moist, soft, and heavenly delicious. We divided the cake between two smaller bundt molds, reducing the time by 5-10 minutes, however this recipe is written up for the larger bundt mold since that is what most people will have available. Thanks Ree for another great recipe!
Ingredients
cake ingredients
2 cups (250g) all-purpose flour
1/2 teaspoon kosher or sea salt
1 teaspoon baking powder
1 teaspoon baking soda
1 teaspoon ground cinnamon
1/4 teaspoon ground nutmeg (or 1/2 teaspoon freshly grated nutmeg)
1/4 teaspoon ground ginger
1 cup (200g) sugar
1 cup (220g) brown sugar
1 1/4 cups (300ml) vegetable oil
4 large eggs
2 cups (480ml) grated carrots , about 2-3 large carrots worth
frosting ingredients
1/2 cup (1 stick or 113g) unsalted butter , softened
8 ounces (225g) cream cheese (1 package), softened
2 cups (240g) confectioners sugar (1/2 pound)
2 teaspoons vanilla extract
2 Tablespoons to 1/2 cup milk , optional if you want a drizzle-able frosting
Instructions
Preheat the oven to 350°F. Grease and flour a 12-cup bundt pan. Set aside.

In a large bowl, whisk together the flour, salt, baking powder, baking soda, and spices for at least 20 seconds. Set aside.

In a mixer, beat together the sugar, brown sugar, and vegetable oil. Beat in the eggs until combined. Stir in the dry ingredients until smooth. Stir in the carrots until completely incorporated.

Pour the batter in the prepared bundt pan. Smooth out the surface and firmly tap the pan against the counter to release any bubbles.

Bake for 40-45 minutes or until the a toothpick comes out clean when inserted into the thickest part of the cake. Un-mold the cake and allow to cool before icing.

Make the frosting: Beat together the butter and cream cheese until smooth. Slowly beat in the confectioners sugar and vanilla extract. If you want a drizzle-able (or less fluffy) frosting, slowly beat in the milk starting with a couple tablespoons, and then adding 1 tablespoon at a time until the frosting is at your desired consistency.

Spoon the frosting over the fully cooled cake (you may have leftover icing- save it to frost some cookies!), and then slice and serve.
Nutrition Information
Calories: 653kcal, Carbohydrates: 74g, Protein: 6g, Fat: 39g, Saturated Fat: 28g, Trans Fat: 1g, Cholesterol: 103mg, Sodium: 296mg, Potassium: 206mg, Fiber: 1g, Sugar: 56g, Vitamin A: 4149IU, Vitamin C: 1mg, Calcium: 75mg, Iron: 2mg
We are a participant in the Amazon Services LLC Associates Program, an affiliate advertising program designed to provide a means for us to earn fees by linking to Amazon.com and affiliated sites.