Carbonated Negroni
Negroni Cocktail Recipe
Gosh, time flies. Another year has passed in a blink and many thoughts wizz through our heads. The people, friends, clients, laughs, tears and so many more moments helped define our year as …. amazing. It isn't just the everyday work that anchors this year as truly memorable, but the new friendships forged and old relationships that we hold close.
As we reminisce on precious moments, we can't deny that you all have had an incredible impact on our lives. We've always said that our blog is a hobby and takes up about 15% of our time. The rest is working with clients on numerous projects that we enjoy tremendously. But it's this happy blog place that we look forward to coming back to when we can.
Sometimes we'll go a while without updating or sharing a new recipe. That's when we realize how much we miss the creativity and the conversations we have with you all, our dear readers. So to thank you all, we'll be toasting and drinking to you for another awesome year passing and new journeys ahead. We're really looking forward to what the new year brings with stories, recipes and daily tidbits of life.
Hope you all have a safe and fabulous New Year's. To help be a part of your celebrations.
We made a Video: The most amazing Negroni Cocktail we had at Fairmont Le Chateau Frontenac:
One of our favorite cocktail moments of 2015 was a few weeks ago in Quebec City at 1608 Wine & Cheese Bar in Fairmont Le Chateau Frontenac. This isn't your everyday carbonated Bianco Negroni cocktail. Watch how dehydrated grapefruit adorns the outside glass and carbonation is added to give this drink the perfect amount of effervescence. The last brush of grapefruit zest essence makes this the best Negroni we've ever tasted. Thanks Fairmont Le Chateau Frontenac and Fairmont Hotels & Resorts for partnering with us and for sharing your recipe! This is just a sneak peak. Well have more stories and cocktail recipes from our trip to come in 2016.
Happy New Year All and hope you enjoy this negroni cocktail recipe!
-todd and diane
Check out our Cocktail Recipes Here and our Complete Whiskey Guide.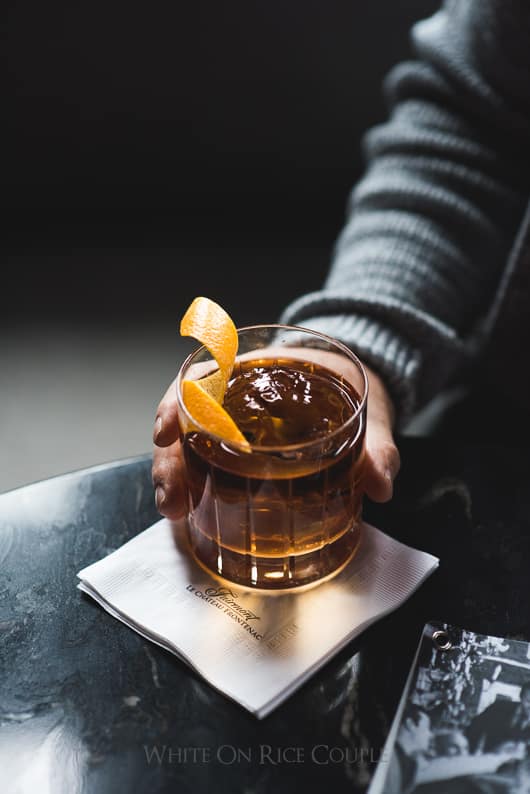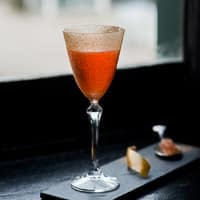 Carbonated Bianco Negroni Cocktail
This is a carbonated grapefruit negroni. Make sure to finish the cocktail with the fresh grapefruit zest. It will perfume the hand and glass with the oils of the grapefruit as the cocktail is enjoyed. Recipe provided by the Bar 1608 at the Fairmont Chateau Le Frontenac, Quebec City.
Ingredients
1 ounce (30ml) Botanist gin
1 ounce (30ml) Dolin Bianco vermouth
1/2 ounce (15ml) Campari
1/4 ounce (7ml) Aperol
simple syrup , for misting cocktail glass
ground dehydrated pink grapefruit peel
fresh grapefruit zest , for garnish
Instructions
Mist the glass with simple syrup. Dust the glass with the dehydrated grapefruit peel. Set aside.

In a mixing glass filled with ice, stir together the gin, vermouth, campari, and aperol until chilled.

Strain the cocktail into an iSi siphon (CO2 whipped cream dispenser), and then pressurize the siphon with a cartridge, which makes the cocktail sparkling.

Release the pressure and then pour into the prepared cocktail glass. Twist the fresh grapefruit zest over the cocktail and rub the stem of the glass to release the oils onto the glass. Enjoy.
Notes
NOte:
We've made this at home without the carbonation process and it is still quite delicious! The lightness of the carbonation obviously isn't there, but it is still a great cocktail without the bubbly for those who don't have a iSi siphon (CO2 whipped cream dispenser) at home.
Nutrition Information
Calories: 145kcal, Carbohydrates: 7g, Protein: 1g, Sodium: 1mg, Potassium: 1mg, Iron: 1mg
Here's more cocktails to enjoy.
We are a participant in the Amazon Services LLC Associates Program, an affiliate advertising program designed to provide a means for us to earn fees by linking to Amazon.com and affiliated sites.