Candied Citrus Peels
We love making candied citrus peels. In our last couple dessert posts we finished off the desserts with a couple different candied citrus toppings. Candying citrus is a great, very easy way to "classy" up a dessert. Give it a little eye appeal.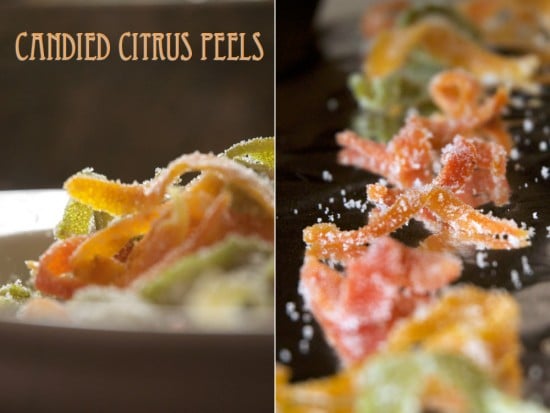 candied citrus peels recipe
You can use whatever citrus you like, grapefruit peels, mandarin peels, orange peels, lime peels. Most times we will use the same fruit that is in the recipe, but occasionally will use something that will give a bit of contrasting pop in color on top of the dessert.
It doesn't matter if you are candying the peels of zest or slices of citrus, the candied citrus peels recipe technique is basically the same. The only change is if we are candying citrus slices, we will cook them for just a bit longer. Everything keeps quite nicely, so you can make them days ahead of time, or make more than what you will immediately need, then save the rest for another purpose.
They are best after a few hours of drying, but in pinch you can use them almost right away. As an added bonus, you are left with a delicious citrus syrup that you can save and use for brushing your sponge cakes, in cocktails or to top off a batch of morning muffins. Have fun with these candied citrus peels!
What Citrus Can You Use for Candied Peels?
You can use almost any citrus. Our favorite are orange, lemon, tangerine or mandarin. It's a great way to use up the whole fruit! Rather than waste the rinds, put them to good use!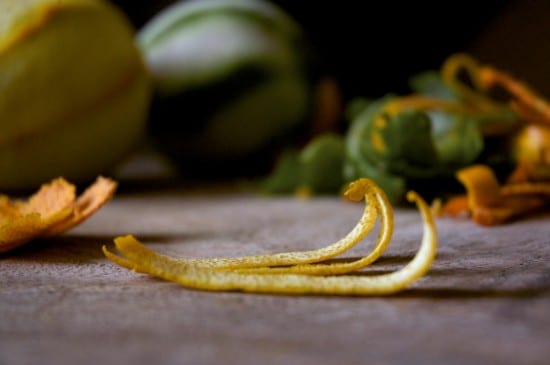 Cut the citrus peel swaths into 1/4″ strips.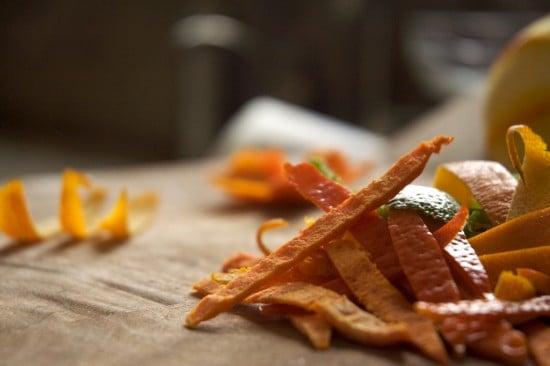 toss with sugar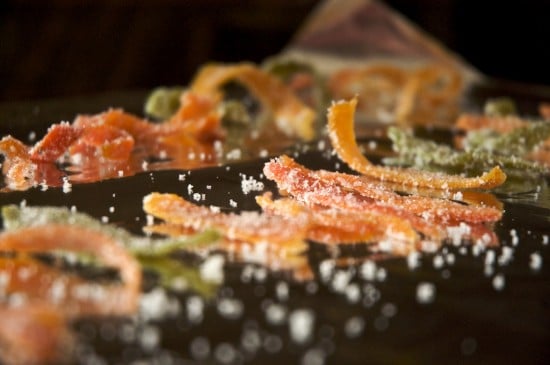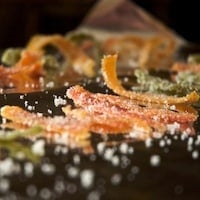 Candied Citrus Peels Recipe
Quantities are for a rough estimate. You can easily to larger or smaller batches.
Ingredients
2 Oranges or other citrus of your choice (you can do more than 1 kind at once)
2 cups Water
2 cups Sugar , plus more to coat finished peels with
Instructions
With a vegetable peeler, peel length wise in a continuous strip, the rind from the citrus. Remove any white pith from the inside of the peel (we scrap with a knife blade for this.)

Bring 1 part water to 1 part sugar to boil in a saucepan (for zest of two oranges we'll use 2 cup water, 2 cup sugar.)

Add citrus peels and boil over medium for 30-45 minutes. Strain, reserving liquid (now a tasty citrus syrup for other culinary delights.)

Pour about 1 cup sugar in a bowl. Toss candied peels in sugar, then separate and allow to air dry on a sheet of foil.
Nutrition Information per Serving
Calories: 112kcal, Carbohydrates: 29g, Protein: 1g, Fat: 1g, Saturated Fat: 1g, Sodium: 3mg, Potassium: 60mg, Fiber: 1g, Sugar: 28g, Vitamin A: 74IU, Vitamin C: 17mg, Calcium: 15mg, Iron: 1mg
More Easy Dessert Recipes:
We are a participant in the Amazon Services LLC Associates Program, an affiliate advertising program designed to provide a means for us to earn fees by linking to Amazon.com and affiliated sites.