Banana Cake with Butterscotch, I Wanted a Cake
This banana cake recipe worth every effort and time in the kitchen. It's delicious and different, unique and perfect for anyone who love bananas!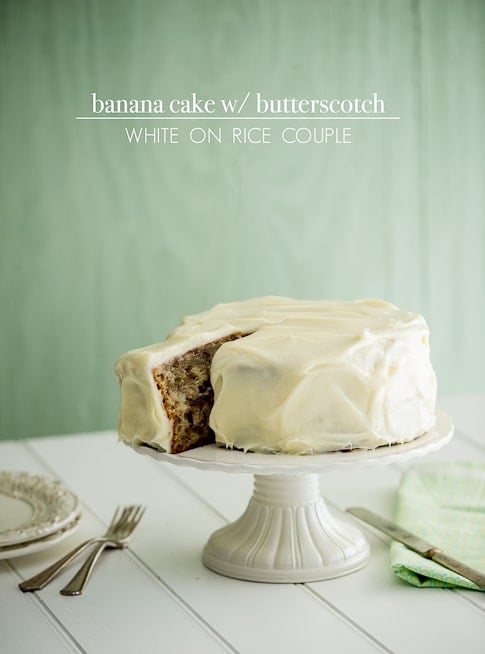 Banana Cake Recipe
We entered the convention center's ballroom to find two women sitting on the stage. One in her 30's-40's, chef jacket attired with a professional's serene gaze. The other – a bubbly, plump Southern Grandma with short cropped hair, her enthusiasm barely contained. That woman was Shirley O. Corriher and over the next 45 minutes she would become one of my heroes.
It was the 2011 IACP conference in Austin, TX and Diane and I had just given a talk on food photography. With our duties done, we wandered the halls poking our heads into random sessions not knowing what to expect out of the different speakers. 30 seconds into listening to Shirley rhapsodize over different type of wheat flour and how that affects biscuits, cookies, cakes, etc…, I was hooked. I wanted to hear what this woman had to say.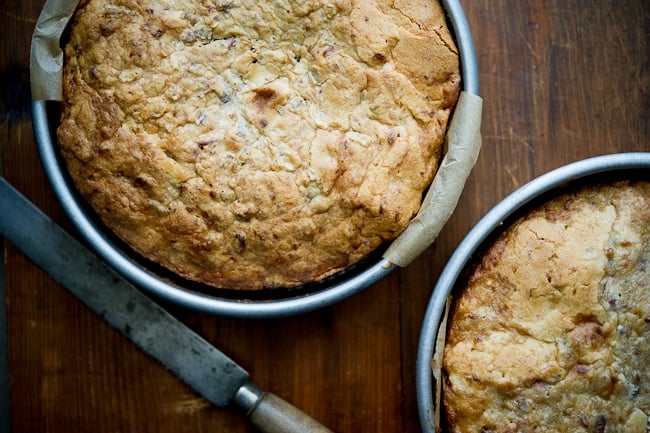 At first glance she appeared to be just a cute grandma with a lot of enthusiasm, but the more I listened it became evident to me that Shirley was brilliant. Not content with merely creating a good recipe, she would scour the ends of the earth to find out why something works well in a recipe or not. If there was a better method, choice of ingredients, nuance in the different sources of the ingredients. And she did it the old-school journalistic way. Testing again and again. Also by talking and cooking with people. Brilliant people.
Her knowledge was deep, but then she would also come up with new twists on techniques that were absolutely remarkable. Brushing puff pastry with ice water when you are folding the dough. Brilliant. Adds water (more steam=more puff). Chills the dough slightly allowing you to fold several times immediately instead of needing to refrigerate the dough for 20 minutes between folds. Time is drastically reduced in making the puff pastry and the end result is better.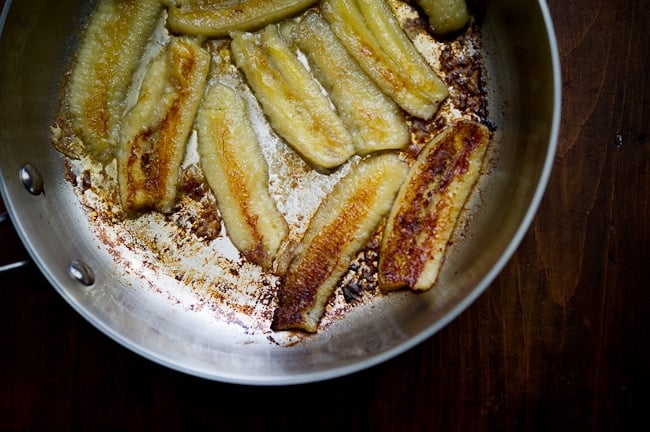 Needless to say, I've since bought her book, Bakewise. It has become another of my baking bibles. I'm no longer content with blindly following a recipe. I want to know why. We have great books, books used to teach in culinary schools, but as M.F.K. Fisher wrote, "…avert your eyes from the baleful hygienic correctness of school manuals. There are good cookbooks to read, that other women have written."
Bakewise is filled with the scientific wisdom of a baking education, but sugared and spiced with Shirley's uninhibited enthusiasm. Want to know why baking soda vs. baking powder or how much of either is best – it is in there. Is cake flour really necessary? It is in there. Need a great recipe for …? Probably there.
Want to know why something failed or wasn't as good as you thought it would be – poor recipes examples are given and how to correct them. Creaming butter – how long? Several pages just on creaming. And different techniques which accomplish the purpose of creaming and how each technique has its own good/bad points. Can you tell I love this book?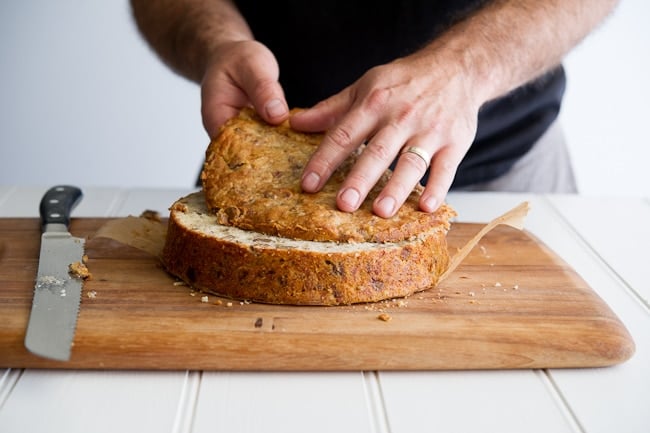 Fast forward to last week. We had a dozen left over bananas from a shoot that were quickly browning. Normally it would be banana bread time, but I wanted cake. A really good cake. Moist. Layered. Cream cheese frosting. And with butterscotch.
I already had a banana bread recipe I love, but I wanted to adjust it to make a better cake. Using Bakewise to understand different principles in creating a moist, even cake (Shirley "hates dry cakes" – I love her), I adjusted the ingredients and techniques. The recipe wasn't harder to do, just more mindful. And better.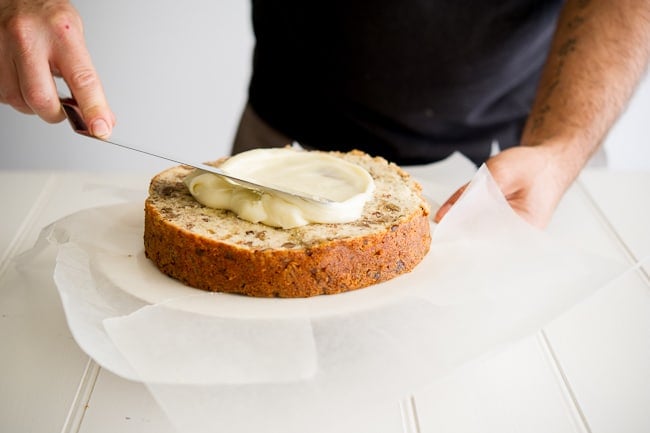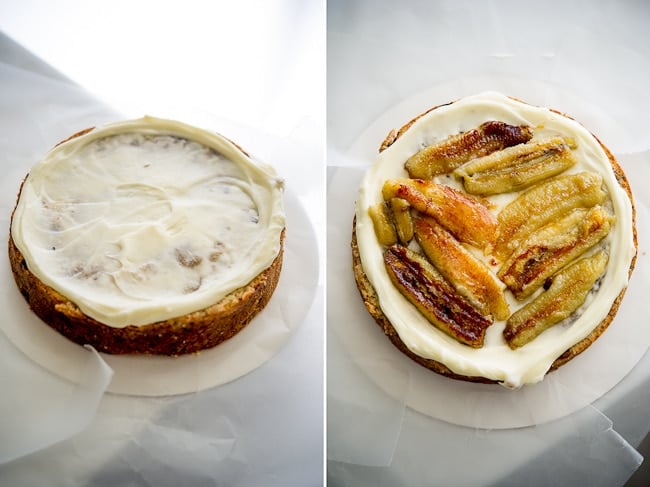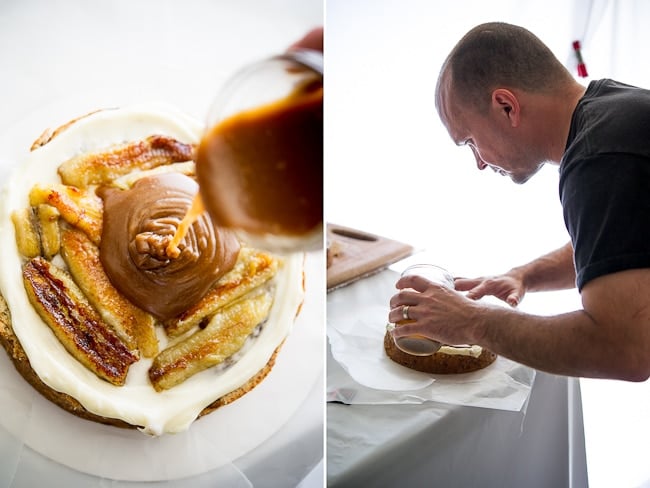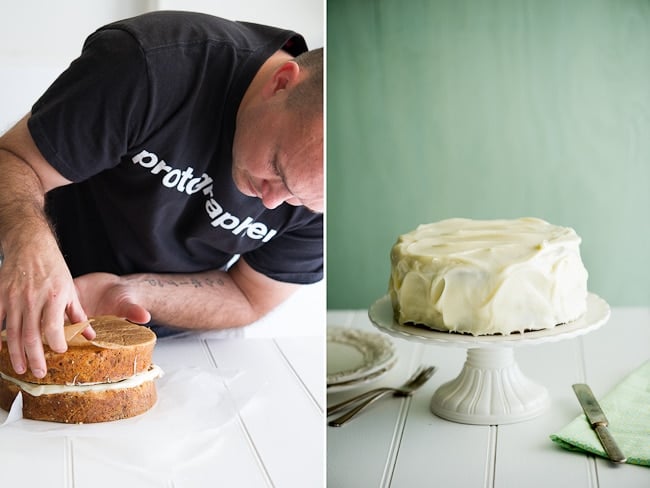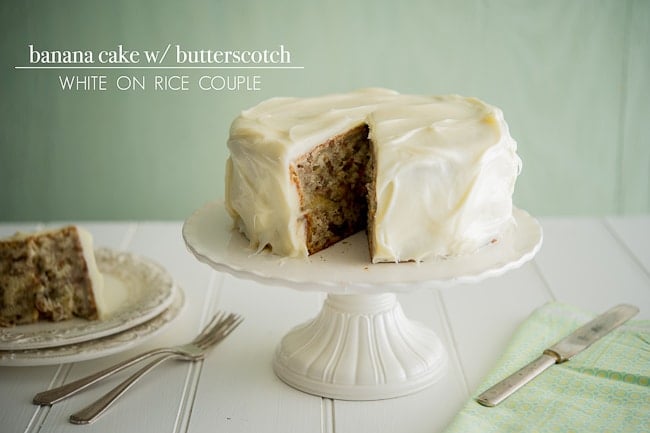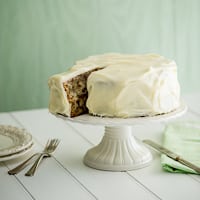 Banana Layer Cake with Butterscotch and a Cream Cheese Frosting
The butterscotch sauce is adapted from chef Shuna Lydon's recipe posted on recipe posted on Simply Recipes. We've given it an adult kick with the addition of Scotch to complete the flavors. Having all of the ingredients ready when starting the butterscotch sauce before you begin is very important, as it is a fairly fast process, and the sauce won't wait for you to dig around for the ingredients.
The frosting was based off of one I had from my grandma, but Shirley as almost the exact same in her book. Great minds, great women...
Makes one 8" Layer Cake.
Ingredients
Banana Cake Ingredients
2 cups (220g) chopped Pecans
3 cups (410g) Cake Flour
1 Tablespoon (15 g) Baking Powder
1 1/2 teaspoons (8g) Sea Salt
1 cup (227 g or 2 sticks) unsalted Butter , at room temp
3 cups (600g) Sugar
4 Egg Yolks
2 whole Eggs
1/2 cup (120ml) Canola Oil , or other clean tasting oil
8 ripe Bananas (approx. 4 cups smashed)
3 additional Bananas for final assembly, sliced length-wise
3 Tablespoons additional unsalted Butter for cooking bananas for final assembly
Butterscotch Sauce Ingredients
1/4 cup (60 g or 1/2 stick) unsalted Butter
1 cup (220 g) Brown Sugar , tightly packed
1/2 cup (120 ml) Heavy Whipping Cream
1 teaspoon (5 ml) Vanilla Extract
1 1/2 Tablespoons (22 ml) Scotch
Kosher Salt to taste (for us @ 1 teaspoon (5 g))
Cream Cheese Frosting Ingredients
1/2 cup (115 g) unsalted Butter, room temp.
2 - 8 oz pkgs (455g total) Cream Cheese, room temp.
1 teaspoon (5 ml) Vanilla Extract
4 cups (455 g) Confectioners Sugar
few dashes Orange Bitters (optional)
Instructions
Banana Cake Directions
Preheat oven to 350º F. Butter two 8" cake pans, line bottoms with parchment paper, butter parchment, then dust with flour and tap out excess.

Spread pecans in a sheet pan and bake in oven for 10 minutes or until gently toasted. Remove from oven and set aside to cool.

In a mixer, combine cake flour, baking powder, and salt and mix on low for 30 seconds. Set aside. Do not clean bowl.

In mixer, beat butter on medium speed until light and fluffy - at least 4 minutes *see note 1. Add in sugar and beat on medium speed until light and fluffy.On low speed, beat in egg yolks and whole eggs one at a time until just blended. On low speed, beat in canola oil.

On the lowest speed, stir in flour mix until just blended.Mash bananas well, then mix bananas and pecans into batter. Divide batter between the two 8" pans, place on a sheet pan and put in the oven

Bake for 45 minutes - 1 hour or until a toothpick comes out clean when inserted into the middle of each of the pans. The kitchen will noticeably smell of the banana cake as it nears completion. Set aside to cool completely before frosting.
Butterscotch Sauce Directions
In a heavy saucepan, melt the butter over low-medium heat. Just before butter is completely melted, add the brown sugar, stirring to completely moisten the sugar.

Gently cook, stirring occasionally, until the mixture caramelizes and transforms from its initial graininess to a smooth "molten lava". Make sure to get the corners of the pot and watch closely because the texture will change quickly, 3-5 min.

Whisk in all of the cream at once, lower the heat a little, and continue whisking until the the liquid is homogenous. Turn heat back up to medium and cook for another 7 minutes, whisking every few minutes.

Turn off the heat and let cool for 15 minutes. Add half of vanilla extract, Scotch, and sea salt, then taste for flavor. Add more of each until the flavor is perfect to your palate. Pour into a sealable container and allow to cool fully. Store covered and refrigerated for up to a month.
Cream Cheese Frosting Directions
In a mixer, beat the butter until light and fluffy. Add cream cheese and beat until light and fluffy.Stir in confectioners sugar, vanilla extract, and bitters then slowly increase speed and beat until incorporated. Set aside until ready to frost cake.
Banana Cake Assembly
In a large skillet heat additional 3 T of butter over medium heat. Add sliced bananas and cook until slices start to brown, 1-2 minutes. Carefully turn over bananas and cook other side until browned, 1-2 minutes.

If butterscotch has thickened too much to pour, gently heat until it becomes pourable. Set aside.

Remove banana cakes from pans, peel off parchment, and trim the tops with a serrated knife to give them flat top surface.

Put a dab of frosting in the middle of a cake circle or plate (the frosting helps keep the cake from sliding around). Place the first cake layer on a cake circle or plate. Line several strips of wax paper around base of cake to help keep circle or plate clean.

Put about 3/4 cup of frosting in the middle of the cake and spread the frosting working from the center out, leaving a slight built up edge on the outer rim. When finished, you should have nice thin layer of frosting over most of the top surface of the cake, with a 1/2" little wall on the outer rim that will help hold in the butterscotch.

Arrange browned banana slices on bottom layer of cake, keeping within the frosting rim. Pour butterscotch over banana slices (you'll only use about half of the butterscotch).

Take second cake and frost a thin layer on the cut top to seal crumb and keep butterscotch from soaking into cake. Carefully turn over cake and set on top of bananas, frosted side down.

Spread frosting over entire cake, swirling to completely cover. Remove strips of wax paper at base of cakes. Serve immediately or refrigerate for up to 3 days. Bring to room temperature before serving if possible.
Notes
Note 1: The ideal temperature for butter to be creamed is 65 degrees. When creaming butter, you don't want it to get too warm. If the butter actually melts during creaming (the beating generates heat) it can result in a very heavy cake. The bowl should always feel slightly cool to the touch. If it starts to feel warm. Pause the mixing, put bowl in an ice bath or freezer for 5 minutes, then resume.
Nutrition Information per Serving
Calories: 965kcal, Carbohydrates: 120g, Protein: 8g, Fat: 53g, Saturated Fat: 23g, Trans Fat: 1g, Cholesterol: 170mg, Sodium: 410mg, Potassium: 449mg, Fiber: 4g, Sugar: 92g, Vitamin A: 1329IU, Vitamin C: 7mg, Calcium: 121mg, Iron: 1mg
We are a participant in the Amazon Services LLC Associates Program, an affiliate advertising program designed to provide a means for us to earn fees by linking to Amazon.com and affiliated sites.