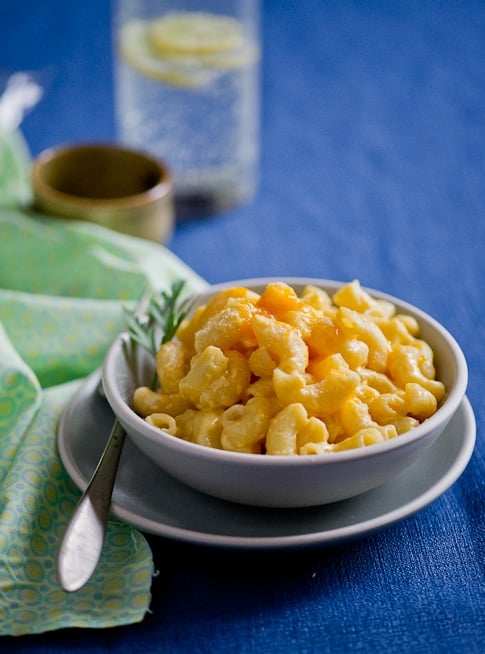 Update: Try this "healthier" version of Broccoli Mac and Cheese. It's another reader favorite.
I'm calling for a mac and cheese recipe revolution.  For those sweltering Summer days when cranking up the oven means turning our kitchen into a sauna, or for those times when I don't want to be a dishwasher, but still want to have a satisfying home cooked meal, I need a meal that can be cooked fairly quickly and efficiently. I know Todd and I aren't the only ones who come home from a hectic work day and ask that one universal question "What are we going to cook for dinner?"
Enter the solution and what I call, my mac and cheese revolution: the One Pot, Stove Top, Creamy Macaroni and Cheese recipe.
It's simple, clear, and considerate of everything we need in order to still eat well and prepare quickly, without compromising on quality and taste.
– One Pot – Yes, you read it correctly. All the raw macaroni is cooked in one pot, without a pre-boil step that most other stove top recipes require. There is no extra pot to pre-boil or wash. One pot means less dishes!
– Stove Stop- Stove top means NO oven! During our hot summer days, that last thing that I want is to turn on my oven and sweat even more just for a bowl of mac and cheese. The stove top method is a wonderful way of cooking the macaroni pasta, quickly and to your desired texture.  I can control exactly how soft or al dente I want my macaroni to be. Sometimes, I find myself over baking my mac and cheese  in the oven, which ultimately turn out like FLAT, MUSHY mac pasta. Does this happen to anyone?
– Creamy – This mac and cheese recipe is slowly cooked in milk and a little butter. The cheese is added in the end and it's so creamy and amazing.
– Low (er) fat? Healthy? – Gosh darn it, if I mentioned those words with a mac and cheese recipe, it could be contradicting and ludicrous. But clearly, I take all things into consideration, fat and flavor included. How to cook "better" and still not compromise the flavor? This recipe works wonderfully with low fat milk and I find that using less cheese still makes this recipe delicious. Now I'm not saying that this recipe is the poster child of a heart healthy, low carb nor fat free lifestyle. I'm just sayin' that this recipe can be made with less fat and calories and still taste great. I'm just sayin'.
 – Flavor blasts with creative cheeses- Now that I've figured out how to cook it easily and still maintain great texture, now comes the best part—-great flavor! Have fun with this recipe and experiment with flavorful, cheeses that melt well. My favorite is using parmesan and asiago cheese because I can use less cheese and still have bold flavor. Every single bite is delicious.
Don't get me wrong, I'm still a huge fan of oven baked mac and cheese because the warm, comforting, casserole bake can't be compromised.  The cheesy crusts are a show stopper too. But when I'm starving and the weather is scorching hot, the last thing I want to do is to blast that oven to 350 degrees. And No, we don't have central air conditioning!
A generous serving of  cheesy, starchy, creamy goodness is that bowl of comfort to satisfy the most challenging of days.
Macaroni and cheese is medicine, one of those forms of food therapy that make me feel better. If I can figure out ways to feed my starch loving soul with a cooking friendly version of my beloved mac and cheese, then I've solved another of life's dilemna's. This stove top, one pot mac and cheese recipe is the answer.
Now it's time for me to go and experiment with another batch using….. blue cheese?
happy mac and cheese times to you,
-diane
Toasted bread crumbs: I love toasted bread crumbs and it's so easy to make. Just break up some old bread, heat it up on a skillet. Continue stirring until crumbs start to brown and become fragrant. Remove from heat and top off your macaroni and cheese!
One Pot, Stove Top Macaroni & Cheese Recipe
**Update- please read the comments by readers below before you start the recipe. Technique is very vital to making this recipe a success, as well as the type of ingredients, milk, cheese & macaroni that you use.
Some readers have had great success, while others have not. The input and advice from previous readers are extremely valuable.
The key to keeping this recipe creamy is to make sure the flame is low and to consistently stir the pot. The mac elbows need to be cooked slowly in the milk and any high heat will cause the milk to curl. Don't leave the pot unattended.
Make sure you have both wet and dry measuring cups! Using the dry measuring cup to measure out the raw macaroni and wet cup for measuring out the liquid milk is crucial. There are differences between dry and wet measuring cups. Read Here for more information.
Obviously with the stove top, there won't be that cheesy crust that forms on top. But toppings of toasted bread crumbs or bacon should be a nice exchange.
Ingredients:
2 cups large elbow Macaroni, uncooked (about 1/2 lb)
2 cups low fat Milk (about 16 oz), or more if needed
**if more milk is needed, additional 1/4 cup milk at a time for final cooking. **Macaroni pasta varies so much! have additional milk on hand, or be ready to increase the heat if your macaroni doesn't absorb fast enough.
1 tablespoon Butter, for flavor ( I tried this recipe once without the butter and I didn't notice any difference with the recipe. More heart healthy!)
1/2 teaspoon Mustard powder
1 teaspoon Salt, plus additional for final season later
generous dash of Nutmeg
1 cup Grated Cheese, any one or combination of  ( jack, cheddar, swiss, mozzarella, gouda, parmesan*, asiago*, pecorino*) *Hard cheeses are best combined with a secondary,  softer, better melting cheese. Cheese varies in flavor and salt level too!
additional toppings: bacon bits, bread crumbs, chopped parsley, diced tomatoes (optional)
black pepper to taste (optional)
Directions:
Place raw elbow macaroni in colander and quickly rinse under water. Let drain.
In medium sauce pan (about 3.5 qt), add milk, raw elbow macaroni, salt, butter, mustard powder and nutmeg.
On medium heat, slowly bring milk/macaroni mixture to a simmer, stirring the macaroni frequently as it comes up to a simmer. This will separate macaroni and keep them from sticking together. DO NOT LEAVE THE STOVE! The milk mixture will come to a boil very quickly and leaving it unattended will leave a big mess on your stove stop.
Once mixture comes to a simmer, immediately turn down heat to LOW. Macaroni will slowly cook in the milk. Having your heat too high will evaporate the milk too quickly!
Continue to stir the mixture frequently so that macaroni will cook evenly and absorb milk evenly. If you don't stir your mixture frequently, you will get a big clump of macaroni in the end! Stir, stir stir!

Cook for about 15-20 minutes or until milk has been fully absorbed.  **If macaroni is not cooked fully, add a little more milk or water  to mixture ( in small amounts) until macaroni is fully cooked. This will take about another 5 minutes.
When milk has evaporated, stir in grated cheese of your choice. Stir the cheese evenly into the macaroni.
Turn off heat. Place lid on top of pan and cover for about 5 minutes. This rest period will allow macaroni to plump up and absorb any excess milk.
Take a final taste and add additional salt to taste. Before serving, stir one final time to mix everything together. Serve immediately.
Hello! All images & content are copyright protected. Please do not use our images without prior permission. If you want to republish this recipe, please re-write the recipe in your own words, or simply link back to this post for the recipe. Thank you.
Recipe Note for Salt: All recipes containing salt are based on kosher or sea salt amounts, not table salt. If using table salt, reduce the amount used to taste.