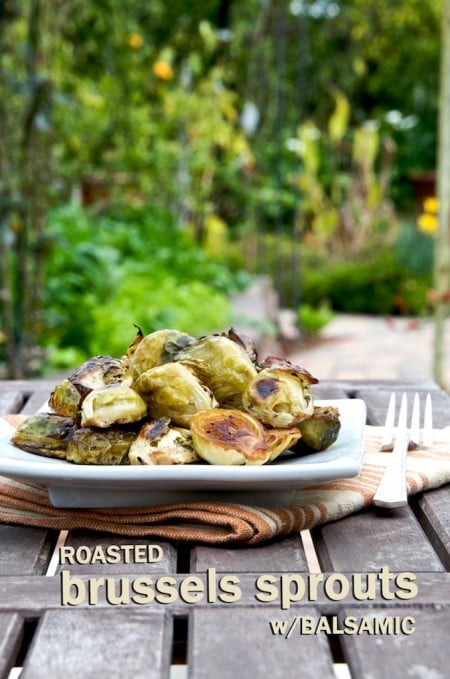 Update: Click here for more fabulous Brussels Sprouts Recipes.

Ahhh, brussels sprouts!  That little green veggie used to torture kids all across America.  As you read this, know that somewhere, some mom is forcing their child to eat brussels sprouts.  However for me, I must admit that I like them. Quite a bit.

I was a lucky child who grew up in a brussels sprout-free household.  I don't think I had even seen a brussels sprout until I came down here to Southern California.  So by the time that I actually tried them, I had no preconceived gag reflexes. I simply ate and enjoyed.
Guarding Lunch (from possoms & Dante)

Now, there are many food items which I hated as a child and have grown to love.  I couldn't stand tomatoes as a kid (it was the texture) but now can't imagine a summer without them.  Tomatoes are easily one of my favorite things to grow and eat straight from the vine.  And beans just weren't my thing growing up.  Not the green bean type, I was cool with those, but black beans or re-fried beans or anything of the such.  Straight out hated them.  But now the gagging is gone and I can actually heartily enjoy a good pinto or especially beans cooked with duck fat.  So tasty!
If you do have an aversion to brussels sprouts, we understand.  But as grandma would say, "Just try a little bit.  You never know, you might actually like it."  That open minded approach has allowed me to embrace and enjoy foods I would never have expected.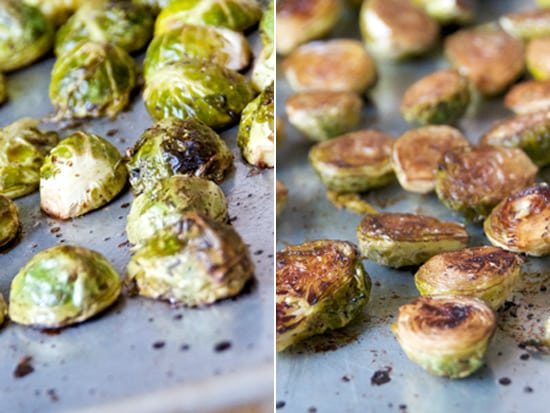 This recipe for brussels sprouts roasted with balsamic vinegar is easily my favorite way to have them.  It's quick, simple and tasty.  At the restaurant where I used to manage, we had a medley of roasted veggies with balsamic vinegar, and I always found myself snagging the brussels sprouts, beets, and sweet potatoes for a little munchie.  The sweet tang of the balsamic vinegar livens up the little mini-cabbages quite nicely.  If they are roasted correctly, the roasted brussels sprouts will still have a slight bit of crunch to the texture, and not seem mushy.  Hope you like these roasted brussels sprouts as much as we do.
-Todd.
P.S. -This is something we haven't tried to grow yet.  Anyone with experience growing brussels sprouts?
P.S. II -We want to know what it is you hated as a kid, and now have come to love.  Confession time!
Don't miss out on our free recipe updates and food, travel, garden stories. Subscribe to our free email updates here and on our Facebook Page . Follow and connect with us on Instagram (Todd), Instagram (Diane), Twitter and Pinterest. Thanks for stopping by!  
Roasted Brussels Sprouts w/ Balsamic Vinegar Recipe
For this recipe we are going to deviate from the norm.  We aren't going to list quantities for the ingredients.  We want you to trust yourselves and cook from the seat of your pants.  Toss it, taste it, and just relax and cook.  If you want to do a medley of veggies like those mentioned above, since they all would have different roasting time we suggest that you roast them individually then toss everything together when you are ready to serve.
Ingredients:
1 1/2 pounds Brussels Sprouts
3 tablespoons extra-virgin Olive Oil (don't use the cheap stuff. The tastier the oil, the tastier the dish)
1 tablespoon Balsamic Vinegar
Sea Salt, to taste
Fresh Cracked Pepper, to taste
Directions:
1. Preheat oven to roast at 375°F.
2. Peel the outer, beat-up layers of the brussels sprouts off.  Trim the end, then cut brussels sprouts in half.
3. In a large bowl, toss together olive oil, balsamic vinegar, salt and fresh cracked black pepper. Then add the brussels sprouts and toss evenly with the oil mixture.
4. Lightly oil a sheet pan, then spread out the brussels sprouts, cut side down. Roast in oven for 15 min., flip the sprouts to cut side up, then roast for 10-15 minutes more or until gently browned.
4. Serve warm.
That's it.  If you want you can serve them with a little creme fraiche, or maybe toss them with a touch more oil & balsamic for an extra tang.  These make an excellent easy side dish, or a nice little munchie.
Hello! All images & content are copyright protected. Please do not use our images without prior permission. If you want to republish this recipe, please re-write the recipe in your own words, or simply link back to this post for the recipe. Thank you.
Recipe Note for Salt: All recipes containing salt are based on kosher or sea salt amounts, not table salt. If using table salt, reduce the amount used to taste.