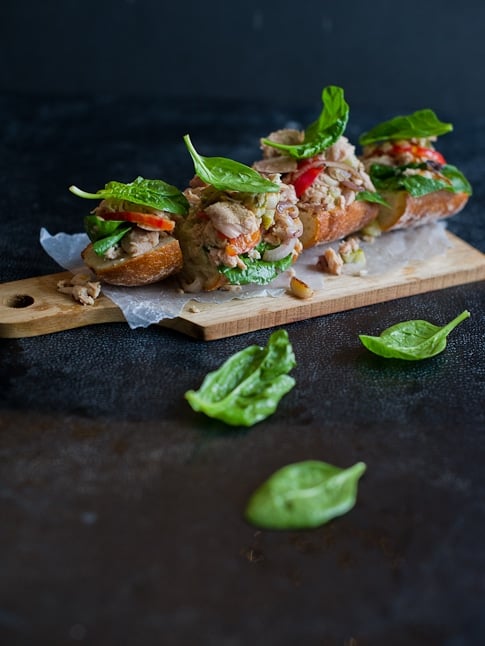 Fall Festis here and it's a continuation of Summer Fest, a cross-blog recipe (and tip) swap. These events were started by Margaret Roach ofAway to Garden and Deb Puchalla of Food Network.
Please join in and share your blog write ups. Just post your link or recipe or idea in the comments below this post, and also on the blogs of the other participants who are co-hosting as well.
Bruschetta is such an unassuming, effortless antipasto. A nice slice of rustic bread slightly charred and rubbed with a little olive oil and garlic or hatted with a slew of culinary concoctions.   A recent trip to Postino in Scottsdale reminded us how good bruschetta could be.
Our lives and cooking has always been influenced by "Moments of Discovery." Adventures taken off the beaten path to discover something new and to keep ourselves from getting stuck in a rut. In the past we had to create these opportunities ourselves by exploring on our day off, but especially of late, our photography and videography work has become untethered from it's So Cal base and sent us flying everywhere.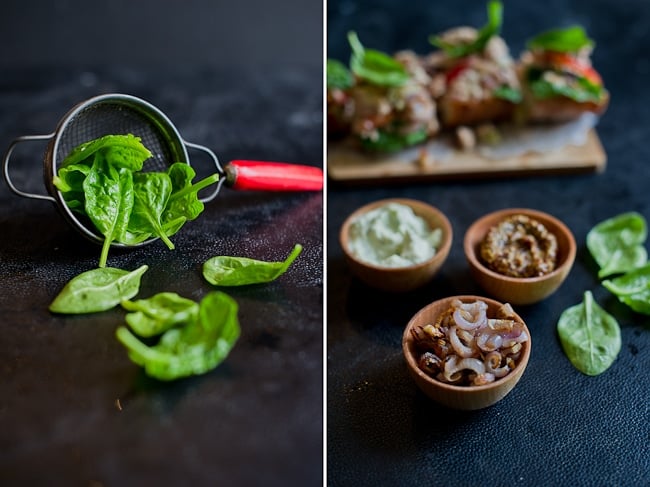 With such great destinations treading under our feet, it has been easy to become inspired by the diverse range of eating establishments we've enjoyed. It's even worth putting up with being sardined between two broad chested 250 lb. guys for a 4 hour flight. However, I must say the guys were pretty cool, and between the aisle man shifting out, the window dude angling against the visual portal, and me leaning the seat back to slide my shoulders behind theirs, we managed a fairly personal-space friendly flight.  No armrest superiority battles and there weren't any kicking/screaming/fussy kids within any neighboring rows. That was the flight back from Japan.  Good times!
At Postino the thick cut, rustic bread, slightly grilled, then laden with their classic and creative toppings was a perfect evening treat. Especially when paired with $5 happy hour wines.  We saw a 4-pack of bruschettas floating past to a nearby table and suddenly we're all "I want was that!", flagging down a waiter to add to our order.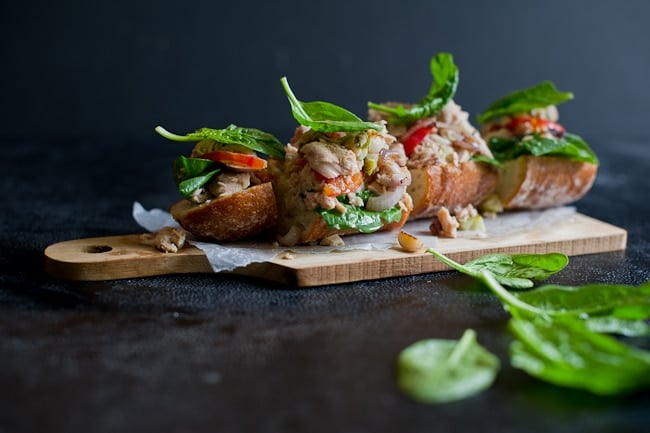 Back home the bruschetta infatuation continued and we found ourselves slicing, charring, and topping bread like mad. One of the favorite combinations from the abode was the tuna and spinach bruschetta. Fresh baby spinach, combined with a nice tuna (hunt down a good Italian canned tuna in oil or go crazy and slice and sear some fresh instead), some sauteed shallots, a little aioli, whole grain mustard, sliced sweet pickles, some fresh tomatoes, and a finishing touch of soy sauce…  Scrumptious!
I'd even fight over an armrest for it!
-Todd
More links to Fall Fest. Visit our co-hosts & leave your link there:
Tuna and Spinach Bruschetta Recipe
Yield: Serves 4
Total Time: 10 Minutes
Everyone has their favorite way of making tuna, and this is one of ours.  We've found with the higher quality canned tunas, especially if they are packed in oil, we don't need nearly as much mayo or aioli to moisten the fish.  The soy sauce helps season and give an extra umami layer to the flavoring.  Sometimes we'll go Viet fish sauce on these bad boys, but we thought we'd keep this recipe tame for the masses.
Ingredients:
Tuna Mix
2 5 oz cans Tuna packed in Oil
2-3 Shallots, sliced
1/2 c (@20 slices) Bread & Butter Pickles, diced
1 T Aioli or Mayonnaise
1 t Soy Sauce
fresh cracked Black Pepper to taste
Sliced Rustic Bread, toasted or charred over open flame
Handful Fresh Baby Spinach
A few slices of fresh Tomatoes
Olive Oil for charring bread
Garlic Cloves for rubbing on bread
Oil for sauteing shallots (grape seed oil is our favorite)
optional spreads
Whole Grain Mustard
Aioli
Directions:
Heat a small saute pan over med. heat and add a little oil to pan.  Add shallots and saute until soft.
Drain half of oil from tuna cans, then put tuna and remaining oil in med. bowl.  Add rest of tuna mix ingredients (sauteed shallots, diced pickles, aioli, soy sauce, and cracked pepper) and gently mix.
Brush bread slices with olive oil, toast or char bread slices, then rub with split cloves of garlic. Top with optional spreads if desired (or leave them on the side for guests to serve themselves to dip bread in to), then layer on the spinach tomatoes, and tuna mix.  Serve immediately.
Hello! All images & content are copyright protected. Please do not use our images without prior permission and do not re-publish this recipe. Simply link back to this post for the recipe. Thank you.
Recipe Note for Salt: All recipes containing salt are based on kosher or sea salt amounts, not table salt. If using table salt, reduce the amount used to taste.
[ad]