Tomato Jam Recipes & Kiddie Tomato Theives
We have three different tomato jam recipes for you below in the recipe box. You can customize your own spices and make your own original version!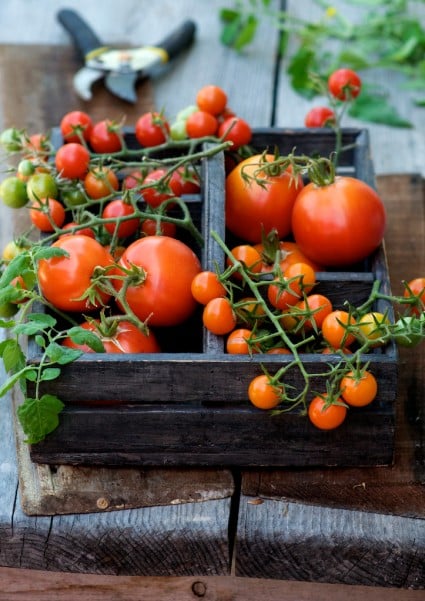 Tomato Jam Recipes
Explosions of vibrant colored tomatoes are making waves at farmers markets right now. For those lucky gardeners who didn't get hit with tomato viruses, bugs or late blight, they're probably tomatoes coming out of their ears.
We've had 50/50 luck this year with our tomatoes, which is utterly confusing. Those that did well are putting out tomatoes faster than we can collect and the ones that didn't do well tanked desperately to a pile of brown dead leaves. Let's hope we can figure out our tomato plight for next year because having 9 tomato plants die within 2 weeks is the biggest blow to any gardeners ego. It's definitely humbling.
But for the other 8 plants that did thrive past any diseases, we've decided to extend the bounty and make big batches of tomato jam!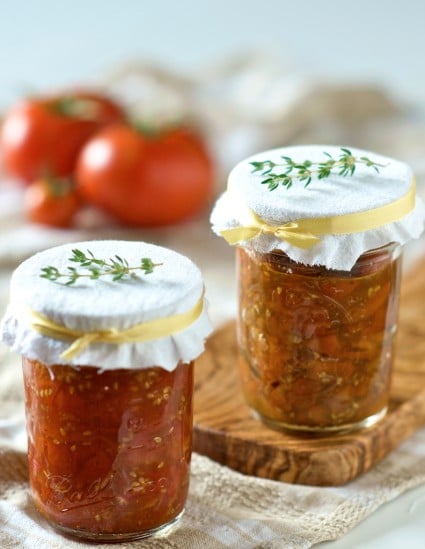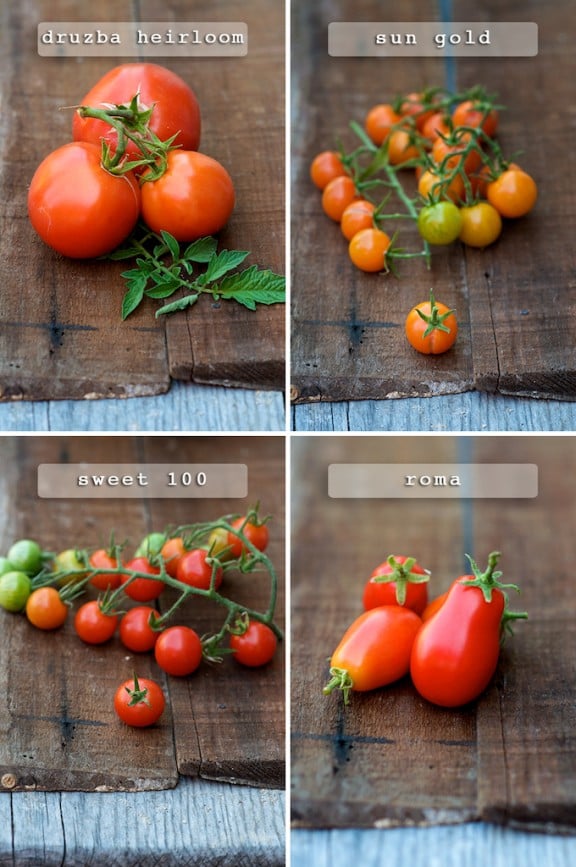 Preserve Your Tomatoes
Tis the season to be preserving, jam-ing, pickling and marmalade-ing (sp?). With stone fruits peaking now and the overload of fresh summer vegetables, now is the perfect time to prepare these beauties for the fall and winter seasons. So with all these tomatoes, why not make them into jam?
Tomato jam/jellies/preserves are a delicious, perfectly sweet and versatile. Perfect for Summer's abundance of tomatoes. It can be used as a spread on crusty bread or sandwiches, as a nice topping on grilled dishes and a perfect accompaniment to just about anything on your table. Tomato jam can be really addicting and before you realize it, you'll be adding it to so many dishes to remind you of summer's tomato glory.
So why not treat it like a sweet fruit and make it into a jam, jelly or preserve? Try it. If you love tomatoes, you'll love this. Promise! And don't forget the peanut butter and tomato jam sandwich!
Kiddies Stealing Tomatoes – It's a good thing!
We hosted a big garden party a few weeks ago for Todd's Aikido Dojo. It was a family affair with children running all about and enjoying the open and secret hiding places in our garden. All was great fun with the bubbles, hide-and-seek games and toys, but when they asked for a plastic bags, we were suspicious, cautious and a little scared.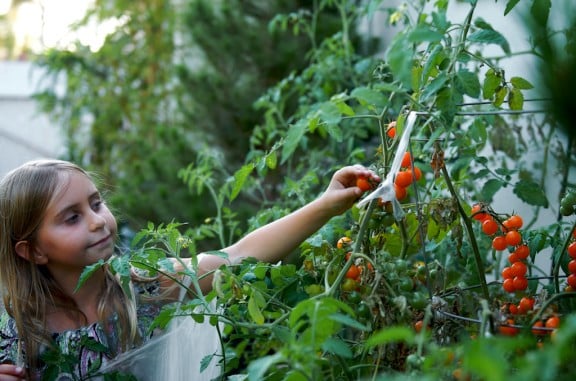 "Why do you want plastic bags for?" we asked with nervous anxiety. "What are you going to do with the bags?" (we might not have kids of our own, but we know when there's trouble lurking behind those innocent questions!)
"We're gonna pick fruit!" they squealed as they grabbed the bags and scurried out the kitchen like a pack of excited puppies. We both looked at each other, puzzled at the "pick fruit" part because most of the fruit we have are growing on trees, which are much taller than the 3-4 feet that they are able to reach.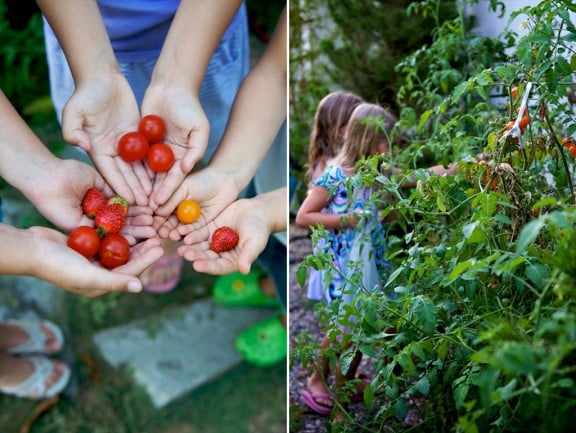 Oh no, trouble. So we ran behind them, scared to think of what terror they would be inflicting onto our poor fruit trees, our own babies. When we caught up to them in our tomato patch, we were SHOCKED at what we saw! These little critters were picking our cherry tomatoes and eating them like they were candy! "We love this fruit!" they screamed as they were stuffing their adorable faces with plump orange Sun Gold tomatoes and Cherry Red tomatoes.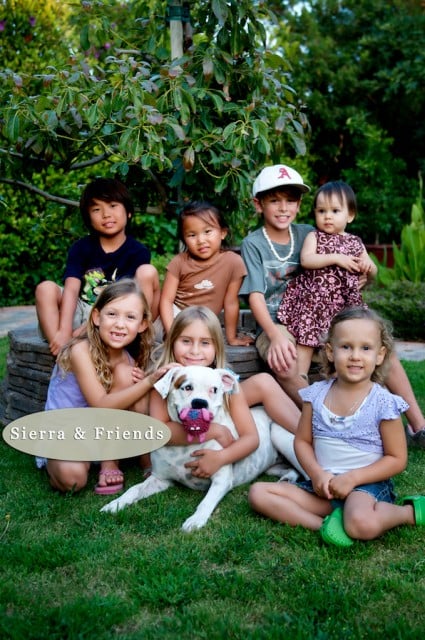 Kiddie tomato stealers & Sierra Doggie tomato KILLER!
Why was it a shock? It was surprising because first of all, they called tomatoes correctly as "fruit" and they were eating them like they were pieces of chocolate truffles. Before we knew it, they're cute little faces were dripping with tiny tomatoes seeds and their little hands were red with fresh squished tomato juice.
It proves once again that a fresh tomato off the vine is sweet fruit and is truly Nature's candy that kids of all ages swoon over. And try these tomato jam recipes in a grilled sandwich!
-Diane & Todd
*****************************************
With summer's bounty overflowing many of our gardens, we wanted to share our favorite garden cookbook, "Too Many Tomatoes, Squash, Beans, and Other Good Things" Each chapter focuses on a common garden veggie, giving growing, harvesting, and storing tips, plus some basic cooking guidelines. Then the chapter finishes off with a nice set of recipes that are all good down-home recipes. (Although, this recipe did not come from the cookbook, there are many other great tomato recipes in it.) Anytime I have a veggie that I need a little inspiration to figure out what I want to do with, I grab for this book first. It was one of my grandma's favorite cookbooks, and it will always be one of mine. -Todd
Print Recipe
Three Tomato Jam Recipes
Here are three different tomato jam recipes. The cooking directions for each will be the same, the only thing changing is the ingredients you use. Pick your favorite, make all three, or use them as inspiration to create your own adaptation.1 lb Tomato = @ 1 pint Jam
Servings: 8 servings
Calories: 65kcal
Ingredients
Sweet n' Spicy Tomato Jam Recipe - "Sweet Nectar with a Little Spice"
1 lb (455 g) Tomatoes , roughly cut (some varieties may need to be peeled)
1/2 cup (45 g) Brown Sugar
1/2 Serrano Chili , seeded & finely diced (or whatever chili you like)
4 whole Cloves
1 stick Cinnamon , preferably Vietnamese Cinnamon
1-2 Tablespoons (15-30 ml) Red Wine Vinegar , depending on how tangy you want it
1 1/2 Tablespoons (20 ml) fresh Lime or Lemon juice , lime is our preference
Tomato Jam w/ Ginger Recipe - "Ahhh, you so Asian! Tomato Jam"
1 lb (455 g) Tomatoes, roughly cut (some varieties may need to be peeled)
1/2 cup (45 g) Golden Brown Sugar
2 teaspoons fresh Ginger , grated or finely minced
4 whole Cloves
1 stick Cinnamon , preferably Vietnamese Cinnamon
2 teaspoons (10 ml) Apple Cider Vinegar
1 1/2 T (20 ml) Lime
Tomato & Thyme Jam Recipe - "Molto Bene Tomato Jam"
1 lb (455 g) Tomatoes, roughly cut (some varieties may need to be peeled)
1/2 cup (45 g) Golden Brown Sugar
1 Tablespoon fresh Thyme , finely minced
4 whole Cloves
1 stick Cinnamon , preferably Vietnamese Cinnamon
2 teaspoons (10 ml) Balsamic Vinegar
1 1/2 Tablespoons (20 ml) fresh Lime or Lemon juice, lime is our preference
Instructions
Combine all ingredients from your jam of choice in a saucepan, then simmer over med-low heat. Stir occasionally and gently. Simmer about an hour or until the mixture thickens to a jam-like consistency (who'd have thought.)

Put tomato jam into sterilized jars. For longer storage, can in a water bath (cover with water about 1" above jars & simmer for about 15 min.) or just store in the fridge to keep for a couple weeks.
Nutrition
Calories: 65kcal | Carbohydrates: 16g | Protein: 1g | Fat: 1g | Saturated Fat: 1g | Sodium: 7mg | Potassium: 160mg | Fiber: 1g | Sugar: 15g | Vitamin A: 477IU | Vitamin C: 9mg | Calcium: 22mg | Iron: 1mg
We are a participant in the Amazon Services LLC Associates Program, an affiliate advertising program designed to provide a means for us to earn fees by linking to Amazon.com and affiliated sites.