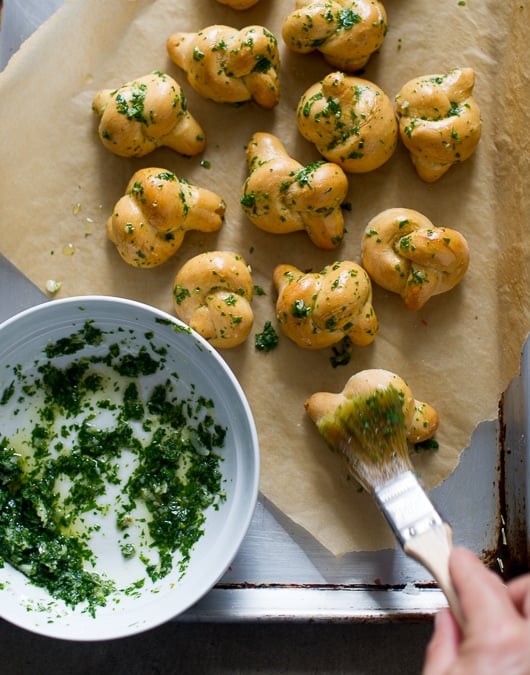 The weather is warming up and our herb gardens are thrilled at finally being able to sprout new sprigs. Sometimes we get a little zealous and start growing herbs too early in the year and what we get are dead plants if we get an unexpected wave of cool evenings. But now is the time of year that pretty much all the herbs are thriving, happy, and not limp and tired. That means we can make another big batch of our favorite herbed garlic knots because we really need to keep up with all the new herb flavors were collecting in the garden.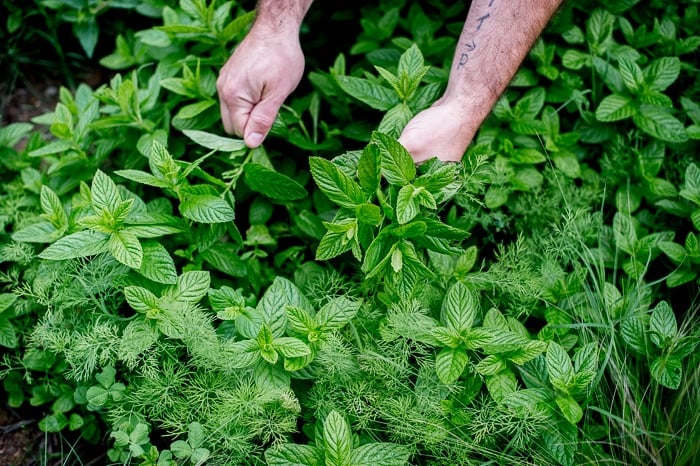 use a combination of your favorite herbs 
Probably one of the easiest baked breads we've made are the garlic knots. They're not only easy, but appreciated by everyone that hovers over the platter. They can be a meal on their own, or added to an awesome charcuterie/cheese platter. When we make tomato soup, a few of these knots are the perfect accompaniment and different from the standard cracker.
The hardest part for us to make these herbed garlic knots is deciding what fresh herbs to use. Parsley is always a great starting point, but don't forget that fresh thyme, mint, dill, basil and oregano add fantastic layers of flavor to these green knotted jewels.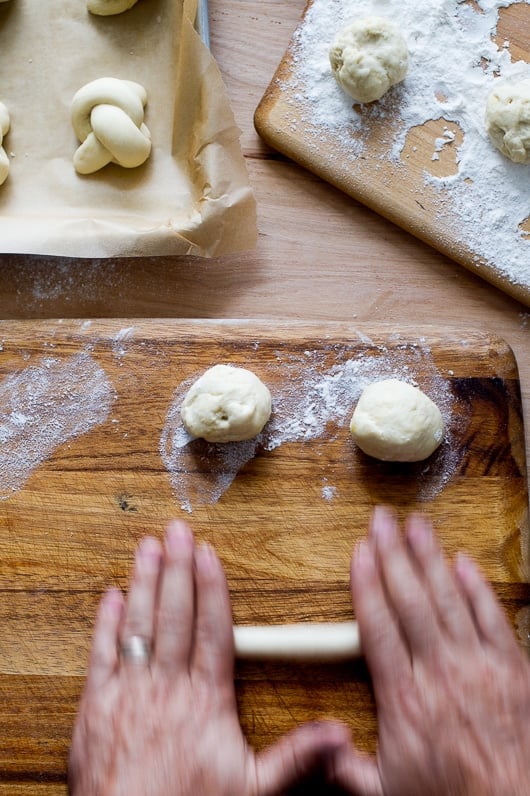 homemade garlic knots are awesome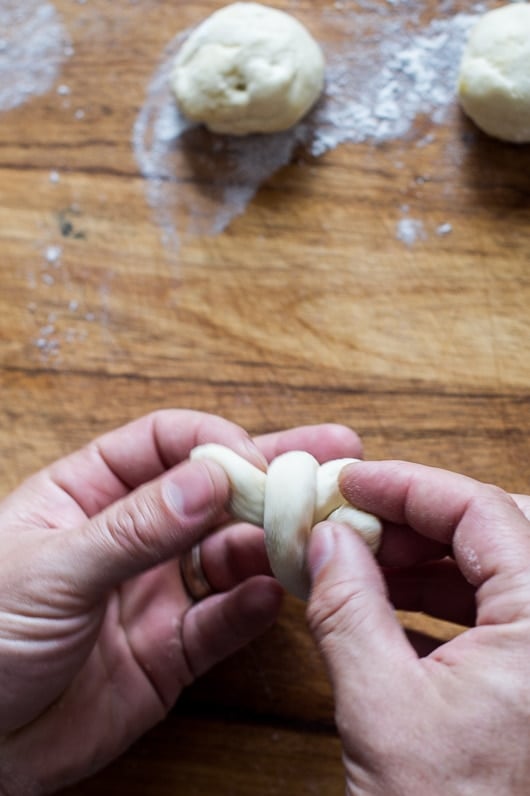 Making these garlic knots take me back to my days of working in the restaurant business. Every day the kitchen would crank out a huge basket of garlic knots that we'd sell throughout the day. Those little devils would also serve as staff sustenance, since more often than not, breaks were skipped in order to get the day's tasks done. Even after consuming what seems like a thousand garlic knots, I have never tired of snacking on them to get me through a long day. After leaving the restaurant business, that daily ritual inspired me to create my own versions, and they are all as addicting as ever.
-Todd
More knots we've made: Simple Garlic Knots, Spicy Sriracha Garlic Knots.
Herbed Garlic Knots
Yield: about 40 knots
Total Time: 1 hour plus proofing and chill time
Adapted from our cookbook, Bountiful.
The hardest part for us to make these herbed garlic knots is deciding what fresh herbs to use. Parsley is always a great starting point, but don't forget that fresh thyme, mint, dill, basil and oregano add fantastic layers of flavor to these green knotted jewels.
Ingredients:
FOR THE DOUGH
1 3/4 cups (420ml) warm water (about 115°F / 46°C)
1/4 cup (60ml) olive oil, plus more for brushing
1 teaspoon (5ml) kosher or sea salt
1 tablespoon (15ml) sugar
1 1/2 tablespoons (22ml) active dry yeast
About 5 1/2 cups (685g) flour, plus more for rolling
FOR THE GARLIC-HERB COATING
1/4 cup (60ml) olive oil
1/4 cup (1/2 stick / 57g) unsalted butter
6 medium cloves garlic, finely chopped
1/3 cup (20g) finely chopped fresh herbs of choice (flat leaf parsley, oregano, thyme, basil, mint ...)
Kosher or sea salt
Directions:
Make the dough: In a large bowl, combine the water, oil, salt, sugar, and yeast. Mix to dissolve the yeast.
Mix in the flour, cover, and set in a warm area to proof until doubled in volume, 1 to 3 hours, depending on initial water temperature and warmth of proofing area.
Chill the dough until ready to make knots, at least 1 hour and up to several days.
Set up a rolling station: Heavily flour a board to hold the dough balls. Lightly oil a second board for forming ropes of dough to knot. Line several sheet pans with parchment paper.
Pinch off dough balls the size of ping pong balls (about 1 ounce / 30g each) and set them on the floured board.
Knock off excess flour one dough ball at a time, then roll the ball back and forth between your hands and against the oiled board to create an even rope 7 inches (17.5 cm) long.
Tie the rope into a knot (over, under, and through), and place the knot on one of the prepared sheet pans. Continue rolling and knotting the rest of the dough balls, placing the knots on the sheet pans with about 1 1/2 inches (4 cm) of space between each knot. After each pan fills up, cover it with a towel and place it in a warm, draft-free place to allow the dough to rise.
Preheat the oven to 400°F (205°C).
After the knots have doubled in size, 30 minutes to 1 hour, remove the towels and place the pans in the oven. Lightly mist or very gently brush the knots with oil, and bake until golden, 12 to 15 minutes.
Make the garlic-herb coating: In a saucepan, gently warm the oil, butter, and garlic over low heat. Cook for a minute or two more to soften the garlic's flavor, if desired. Stir in the chopped herbs and set aside.
Remove the knots from the oven. While they are still warm, either brush them with the garlic-herb coating, or place the knots and the garlic-herb coating in a large bowl and toss to coat. Season with salt to taste, and serve.
Notes: It is not necessary to knead this dough; that will only toughen it. When you're rolling the dough, lightly oil the surface you roll on to help the dough stick just enough, and lightly flour your hands and the dough balls to keep them from sticking too much. Find the balance between the two for best results.
Hello! All images & content are copyright protected. Please do not use our images without prior permission and do not re-publish this recipe. Simply link back to this post for the recipe. Thank you.
Recipe Note for Salt: All recipes containing salt are based on kosher or sea salt amounts, not table salt. If using table salt, reduce the amount used to taste.
[ad]