Meyer Lemonade w/ Rosemary + Thank You Sunset Magazine
This meyer lemonade recipe was originally published in 2011. It's an oldie but goodie!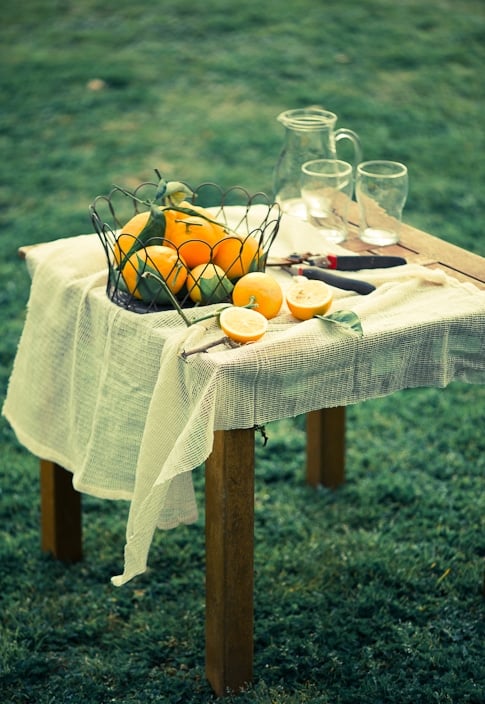 Meyer Lemonade Recipe
It's been almost 15 years ago since we had our first conversation about growing a garden together. It's been that long? We still can't believe it. Back then, our garden inventory was a mere small handful of terra cotta pots filled with herbs on a tiny balcony of a second story apartment. We were only able to occupy half of that balcony because we shared the apartment with two other roommates. So, our personal space back then was one bedroom, a shared bathroom, kitchen and half a balcony.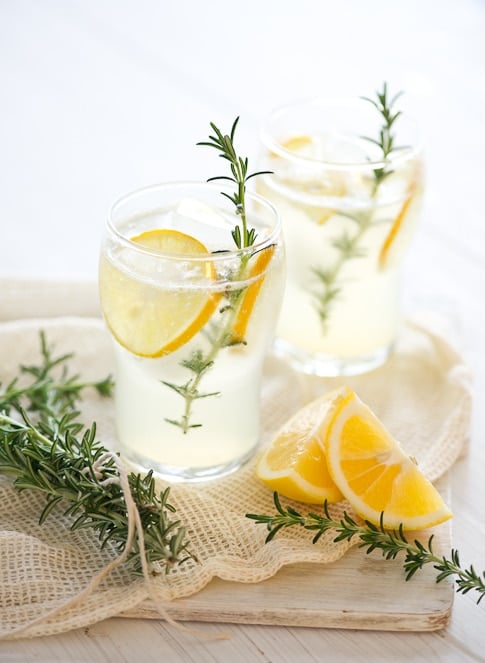 Compared to what we have growing now, we had very little back then. But we always dreamed big because of what our monthly issue of Sunset Magazine inspired us to what we "can do" with our small space and if we had just a bit more yardage, of what we "could do". Well, we found our space, filled it with 38 fruit trees and continually played in the dirt. But never ever in our wildest dreams would we ever believe that we would find ourselves and reading about ourselves in Sunset Magazine, the exact publication that continually encouraged and inspired us to grow more and live green. It's surreal and strange to see our faces in the very magazine that inspired our garden to grow and flourish to become what it is today.
Feature in Sunset Magazine!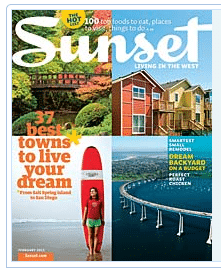 So it's here, the February 2011 issue of Sunset Magazine and we're on pages 50 and 87. There isn't just one, but two stories about our garden citrus in this issue and it's too overwhelming for us to even comprehend how this all happened. We're still in shock and often shy about it all. In fact, they even used our photographs of the detailed fruit that we shot in the story. Double shock treat omg wow!
All we can say right now (or shout) is a huge THANK YOU to all the editors at Sunset Magazine, Senior Garden writer Sharon Cohoon and photographer Andrea Gomez for championing our humble citrus garden in this month's issue. And to all of you readers and friends who have supported us on this blog, we thank you profusely.
We're thrilled, excited, in shock and even more humbled by this whole experience. You all made our wildest garden dreams come true!
To celebrate and keep in theme with the citrus sunset stories, we made some refreshing meyer lemonade. The floral qualities of meyer lemons brighten up the classic lemonade with a floral twist. With an added sprig of fresh rosemary, this wonderful meyer lemonade becomes extra special, delicate and fragrant for such a joyous occasion. Make sure you slice up the meyer lemon rinds and infuse in the lemonade. The flavor will pop, and make this a drinkable meyer lemon candy.
Thank you to every single one of you!
Much love and gratitude,
-Todd and Diane
You can read one of the stories here, at Sunset.com. For the 2nd story, you'll just have to buy the February 2011 issue. But also included are our some of our favorite citrus recipes! 😀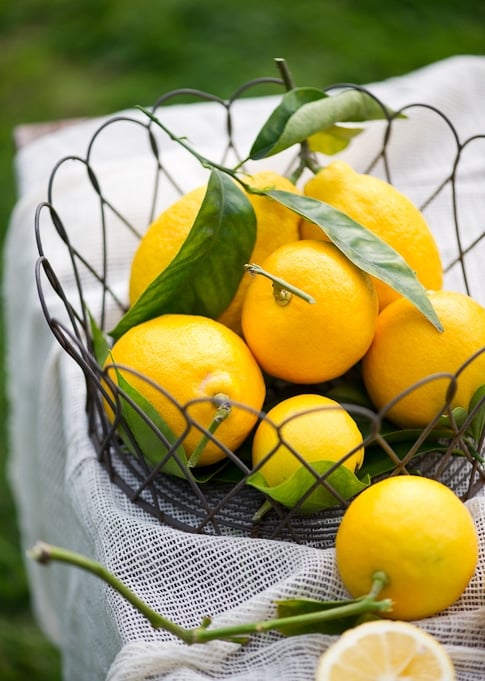 our meyer lemons are finally ripe for this meyer lemonade recipe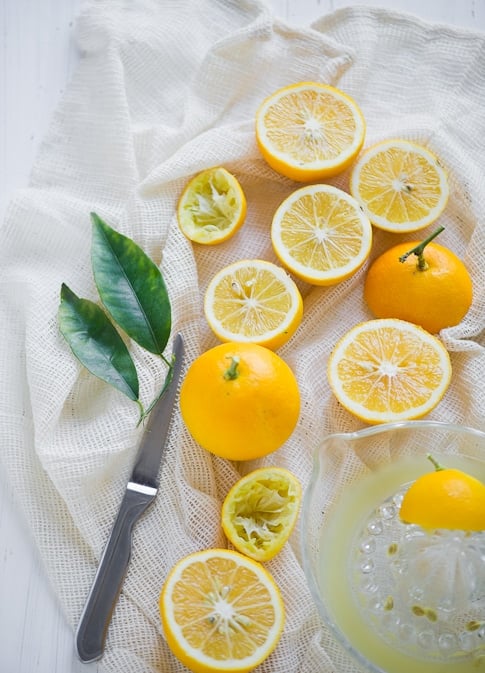 a touch of rosemary, one sprig is plenty, makes this lemonade outstanding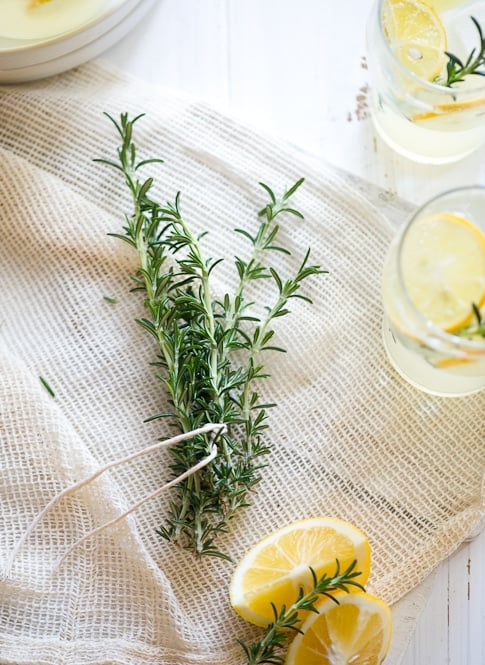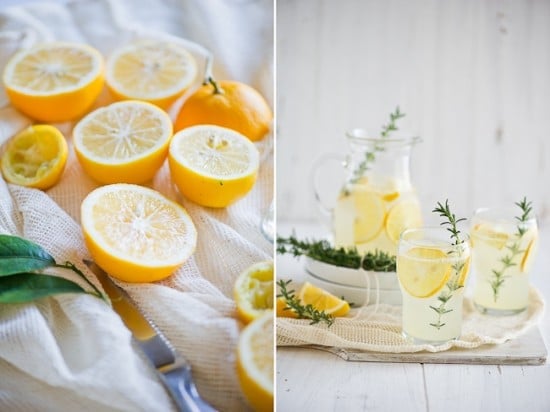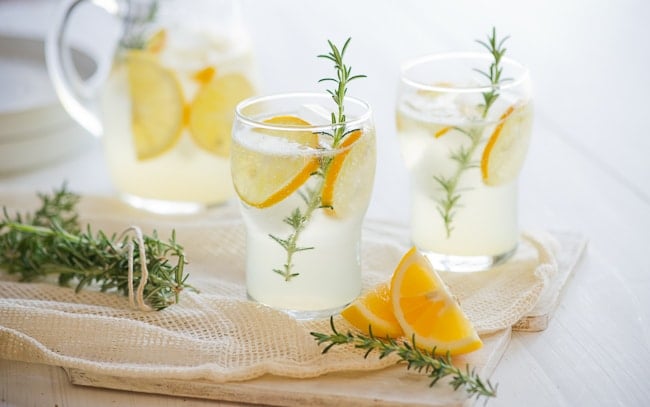 Check out our Cocktail Recipes Here and our Complete Whiskey Guide.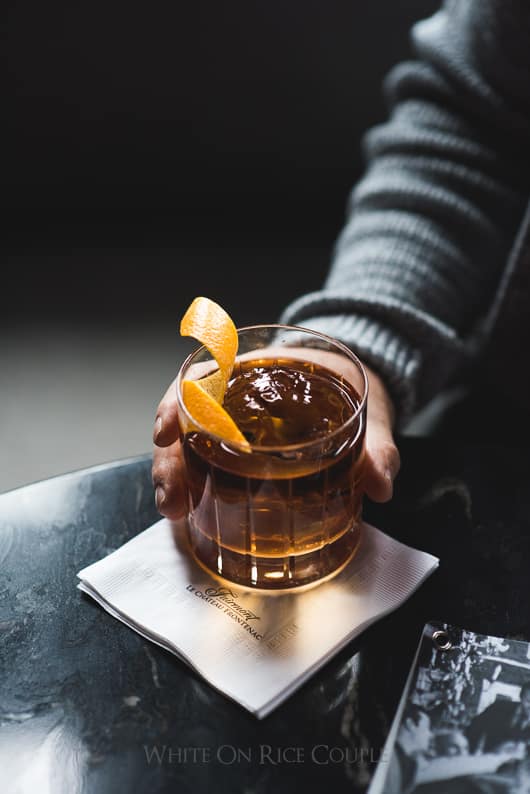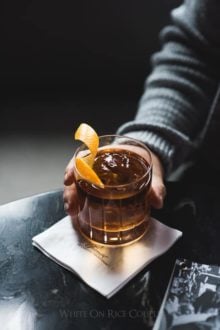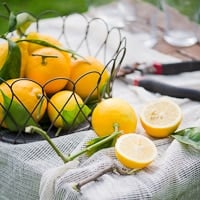 Meyer Lemonade with Rosemary Recipe
Don't go overboard with the rosemary, because it can quickly overpower the lemonade. It should give just the subtlest hint of rosemary to compliment the Meyer lemons. Throw in a few of the squeezed Meyer lemon rinds into lemonade to give it an extra brightness of flavor. Citrus have incredible flavor in the oils of their rinds and after squeezing, those oils have been pushed to the surface, just waiting to be used. We make our lemonades with simple syrup, a great staple to always have in the fridge, but you can always just use sugar or agave nectar to taste.Makes about 5 1/2 cups
Ingredients
1/2 cup (120ml) fresh Meyer Lemon Juice
1 cup (240ml) Simple Syrup *recipe follows
4 cups (960ml) Water
a couple sprigs of fresh Rosemary , for garnish
Instructions
Combine meyer lemon juice, simple syrup, and water in a pitcher, adding in a few freshly squeezed rinds of the Meyer lemons. Stir to combine

Chill until ready to serve. Serve over ice with fresh rosemary sprigs if desired.
Notes
Simple Syrup
This is our basic simple syrup recipe. We'll often make variations by substituting palm sugar or agave nectar for some of the sugar or by infusing ginger or mint into the syrup when boiling. They are great for making your own sodas with a soda water. Simple syrup keeps very well, usually for months if your storage jar is sterile before filling. Makes about 3 cups.
2 cups (480ml) Water
2 cups (400g) Sugar
Simple Syrup Directions
Combine sugar and water in a medium saucepan. Stir and bring to a simmer. Simmer for 15-20 seconds then take off the heat.
Allow to cool then store in a sterile jar in the refrigerator.
Nutrition Information per Serving
Calories: 156kcal, Carbohydrates: 42g, Protein: 1g, Fat: 1g, Saturated Fat: 1g, Sodium: 41mg, Potassium: 56mg, Fiber: 1g, Sugar: 42g, Vitamin A: 1IU, Vitamin C: 8mg, Calcium: 13mg, Iron: 2mg
<p
We are a participant in the Amazon Services LLC Associates Program, an affiliate advertising program designed to provide a means for us to earn fees by linking to Amazon.com and affiliated sites.