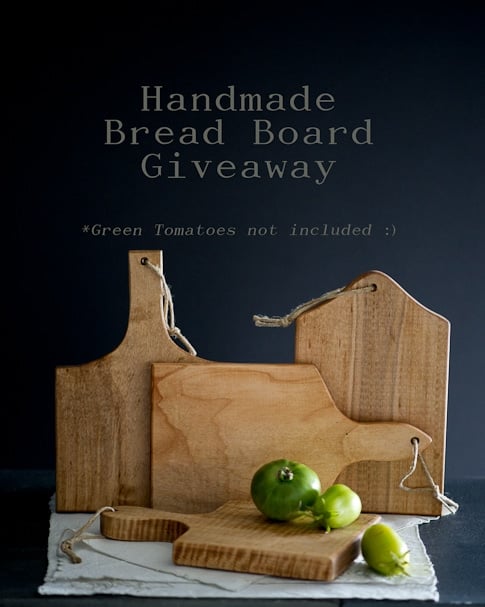 *This giveaway has ended. Thank you everyone for participating! Twitter and Facebook selected the winners. I asked for a number between 1 and 431. I took the first answer from Twitter- Comment #50 is one winner. And the first answer from Facebook: comment #318 is the second winner.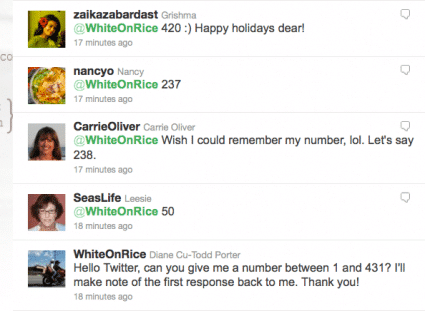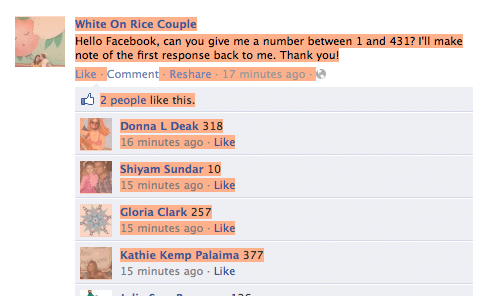 ••••••••••••••••••••••••••••••••••••••••••••••••••••••••••••••
Hello lovely friends. I went shopping again and spent quite a bit of time on Etsy. And this is always a good thing.
Searching through stores of handmade crafts on Etsy is something I can spend hours doing. Ultimately I get click happy and start adding to my cart every time I see something beautifully hand made. And if it has anything to do with vintage linens, paper or food styling props, it is super click happy-time.
I was so super stoked to find these handmade individual bread boards by Diana at Our Vintage Home Love! All the bread boards made by Diana are custom and each are unique with their own special characters based on the wood, stain and shape.
What made me fall more in love with these boards is Diana's story. Please read her bread board story. I cried a few times. Tissues please.
Handmade and homemade items made with love are so dear to me. Each piece weaves in a special story, a bit of the past and when I can hold it in my hands, I feel so much more inspired to love, share and give back.
So I went extra click happy and purchased a set of these boards to give away!
They are so beautifully hand crafted and are the perfect size for food photography and styling too. I just adore the different shapes of the boards and especially the lovely handles.
Diana also sells a larger selection of boards on her Etsy Store.
Good lucky everyone!
hugs and love,
diane
I purchased a set and will be giving away 2 boards to 2 different winners!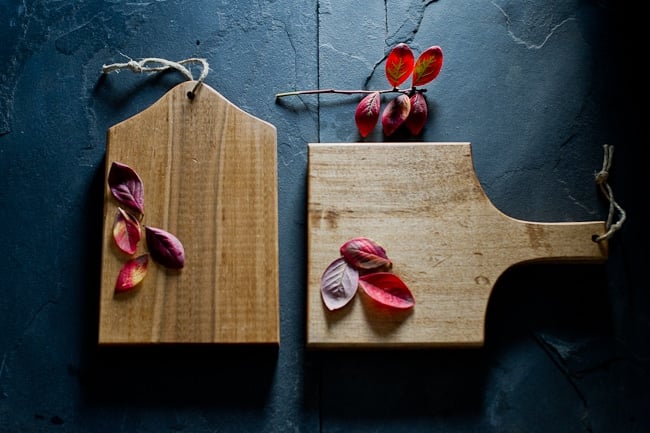 Lovely mini bread boards are hand made. Two winners will receive 2 boards. Leaves & apricots not included. But I will be giving away these vintage linens next week!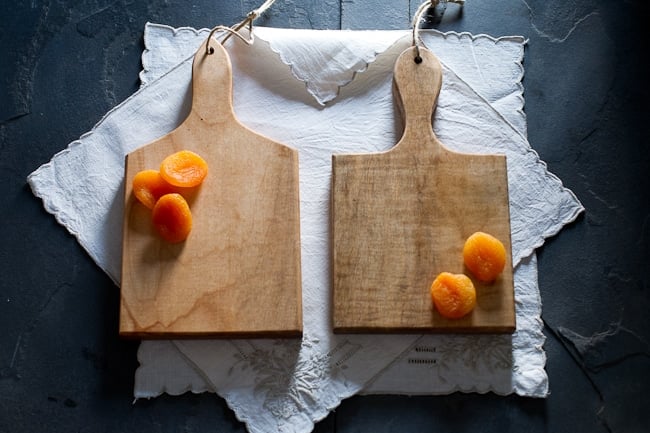 Details of bread board giveaway: (3 chances to win)
I purchased a set of these boards and will be giving away 2 boards to 2 different winners!
1st chance to win: Leave a comment below and let me know what you would do with the boards if you won
2nd chance to win: Follow me on twitter and tweet this giveaway with my handle included

@WhiteOnRice

. Leave your second comment with a link to show me that you tweeted it.
3rd chance to win: Go read

Diana's bread board story

. Cry a little. Let me know that you read it and leave the 3rd comment below.
Giveaway ends on Wednesday 21, 2011 at midnight PST.
Sometime during Thursday 22, 2011 I will ask

twitter

to give me  a number. The comment number matching the first twitter response will be the first winner. I will do this a second time on our

Facebook Page

.  Limit one set of boards per person.
Please note, all these boards are handmade so the set I ordered to giveaway might not look exactly like the photographs.
and btw- have you visited our

Facebook page

yet? We'd appreciate a "like" if you haven't. Thank you
[ad]