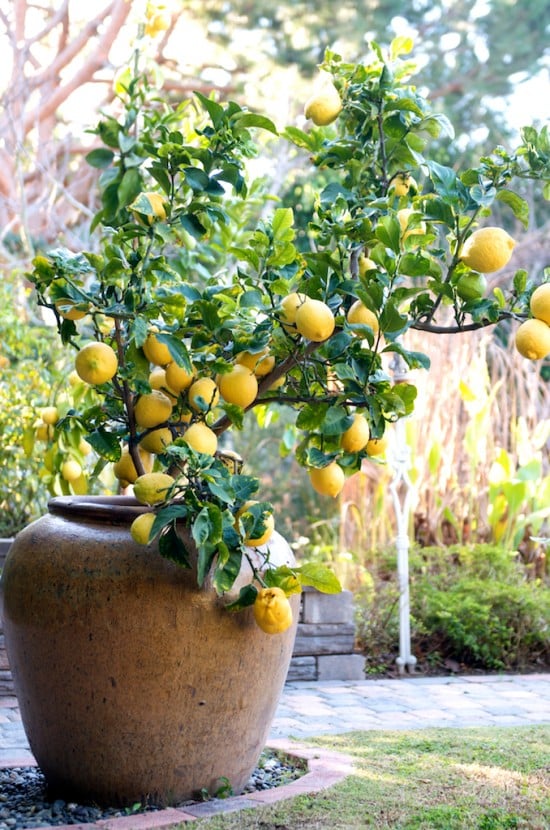 Update: Visit our latest citrus joy: Kishu Mandarin Tree !
After a visit to Sorrento Italy in April of 2000, we were immediately smitten with all the wonderful lemon trees adorning the Italian coastline. All throughout Amalfi and Sorrento we saw gorgeous scenes of Sorrento lemon trees in terra cotta pots adorning house fronts, store fronts and cobblestone alley ways.
We knew right there and then we wanted something equally picturesque in our backyard. So, we planted a lemon tree in a container!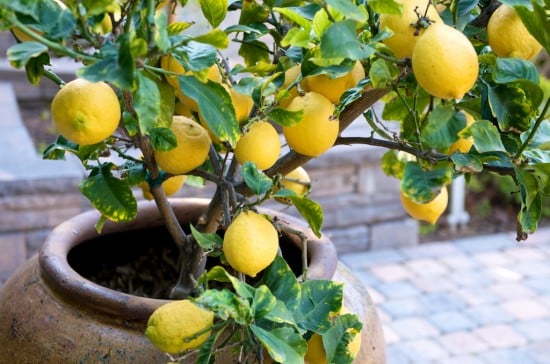 We really wanted to bring back a Sorrento lemon tree to the USA, but because we didn't feel like smuggling anything into the country, we opted for the next best option possible – a Eureka lemon tree. This Eureka is studded with fruit and it's extremely happy with it's home in the urn shaped container. In winter, when the cool weather beckons the fruit to ripen, the lemon tree is an absolutely gorgeous scene to the garden.
This little lemon tree is our reminder of our trip to Italy and we're happy to have it on our garden family.
Growing this lemon tree has a few challenges because the heat of the Summer season can quickly dry out the pot. Especially in the rustic looking terra cotta pots.  We've since transplanted it into the glazed pot seen in these photos and it helps retain the moisture much better.   It takes consistent watering in hot days to make sure that the tree stays hydrated and happy. Unfortunately there were a few occasions when we forgot to water our little lemon and the fruits became soft and dehydrated.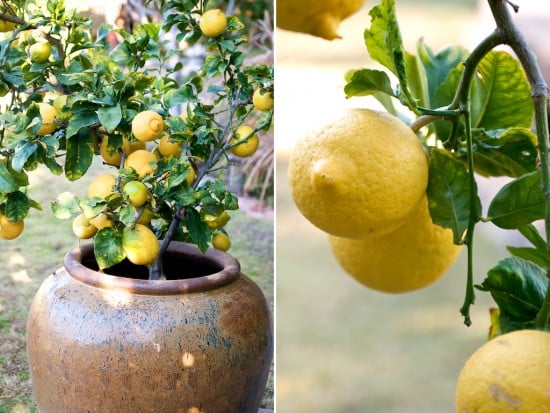 To keep it consistently watered, we added a drip irrigation line to the pot. Now the lemon tree is in full fruiting cycle again because it's getting the consistent water it needs to stay healthy. Another added step we've found to help keep in the hydration is to mulch the top of the pot.  We use about 2″ of leaves from out ficus hedge for the mulch, adding a fresh layer every time we trim the hedge (@ twice a year.)
A word of warning on pot selection: if you ever think you may transplant out of the pot you are choosing, do not get a pot which tapers in at the rim like the one our Eureka lemon tree is in. It will be very difficult to take the plant out without damaging its roots. Luckily this pot is large enough to be our Eureka's permanent home.
We're submitting this post to Fern's Container Gardening Blog Carnival on her blog, Life on the Balcony. Fern's great blog highlights gardening tips and advice for small gardens, particularly patio gardening for apartment and condo dwellers.  Her wonderful site is a must read for all types of gardeners because no matter how big one's garden is, one always has something growing in a container!
So if you have edible vegetables or fruit growing in a container, share your story, tips or advice to Fern's Container gardening blog carnival! We'd love to see all your beautiful container bounty! (although we're very aware that half the country is under snow and ice, but at least join us in celebrating those who do have warm sun!)