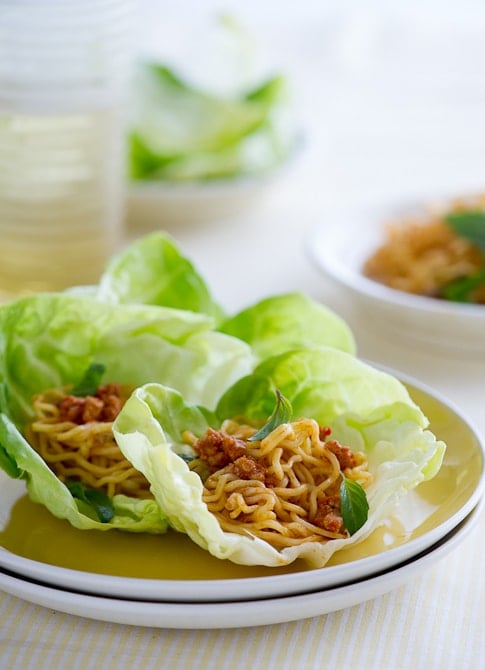 Spicy, tomato tangy, savory ground meat. It has become one of the WORC household's staple instant meal accessorizers.
The zingy muse came from Korean rice cakes. The spice, the touch of sweet, the savory drool inducing rice cakes are highly addicting. Ever hit Momofuku's Ssam Bar in New York and you'll know exactly what I mean.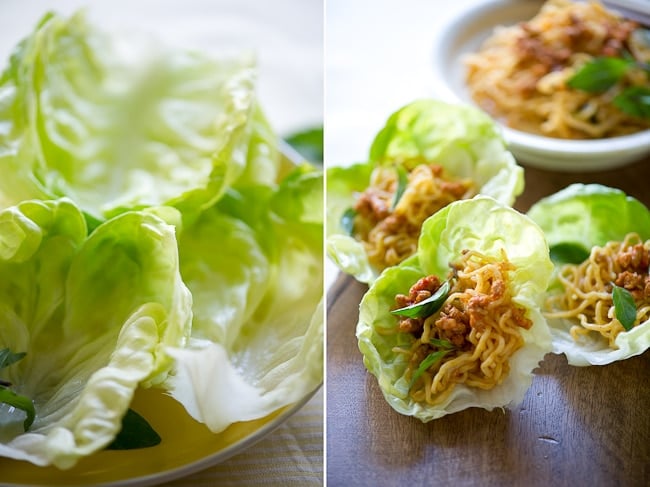 With that in mind, I started sautéing up my own concoction. Cooking by taste, touch, and smell I came up with this magic meat. I'll use whichever ground meat I jonesing for, from ground pork to beef to chicken to turkey. Lamb would probably rock too, I just haven't tried it yet. Grab Diane's uber tasty chili sauce from the fridge, some tomato paste, garlic, shallots, fish sauce and green onions. Oh yeah, and a little sugar to sweeten the deal and diner is a breath away from being done.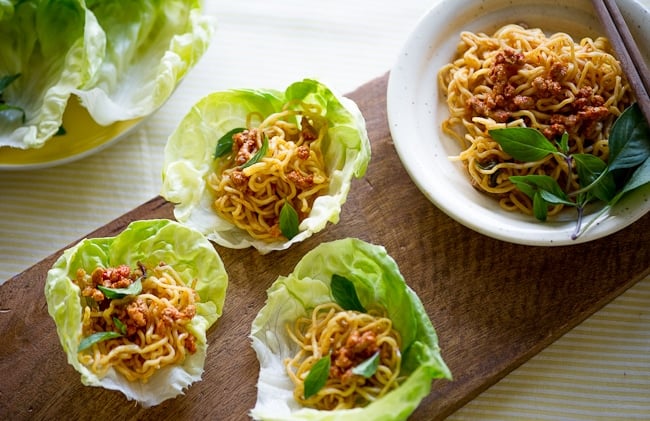 After the meat is done, we'll toss it over rice, if we happen to actually have rice cakes they go great, or toss it up with some noodles. Pile a bunch on some bread with some pickles and it makes a great Asian style sloppy joe. The variations are endless.
But to put an end to this post, here is one variation which is great for a party. Toss the meat mix with some Asian noodles then swirl up the coated noodles onto lettuce cups and top with Thai basil and serve. Double delicious.
-Todd
*White boy qualifier – I hadn't looked up any Korean rice cake recipes when I was coming up with the recipe. I'm not sure if the meat mix is similar or not to actual Korean rice cakes recipes. It was just my muse.
Spicy Pork Lettuce Cups
Yield: 3-4
Cook Time: 20 min.
Ingredients:
1 T Cooking Oil (we prefer grape seed, peanut, or canola oil)
3/4 c coarsely diced Shallots or Sweet Onions
2 T crushed Garlic (about 6 cloves)
1 1/2 lb ground Pork
2 T Fish Sauce
1/4 c Tomato Paste
2 T Sugar
2 t (more or less to spiciness preference) Chili Sauce (we use our house made chili sauce)
1/2 c Water
4 Green Onions, sliced in 1/2" pieces
1/2 lb cooked Noodles (your preference - rice noodles, egg noodles, soba noodles)
1 head Butterleaf Lettuce, washed and separated
5-6 stems Thai Basil
Directions:
Heat large sauté pan over medium heat. Add oil and shallots and cook until soft (1-2 minutes), stirring occasionally.
Stir in garlic and cook for another 30 seconds.
Add ground pork and increase heat to medium high. Brown meat, stirring occasionally to break up meat and help it brown evenly.
Add fish sauce, tomato paste, sugar, chili sauce and water to meat and stir to combine. Add green onions and cook for another 30 seconds or until green onions soften slightly.
Toss cooked noodles with meat mixture.
Put about 1/4 cup of noodle/meat mix in each lettuce cup. Garnish with Thai Basil.
Hello! All images & content are copyright protected. Please do not use our images without prior permission and do not re-publish this recipe. Simply link back to this post for the recipe. Thank you.
Recipe Note for Salt: All recipes containing salt are based on kosher or sea salt amounts, not table salt. If using table salt, reduce the amount used to taste.
[ad]