Soba Noodles w/ Parsley Pesto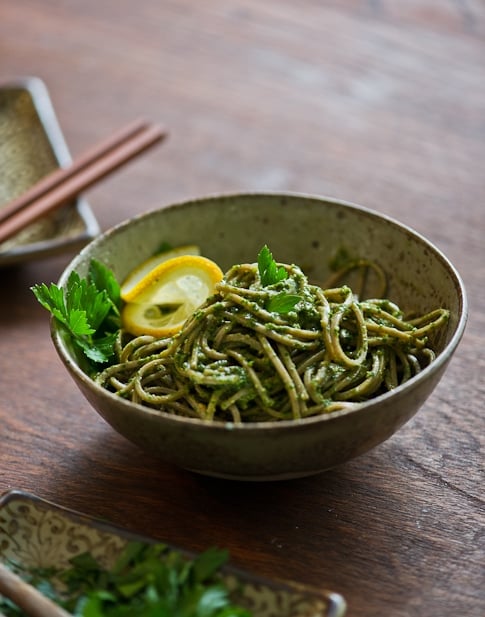 Margaret Roach walked away, and not for her morning hit of caffeine, but from a highly success career as Editorial Director in bustling New York City and traded it all for peace and solitude in the rural town of 300. She took the chance, and found the courage to take care of herself first and left it all for more time digging in the dirt, working in the garden and finding the tranquility that she craved so long for.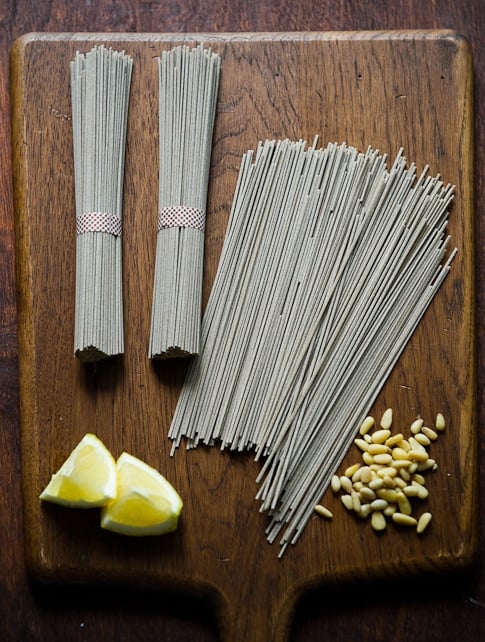 This lady has some serious gusto, the guts to drop all the success she worked so hard for over 30 years to live in rural solitude to find personal creativity.
Some might find this crazy, but for most of us, this certainly makes so much sense. Unlike others who struggle with un-happy careers and conflicting life choices, Margaret found the courage to make sense of it all and shares her story beautifully in her memoir.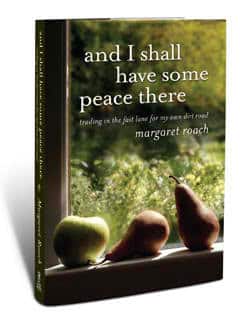 Margaret is a renaissance woman, an artist, a crafter, and gardener who has found her peace by doing everything that she loves and shares it on her New York Times award winning garden blog, A Way To Garden. Thanks to our friend Jaden who introduced us to her, we've been able to participate in Margaret's Summer and Fall Fest events.
This book is the perfect feast for anyone looking to find inspiration and focus back in life. You'll gobble it up and still feel great in the end. We are thrilled to share this book with everyone.
All of her gardening tips and forum on Away To Garden are so valuable and helpful to gardeners of all levels. She wrote how to grow and store parsley for a year and included was a technique for making parsley pesto.
This recipe is inspired by Margaret, from one of her many valuable posts on cooking from the garden. Parsley is often overlooked when it comes to pesto. And reading her post was a such a refreshing change from basil pesto. Plus, as most of us gardeners know, Italian parsley is much hardier than basil and we are able to grow it earlier than basil. Some of us are lucky enough to be able to grow it all year long… cough, cough.
If you love pesto, you will love this recipe. It's so simple, fresh and full of flavor, you won't miss the basil at all.
You can use any type of noodle or pasta that you prefer, but our choice was buckwheat soba noodles. With Spring approaching, it felt so appropriate to prepare the parsley pesto with something delicate and healthy to bring in the new, revitalizing weather.
This is a simple, wholesome and satisfying dish. Sometimes, we just need to simply a few things in life, including what we eat and how we live.  Thank you, Margaret.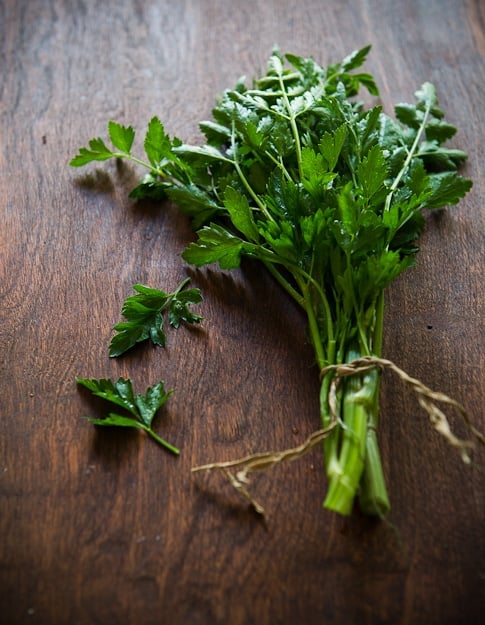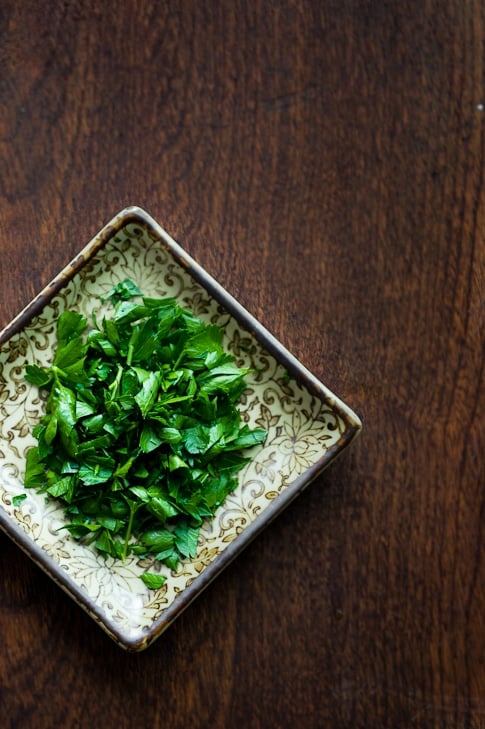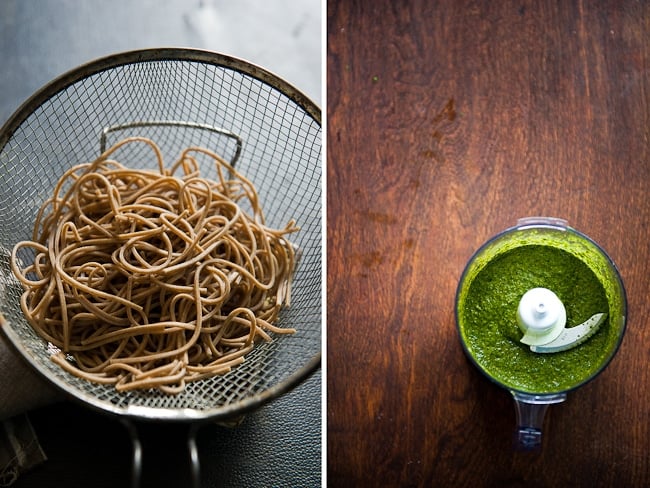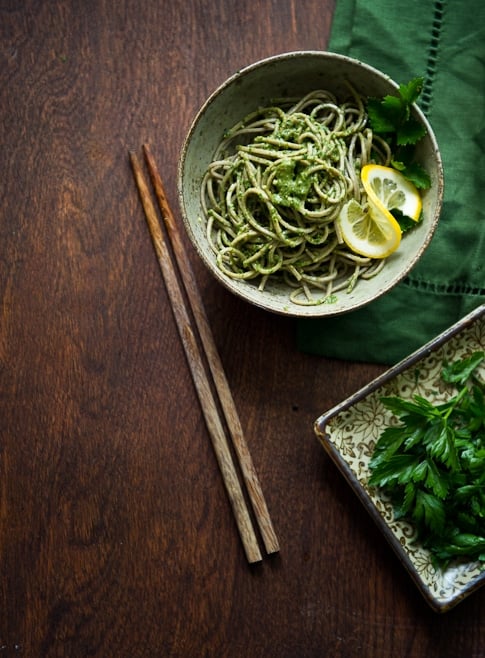 Other Soba Noodle Recipes
Just Hungry: Cold Soba with Dipping Sauce
Smitten Kitchen: Spicy Soba Noodles with Shiitake Mushrooms
Simply Recipes: Cold Soba Noodle Salad
The Japanese Food Report: Chicken Soba Hot Pot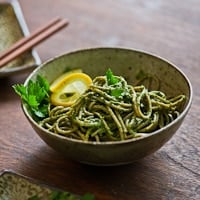 Print Recipe
Soba with Parsley Pesto Recipe
We love the bite and buckwheat taste of the soba noodles with the parsley pesto, but feel free to substitute whichever pasta you have on hand. The sauce would also be great for dressing chicken, fish, or on salads. *If you have raw pine nuts, to toast, heat a dry pan over medium heat, add pine nuts and toast until golden, shaking the pan frequently to help pine nuts toast evenly. Can be served at warm or at room temperature, depending on your preference. If serving warm, make sauce first.
Servings: 4 Servings
Calories: 439kcal
Ingredients
12 oz. dried Soba Noodles
3/4 cup roughly chopped Italian Parsley (flat leaf parsley)
2 Tablespoons Pine Nuts , toasted *see head note
2 cloves Garlic
1 Tablespoon fresh Lemon Juice
1/2 Tablespoon Sesame Oil
1 1/2 Tablespoons Soy Sauce
3 Tablespoons Grape Seed Oil , or other neutral tasting oil
Instructions
Cook soba: Heat a large pot of water to a boil.  Add soba noodles, stir as they soften, and bring water back up to a simmer (not a boil). Simmer for 6-7 minutes or according to package directions. Noodles should still have a slight firmness, and not be mushy.

Strain soba and rinse well using the correct water temperature. *If serving warm, rinse under hot water, if serving soba at room temperature, rinse under cold water.

While soba cooks, make parsley sauce. Combine parsley, pine nuts, garlic, lemon juice, sesame oil, soy sauce, and grape seed oil in a food processor (preferably in smaller bowl if possible) and blend ingredients together until smooth.

Toss noodles with sauce and serve.
Nutrition
Calories: 439kcal | Carbohydrates: 66g | Protein: 14g | Fat: 16g | Saturated Fat: 2g | Sodium: 1057mg | Potassium: 321mg | Fiber: 1g | Sugar: 1g | Vitamin A: 948IU | Vitamin C: 17mg | Calcium: 48mg | Iron: 3mg
We are a participant in the Amazon Services LLC Associates Program, an affiliate advertising program designed to provide a means for us to earn fees by linking to Amazon.com and affiliated sites.