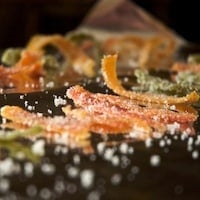 With a vegetable peeler, peel length wise in a continuous strip, the rind from the citrus.  Remove any white pith from the inside of the peel (we scrap with a knife blade for this.)

Bring 1 part water to 1 part sugar to boil in a saucepan (for zest of two oranges we'll use 2 cup water, 2 cup sugar.)

Add citrus peels and boil over medium for 30-45 minutes.  Strain, reserving liquid (now a tasty citrus syrup for other culinary delights.)

Pour about 1 cup sugar in a bowl.  Toss candied peels in sugar, then separate and allow to air dry on a sheet of foil.
Did you make this recipe?
Let us know what you think!
Leave a Comment or share a photo on Instagram with the hashtag #whiteonricecouple.