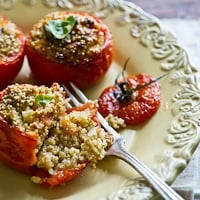 Adapted from 101 cookbooks, Super Natural Every Day
We substituted the original whole wheat couscous in the recipe with quinoa, which still turned out great. The quinoa on the top layer of the tomatoes became a nice crunchy texture. **The size of the tomatoes will greatly vary the cooking times and how long it will take the quinoa to be fully cooked in the center of the tomatoes. Continue checking the middle of the tomtoes to ensure that the quinoa is cooked.
We also substituted soft tofu instead of yogurt and hot sauce instead of harissa from the original recipe.
6

medium-large

, ripe red Tomatoes. Each tomato should average about 5 ounces each.

1/2

cup

of silky soft Tofu

1

tablespoon

Hot Sauce

, to your preferred taste

1

tablespoon

extra virgin Olive Oil

, plus a little to drizzle

about 12 fresh Basil leaves

, chopped

2

shallots

, minced

1

teaspoon

Soy Sauce

1

Garlic Clove

, finely minced

1/2

cup

Couscous or Quinoa

sea salt and fresh cracked black pepper to taste
Pre-heat oven to 350º F and place rack in middle of oven. Butter or oil a medium baking dish or of the size where the tomatoes will fill and just lightly be touching each other in the pan.

Carefully, using a serrated knife, cut the tops of each tomato, allowing enough room for you to spoon in the mixture. Work over a large bowl, scoop out the flesh of each tomato. If needed, break up any large chunks of the tomato flesh. Arrange the hollowed out tomato shells in the greased baking dish. Lightly brush the outside of the tomatoes with a bit of olive oil.

For the filling, combine 2/3 cup of the tomato flesh & juice, tofu, hot sauce, olive oil, most of the basil, shallots, soy sauce, salt, black pepper and garlic in a bowl. Add the quinoa and stir until all ingredients are combined. Adjust the filling to your acquired taste with salt and pepper. Using a spoon, fill the stuffing in the tomatoes till the tomatoes are almost full.

Bake the tomatoes for about 50-60 minutes, or until the quinoa is cooked. The tomatoes will start to wrinkle and brown. If this happens before the quinoa is fully cooked, then cover the tomatoes with aluminum foil and continue cooking the tomatoes until the filling is full cooked. The top layer of quinoa on the tomatoes will be slightly crunchy.

Drizzle with a bit of olive oil and remainder of the basil. Serve warm.
Did you make this recipe?
Let us know what you think!
Leave a Comment or share a photo on Instagram with the hashtag #whiteonricecouple.