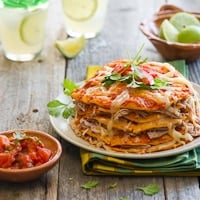 Recipe and write up by the lovely ladies at Muy Bueno Cookbook. Taste tested, devoured, and photographed (not necessarily in that order) by us, White on Rice Couple. Warning: This recipe is spicy! If you are a wimp (ahem, I mean not a fan of spicy chile) then use half the can of chipotle peppers or add an additional can of tomato sauce. But don't forget that the spice in the sauce will get mellowed a touch when added to the tortillas, pork, and other fillings.
Time Saver: Set your slow cooker in the morning and shred the pork in the evening.
Pork
1

(2 pound) pork tenderloin

, shredded *see instructions below

1

(8 ounce) beer

1

bay leaf
Sauce
14.5

ounces

canned diced tomatoes

7

ounces

canned chipotle peppers in adobo sauce (or use half for less spicy)

8

ounces

canned tomato sauce

(depending on spice tolerance you may need an extra can)

2

roma tomatoes

, roasted *see instructions below

4

tomatillos

, husked, rinsed, and roasted *see instructions below

½

large white onion

, chopped

2

cloves

garlic

1

tablespoon

flour

½

cup

water

1

tablespoon

olive oil

Salt

(to taste)
Enchiladas
½

cup

canola oil

, for frying

12

-18

corn tortillas

, preferably white

1

medium white onion

, diced

1 1/2

cups

shredded cheese

(preferably Enchilado or Muenster)

1/2

cup

crema Mexicana or sour cream

, for topping
Shredded Pork
Place the pork tenderloin and bay leaf in a slow cooker; pour the beer over the meat. Cover and cook on low until well cooked and the pork shreds easily, 6-8 hours.

Discard the bay leaf. Remove the pork from the slow cooker and shred the meat. Set aside for assembly.
Roast Tomatoes and Tomatillos
Arrange tomatoes and tomatillos on a baking sheet. Place your oven rack as close to the broiler as possible.

Broil the tomatoes and tomatillos for about 20 minutes until softened, turning over after 10 minutes. If the skin has blackened remove it. Set aside.
For Sauce
In a blender place the can of diced tomatoes, chipotle peppers with adobo sauce, tomato sauce, roasted tomatoes and roasted tomatillos, chopped onion, garlic cloves, flour, and water. Puree until smooth.

Heat olive oil in large skillet. Pour mixture into skillet and stir. Taste and season with salt, usually about 2 teaspoons. If sauce is too spicy, add an additional can of tomato sauce and stir. If sauce is too thick, add water until desired constancy is reached, making sure to add more salt if necessary.
Assembly
In a large skillet, heat canola oil until hot. Fry tortillas until softened. Drain on paper towels.

Place lightly fried tortillas, one at a time, in pot of warm red sauce, turning to coat. Place coated tortillas on serving plate.

Layer each tortilla with cooked pork, grated cheese, and onions. Repeat layering until stacked three to four tortillas. Serve with a dollop of crema or sour cream and your favorite side dish.

Our family prefers our enchiladas stacked, but if you are cooking for a large group, oven style might be the way to go.
Oven Style
Spread 1 cup of the sauce in an ungreased 9-by-13-inch baking dish. Fry tortillas in hot oil just until softened. Drain on paper towels.

Fill with cooked pork, cheese, and onion. Roll, placing seam side down in baking dish side by side in a single layer and pour 2 cups of the sauce over enchiladas.

Sprinkle with more grated cheese and bake until warm, about 15 – 20 minutes.

Garnish with a dollop of crema or sour cream and your favorite side dish.
Did you make this recipe?
Let us know what you think!
Leave a Comment or share a photo on Instagram with the hashtag #whiteonricecouple.