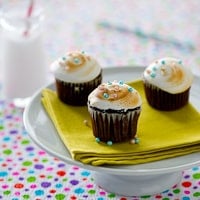 4

large egg whites

1 1/2

cups

granulated sugar

1/2

cup

light corn syrup

large pinch of salt

2

teaspoons

pure vanilla extract
 In a large pot, bring about 2 inches of water to a simmer.

In a large, heat-proof bowl, whisk together egg whites, sugar, corn syrup and salt.  The mixture will be grainy, because of the sugar.

Place bowl over simmering water and whisk as it heats.  The sugar will dissolve after about 5 minutes.  Keep and eye on the mixture, it shouldn't get warm enough to cook the eggs.  Yucky.

Transfer the egg white and sugar mixture to the bowl of an electric stand mixer.  With a whisk attachment, beat the egg whites, on high, until stiff peaks form (about 5 minutes)  The mixture will be fluffy and glossy and look like melted marshmallows.  It'll be sticky too.  Beat in the vanilla extract last.   Cover, and set aside until ready to frost cupcakes.
Did you make this recipe?
Let us know what you think!
Leave a Comment or share a photo on Instagram with the hashtag #whiteonricecouple.