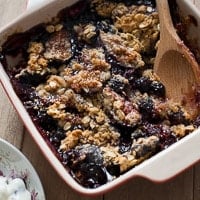 Crisp topping based off of our Blackberry Cabernet Crisp which is in our cookbook Bountiful. This crisp is great with regular whipped cream or even ice cream, however the goat cheese whipped cream gives it a special touch. For the goat cheese whipped cream, we prefer it with slight pieces of concentrated goat cheese. However if you want the goat cheese whipped cream perfectly homogenous and smooth, blend the goat cheese with a few tablespoons of the whipping cream until it is smooth, and then add the remaining whipped cream ingredients and whip until the mixture forms soft peaks. The goat cheese whipped cream can be done a day ahead of time if desired. Otherwise we will usually make it while the crisp bakes.
Filling
1

pound

(455g) figs, stems removed and quartered

6 

ounces

(170g) fresh blueberries

2

tablespoons

(28g) packed brown sugar

1

tablespoon

(8g) cornstarch

zest from one medium lemon
Goat Cheese Whipped Cream
4

oz

(115g) goat cheese

1

cup

(240ml) heavy whipping cream

2

tablespoons

(15g) confectioners sugar

1/2

teaspoon

vanilla
Preheat oven at 350°F.  Set aside a 1-quart or other smaller-sized baking dish.

Make the topping: In a bowl, combine the flour, brown sugar, and salt. Using your fingertips, pinch the butter pieces into the flour until the texture is crumbly. Pinch in the oats and work with your fingertips until the ingredients are evenly mixed.  Set aside in the fridge until ready to top the crisp.

Gently toss the filling ingredients (figs, blueberries, brown sugar, cornstarch, and lemon zest) together. Place the filling in the baking dish. Spread the topping over the fig-blueberry filling. Bake for about 1 hour 10 minutes or until the topping is golden and filling has slightly thickened.

Make the goat cheese whipped cream topping (see head note).  Whip together the goat cheese, cream, confectioners sugar, and vanilla extract until the mixture forms soft peaks (when you lift the whisk out of the cream, a peak should form and then gently fall back, barely holding its shape). Place the whipped cream in a covered container and reserve in the fridge until ready to serve.

Serve the crisp warm or at room temperature, topping the individual servings with the goat cheese whipped cream.
Did you make this recipe?
Let us know what you think!
Leave a Comment or share a photo on Instagram with the hashtag #whiteonricecouple.