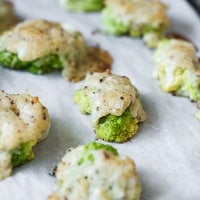 Different mustards will give the recipe their own unique tang, so play around to find your favorite. The shallots are heavenly, but if you can't find them or they are too pricey, substitute sweet onions for the next best option. You will be rewarded by splurging on a good parmesan. Either a Grana Padano or Parmigiana-Reggiano will give the frosting a perfect salty, sweet, milky bite which a poor knock-off will not accomplish. There are great domestic equivalents as well as other similar cheeses coming from other countries, just chose wisely. And don't be skimpy on the fresh cracked black pepper. Delish!
1

small head

(@ 1 1/2 pounds - 680g) Cauliflower, cut into 1/2" thick florets

1/2

cup

(120g) Mayonnaise

2

teaspoons

(10g) Whole Grain Mustard

2

Tablespoons

(20g) finely minced Shallots

3/4

cup

(75g) freshly shredded Parmesan Cheese

fresh cracked Black Pepper

, to taste

dash Worcestershire Sauce
Preheat oven to 400°F. Line a sheet pan with parchment paper.

Combine the mayonnaise, mustard, shallots, cheese, black pepper, and Worcestershire sauce in a medium bowl. Mix until well combined.

Scoop and dip the cauliflower florets into the mixture, frosting the head of each with a good teaspoon or more of the mixture. Lay them onto the prepared sheet pan in a single layer (use a second lined sheet pan if necessary).

Bake for about 15 minutes or until the frosting is golden brown on top and edges and the cauliflower is tender but still has a bite. Serve warm.
Did you make this recipe?
Let us know what you think!
Leave a Comment or share a photo on Instagram with the hashtag #whiteonricecouple.