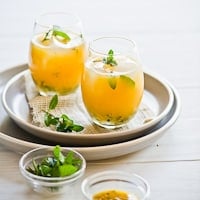 Passion Fruit & Mint Cooler
This is based off of fresh passionfruit juice from our garden. Fruit will vary in sweetness/tartness so adjust amount and sugar amount to taste. This is pretty tasty as a cocktail with the addition of rum and a bit more lime.
There are different varieties of passion fruit, some much less tart and sweeter than others. Adjust sugar for different varieties and to taste.
If you are a pulp-free type, make a mint simple syrup (see Note 2) instead of muddling the mint leaves and sugar.
Print
*Note 1: Extracting Passion Fruit Juice
Cut the passion fruit in half then scrap out the seeds and pulp into a small mesh strainer.  Over a small bowl to catch the juice, scrap the seeds and pulp using the back of a spoon in order to separate the pulp and juice from the seeds.  Reserve the seeds if you enjoy them in your drinks or other recipes.
*Note 2: Mint Simple Syrup
(keeps quite well, so make more than needed and use for iced tea, making lemonade, cocktails, etc...)
Combine 2 cups (480ml) water, 2 cups (400g) sugar, and a large handful of mint leaves in a medium saucepan.  Heat just until a light simmer, stirring to dissolve sugar.  Remove from heat and allow mint to steep for 15-20 minutes. Strain and store in refrigerator until ready to use.