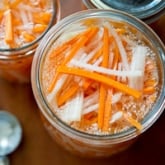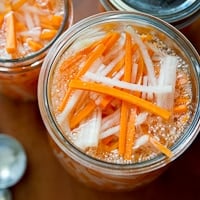 Pungent warning: These pickles will be more pungent/stinky the longer you brine them. You can eat them the next day, but if you want them more flavorful and crispy, brine them longer which also makes them more pungent! Taste the brine before you finish the final pickles. If you like your pickles more sweet, add a few teaspoons of sugar. Personalizing these pickles to your taste will make them extra special. I've tasted Vietnamese pickles from friends, family, restaurants and they're all different. Some are sweeter, tangier or saltier. Make them the way you want!
1/2

lb.

carrots

- julienned or cut into thin match-like strips

1/2

lb.

daikon radish

, cut same as carrots

4

cups

water

, slightly warm enough to dissolve the salt and sugar

3

tablespoons

sugar

2

tablespoons

salt

1/2 - 3/4

cup

distilled white vinegar

or rice vinegar, (start with 1/2 cup and taste the mixture. If you like it more tangy/vinegary, add few more vinegar to taste)
In large pitcher or large bowl, mix water, vinegar, sugar and salt until everything is dissolved and combined well.

Cover jars and set in the refrigerator to pickle for at least overnight. Our ideal timing is to let the pickles sit for 3 days before eating. Pickles can last for about 3 weeks in the fridge. I like my pickles to sit for at least 3 days so that the carrots and daikon become more flavorful and sour. They will definitely be more pungent. You can eat them the next day and they'll be less vinegary, and definitely less pungent.
Did you make this recipe?
Let us know what you think!
Leave a Comment or share a photo on Instagram with the hashtag #whiteonricecouple.