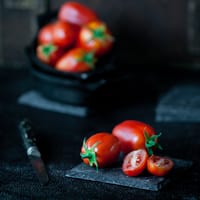 This recipe is for drying your tomatoes in the sun, however you can make sun dried tomatoes in the oven as well. Set the temp. to 180°F and slowly dehydrate the tomatoes for 8-10 hours or until they are no longer tacky and the texture is like a plump raisin. Paste or plum tomatoes are the ideal choice, but you can really use any tomato you have on hand. No ingredient quantities are needed. Season by preference, keeping in mind the tomatoes are going to reduce a lot during the dehydrating.
several

pounds

Plum or Paste Tomatoes

, sliced lengthwise (for an 1" to 1 1/2" thick tomato, slice no thinner than in thirds)

Chopped Herbs

oregano, thyme, etc... optional

frame with screen mesh to lay tomatoes on & more screen mesh to lay over the top to keep bugs off
Slice the tomatoes & lay on framed screen mesh. Season with optional herbs and sea salt. Cover with another layer of screen mesh and place in a sunny spot. Leave outside for several days (may be longer, depends on weather, thickness of tomato, water content, etc...) Sun dried tomatoes are done drying when the texture is no longer tacky, and it resembles a plump raisin.

Store in a vacuum sealed bag (or zip lock with air removed) in fridge or freezer for up to a year, or store packed in olive oil and sealed in a sterile canning jar (can be left in a cool place).
Did you make this recipe?
Let us know what you think!
Leave a Comment or share a photo on Instagram with the hashtag #whiteonricecouple.