Sweet Potato and Chocolate Bars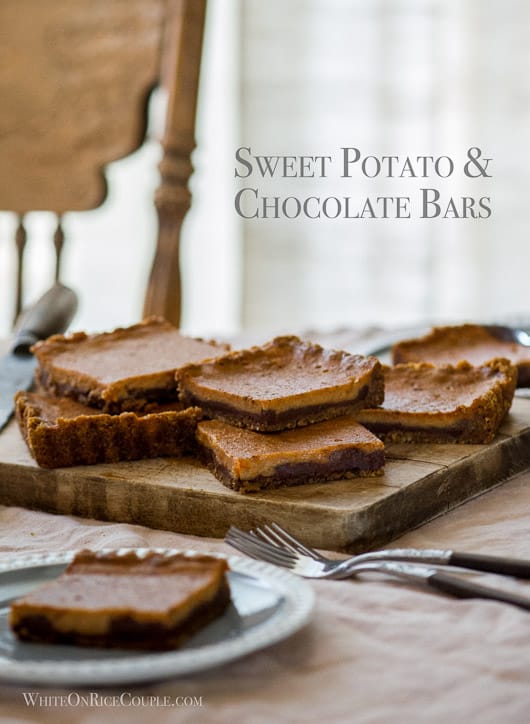 sweet potato bars recipe
Amongst all the overflowing bins of Fall fruits and veggies, sweet potatoes hold a special place in our hearts. The variety and diversity of colors and flavors keep our Autumn menu continually interesting and keep us inspired. Loved beyond the holidays down here, the sweet potatoes were gorgeous copper prizes begging to be cooked.
For Fall and Thanksgiving dessert recipes, the classic pumpkin pie always makes a showing. But if we're always looking for something different, that's why we came up with the recipe a few years ago. This recipe was such a popular hit back in 2010, that we also included in our Bountiful cookbook.
Video: Sweet Potato Bars with Chocolate Recipe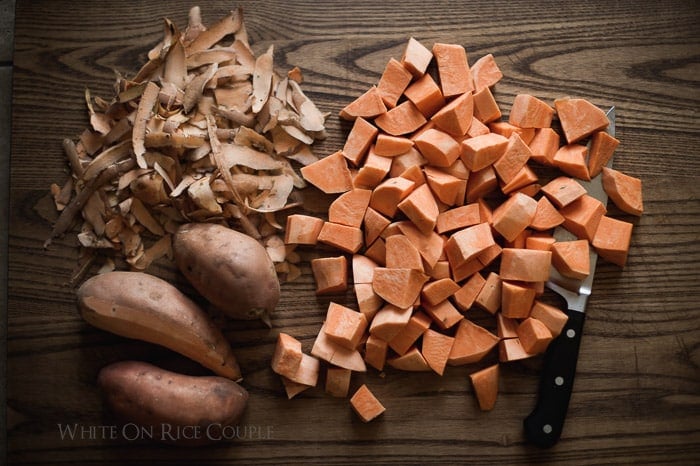 The craving for sweet potato still fill our lungs and led to the inspiration for this recipe. Starting with one of my favorite bar crusts (a graham cracker crust with fresh ginger), they were next layered with a dark chocolate softened with bit of milk, then finished off with beautiful, sweet potato pie filling. Top 'em with a dollop or two of whipped cream if you really want to go crazy! And add some extra vanilla to the whipped cream, it's delicious. Here's a great recipe for homemade vanilla extract.
This sweet potato bars recipe is perfect sweet bite to satisfy everyone after the big savory turkey and ham feast. Enjoy and hope you all are having a blast planning this weeks Thanksgiving menu.
-Diane and Todd
Post was originally published in 2010 and re-published in 2018 with recipe updates & video.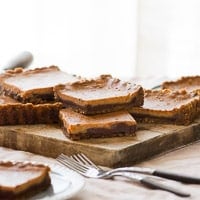 Sweet Potato Bars w/ Chocolate
These are amazing for the holidays. Or any time really.
Ingredients
Instructions
Preheat the oven to 350°F (175°C).

Make the crust: In a bowl, combine the crust ingredients and mix thoroughly (graham cracker crumbs, ginger, brown sugar, salt, and butter). Press the mixture into a 9x9-inch (2.5 quart or 23cmx23cm) baking dish.

Make the chocolate filling: Stovetop: In a saucepan, combine the cream and chocolate. Cook over low heat, stirring frequently, until the chocolate is melted and completely combined with the cream. Microwave: In a microwave safe bowl, combine the cream and chocolate. Microwave for 45 seconds. Stir and mash the chocolate chips, and then continue melting in 15 second intervals, stirring and mashing in between, until chocolate is completely melted and smooth.

Pour the mixture over the crust; tilt and gently shake the pan to spread the mixture evenly. Set aside to cool for at least 10 minutes before adding the sweet potato filling.

Make the sweet potato filling: In a bowl, combine the sweet potato filling ingredients and mix well (sweet potato puree, egg, salt, cinnamon, clove, brown sugar, and half & half). Gently pour the sweet potato filling over the chocolate layer.

Place the baking dish on the middle rack of the oven. Bake for 40 to 50 minutes, or until the outer inch appears set; the center should still slightly wiggle when shaken. Set aside to cool, then refrigerate until fully chilled.

Slice with a clean knife into even squares, wiping the knife clean between each cut. Serve with optional whipped cream and/or chopped nuts.
Notes
To make sweet potato puree, you can either bake skin on sweet potatoes for about 1.5 hrs (until soft) @ 375°F, then peel & press through fine mesh sieve or puree in a blender or food processor. Or you can peel, cut, and boil for @ 20-30 minutes or until soft then press through fine mesh sieve or puree. Baking is slightly more flavorful, boiling is much quicker.
Nutrition Information per Serving
Calories: 340kcal, Carbohydrates: 36g, Protein: 4g, Fat: 20g, Saturated Fat: 13g, Trans Fat: 1g, Cholesterol: 68mg, Sodium: 269mg, Potassium: 301mg, Fiber: 2g, Sugar: 22g, Vitamin A: 4966IU, Vitamin C: 5mg, Calcium: 118mg, Iron: 1mg
We are a participant in the Amazon Services LLC Associates Program, an affiliate advertising program designed to provide a means for us to earn fees by linking to Amazon.com and affiliated sites.