Roasted Miso-Glazed Salmon
Love roasted salmon? Our simple and flavorful miso glazed salmon recipe is perfect for a quick weeknight meal.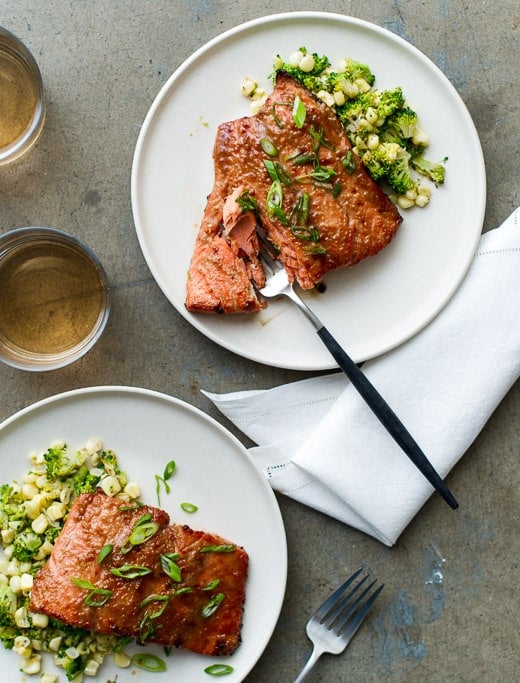 It's confession time as to what we've been up-to at home over the last few weeks. Some of you already know that we've been working around the clock building out our new studio addition, shooting with clients, cooking, testing recipes our blog and preparing for some fun food photography workshops. All that requires work and with work, comes exhaustion. And with exhaustion at the end of the day means we really look forward to our "couch time".
Hey, it's hard to get un-glued from the couch in the evening because there's been some shows that we've been recording and catching up to. For years, we never watched television and pretty much just spent time in the garden and reading. But it wasn't until we actually put a television in our living room two years ago that we've been doomed for a couch-potato-lifestyle. Dangerous!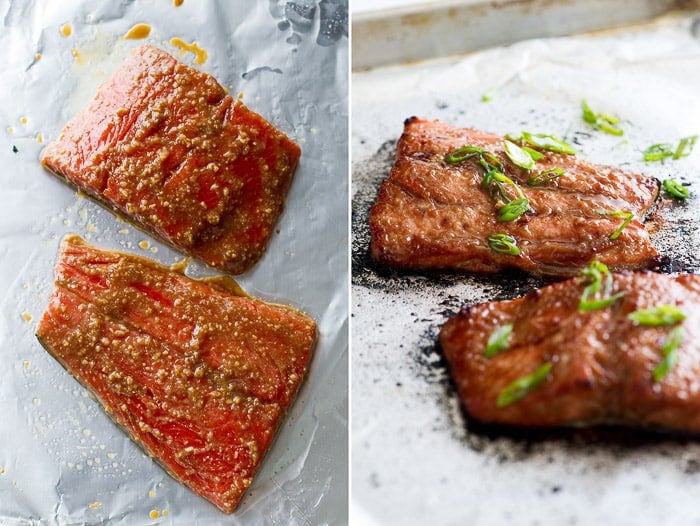 Yup, we never, ever had a television in the living room. In fact, we never bought a television until two years ago so that we can watch the Summer Olympics. We pretty much went 16 years without really ever watching television. Now, we're sucked into watching the boob tube instead of writing our our recipes on the blog. Bad bloggers!
Why are we glued to the tv? Well first of all, the playoffs. Catching up to basketball and hockey takes mental energy and of course, a distraction to blogging. And how about all the great Marvel movies? We're addicted to Agents of Shield, especially after the release of the new Captain America movie. The stories continue in the tv series and it's hard not to keep up on the drama behind the agency. Or what's left of it.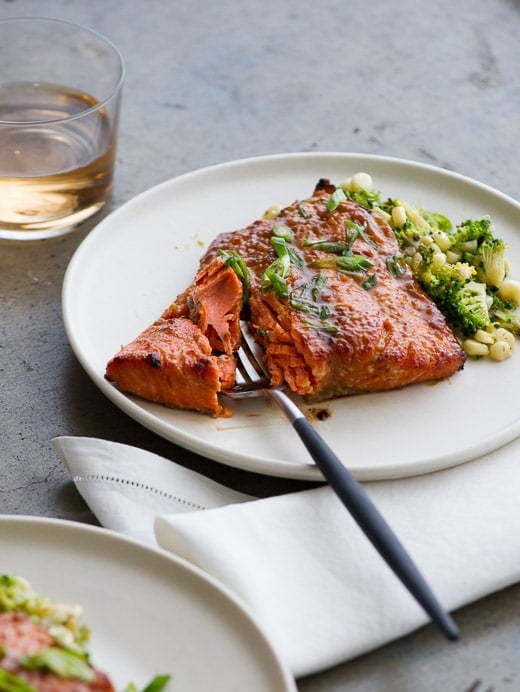 Quick and Easy Miso Glazed Salmon Recipe
So what does all this tv couch-potato talk have to do with this broiled miso glazed salmon recipe? Because it's so quick, delicious and easy to broil while you're sitting on the couch watching tv, that's why. It's easy to eat WHILE you're sitting on the couch. And best of all, it's healthy so if you decide not to GET OFF the couch, you haven't consumed a bunch of calories that need to be burned.
Hopefully you'll understand the method to our madness. Sometimes, it's so great to have an amazing, healthy and tasty weeknight dinner without too much prep. That way, you can enjoy your downtime in the evenings and catch up to your favorite shows.
Enjoy this roasted salmon recipe !
diane and todd
Here's another favorite recipe: Japanese Style Glazed Salmon Recipe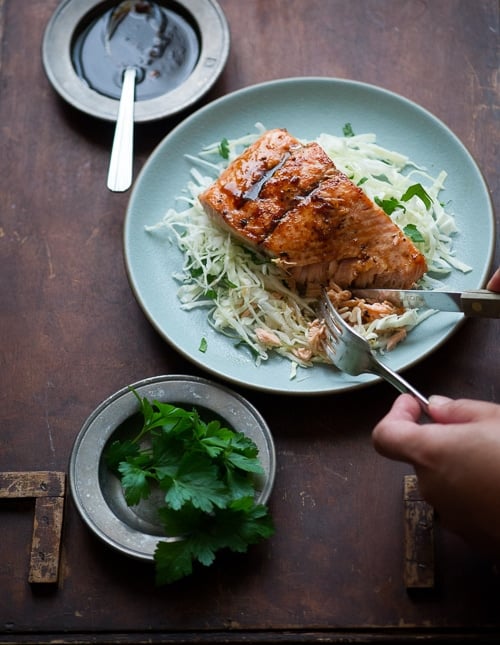 Honey garlic salmon is another great salmon dinner. Recipe Here.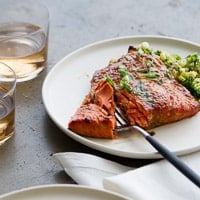 Roasted Miso-Glazed Salmon Recipe
Depending on the heat of your oven's broil, it may just take a touch longer to broil the salmon. You can also roast the salmon if you aren't able to broil. Roast at 475°F for 8-12 minutes. If needed to substitute the sake, the best substitute would probably be dry vermouth. After that maybe a dry white wine. Any sub is going to change the flavor, but these are most likely the closest options.
Ingredients
12 oz. (two 6-oz.) salmon filets
2 Tablespoons white miso paste
1 Tablespoon sake
1 Tablespoon mirin
1 teaspoon brown sugar , or to taste
1/2 teaspoon sesame oil , optional
sliced green onions for garnish (optional)
Instructions
Pre-heat oven to Broil. Place rack about 6" away from the top heat of the oven.

Make the Glaze: Mix miso paste, sake, mirin, brown sugar and optional sesame oil in bowl.

Coat salmon with the marinade and set aside for about 30 minutes to let the flavors marry if you can (if not it can still be broiled straight away and it will be tasty).

Roast the oven for about 6-10 minutes, or until salmon is tender and cooked to your desired doneness. Top with green onions and serve warm.
Nutrition Information
Calories: 314kcal, Carbohydrates: 10g, Protein: 36g, Fat: 13g, Saturated Fat: 2g, Cholesterol: 94mg, Sodium: 774mg, Potassium: 874mg, Fiber: 1g, Sugar: 5g, Vitamin A: 83IU, Calcium: 32mg, Iron: 2mg
We are a participant in the Amazon Services LLC Associates Program, an affiliate advertising program designed to provide a means for us to earn fees by linking to Amazon.com and affiliated sites.