Roasted Eggplant with Mint for Summer Picnics
This roasted eggplant recipe is very versatile and you can use what ever variety of eggplant you love.
The air is warm and the garden is filling out it's Summer foliage. Summer is definitely here and it's the perfect picnic season. It's time to lounge on the beach, in a park or anywhere outdoors to enjoy a simple meal that highlights perfect, summer produce. When the heat arrives in the garden, so do our eggplants. We're growing 3 different varieties this year and these purple beauties are perfect to eat as a cold picnic side dish.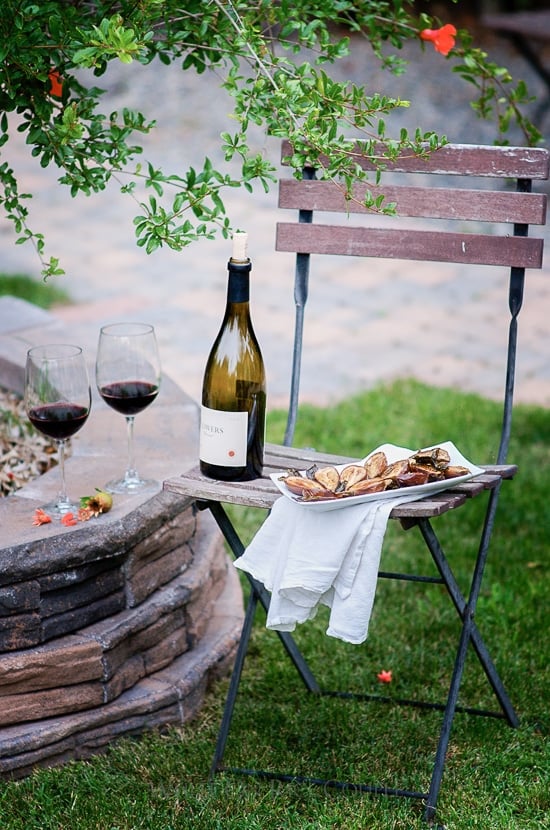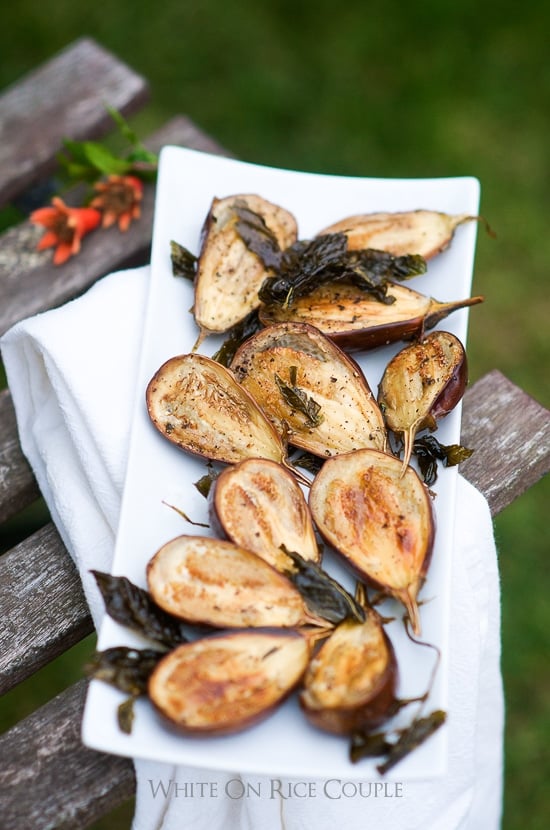 Roasted Eggplant Recipe with Mint
One of the first summer veggies (ok, technically it is a fruit) ripening in our garden is eggplant. There's so many fantastic types of eggplant. We're growing a few different varieties: Bianca Rosa eggplants, Japanese Eggplants and Thai Green eggplants, but the ones pictured here are the Indian Eggplants. We found these at our local farmers market (even when we grow them, we still can't pass up a great eggplant at the markets). Aren't they cute?! The roasted flavors is wonderful and when added with a handful of fresh mint, it's even more amazing.
Tips on Grilling the Eggplant
The roasted eggplant recipe is easy and quick to prepare. The longest thing is to roast the eggplants. If you want to grill them instead of cooking in the oven, here's some tips on grilling.
Don't walk away from the grill because you don't want to burn the eggplant. These cook really quick!
Cut the eggplant a little thicker so it doesn't burn too quick on the grill.
If needed, add an additional spray of oil over the eggplant. This will help give moisture to the eggplant slices and keep them from drying out before they're cooked on the inside.
Eggplant slices need to be seasoned well, so add a good amount of salt or your favorite seasoning.
Add more of your favorite spices! Or if you have a favorite go-to sauce just drizzle some over the eggplant.
A nice yogurt dip would be lovely on the eggplant.
Picnic-Perfect Side Dish
We love meals, alfresco, with a few bottles of wine and a collage of summer salads. It's one of the best ways to welcome summer. Just grab a blanket, some wine and a collection of your favorite companions. Choose a beautiful spot to enjoy the day and watch the sunset and you've got the perfect summer picnic. This roasted eggplant recipe with mint is a great addition to your menu.
What dishes do you like to bring or prepare for a Summer picnic?
Diane and Todd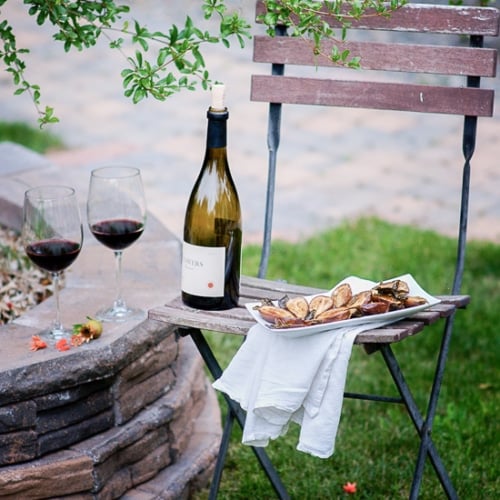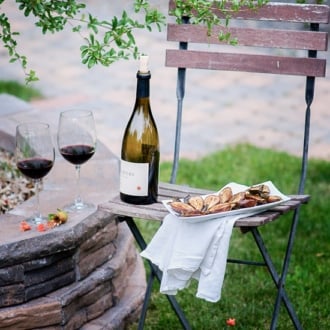 Roasted Eggplant with Mint
The mint can be done 2 different ways. Roast the mint with the eggplant for a crispy mint. Or add the fresh mint after the eggplant is roasted and just before you are going to serve for a more vibrant mint flavor.For this recipe you can use any eggplant you like, however if you are using one of the bigger varieties like the Italian Eggplants, you are best off salting them for a half hour or so to help extract some of the bitter liquids (Salting: Slice and layer eggplant on sheet pan. Add a thin layer of salt, then some paper towels and weigh down the eggplant slices with another sheet pan and something solid on top. Let sit for 45 min – hour then rinse.) If you have some of the smaller varieties or the Bianca Rosas, salting isn't necessary. Quantities are just rough guidelines. You can easily make more or less as needed.
Ingredients
1.5 pounds (680 g) Eggplant , smaller varieties sliced in half, larger sliced into 1/2″ thick slices
3 Tablespoons (45 ml) Olive Oil , or enough to lightly coat the eggplants
Salt , to taste
fresh cracked Black Pepper , to taste
1/2 cup (120 ml) fresh Mint , chopped , or enough to mingle nicely with the eggplants
1/2 cup (50 g) Parmesan Cheese (optional topping)
Instructions
Pre-heat oven to 400ºF/205°C. (You can also cook the eggplant on a grill or smoker for an extra special flavor.)

Lay the eggplant on a sheet pan. For a crispy mint, add the mint leaves with the eggplant now. For a more vibrant mint taste, wait to add the fresh mint until ready to serve. Toss with olive oil and generously season with salt and pepper.

Roast for 25-40 minutes or until eggplants are a light golden brown and soft (timing will depend on your eggplants and their thickness.) You do not need to flip them during roasting.

Double check finished eggplants for seasoning and add extra salt and pepper if desired. If you didn't roast the mint with the eggplant, and the fresh mint now. Top with optional Parmesan cheese.

Serve the eggplant as whole slices or chop into bite sized pieces for easier serving.
Nutrition Information
Calories: 105kcal, Carbohydrates: 10g, Protein: 2g, Fat: 7g, Saturated Fat: 1g, Sodium: 294mg, Potassium: 391mg, Fiber: 5g, Sugar: 6g, Vitamin A: 45IU, Vitamin C: 4mg, Calcium: 16mg, Iron: 1mg
More Easy Recipes:
This recipe was originally published in 2009
We are a participant in the Amazon Services LLC Associates Program, an affiliate advertising program designed to provide a means for us to earn fees by linking to Amazon.com and affiliated sites.