Roasted Corn Tabouli and Ode to Summer Corn
This Roasted corn tabouli recipe is loaded with flavor and texture from seasonal sweet corn. It's a perfect party and Summer potluck dish to bring and wow everyone with.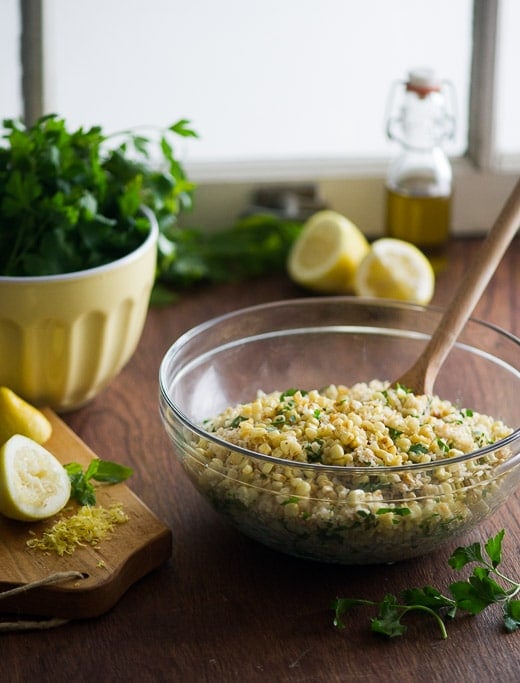 Roasted Corn Tabouli
For some reason when August rolls around it feels as if it is our last chance at eating corn. And by eating corn we mean the super good, freshly-picked, wipe the chin, juicy sweet corn. Once September arrives everyone seems to be ready to immediately switch seasonal gears and it's all about Autumn. As July comes to an end, we're indulging in as much sweet Summer corn recipes as possible before the fall squash start filling the stalls and stands.
To savor every sweet kernel we've
grilled corn on the cob
, made
fire roasted corn salads
and are attempting to eat our weight in the sweetest kernals we can find. One of our favorite corn salads of the season is our roasted corn tabouli. Think of the classic tabouli but with added pops of sweet corn. Every bite will remind you of how wonderful Summer produce is and how you only have about a month left to appreciate the best that the season has to offer.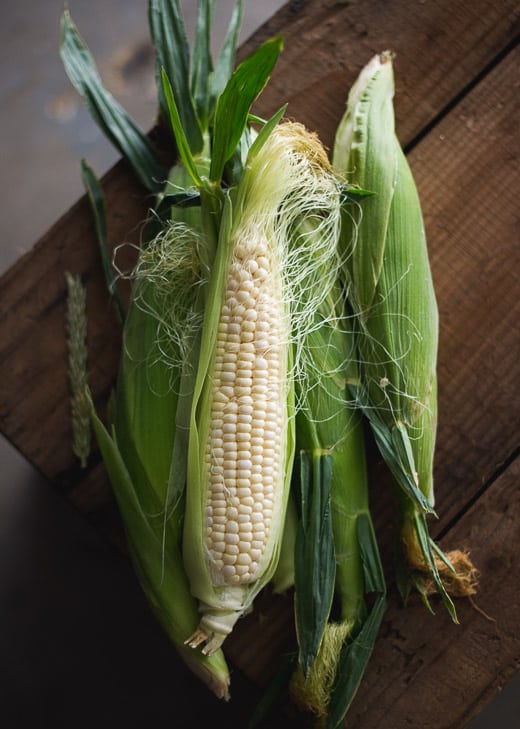 Last week we didn't get our corn-fix in because we spent time in Mammoth to celebrate Todd's birthday week. Birthday week, not just day. That's how we celebrate over here in the WORC household. Instead of one day celebrations, we try to give ourselves a week of spoiling the Birthday Boy (or girl or pup). Why not? Birthdays only come once a year and to limit the indulgence in cake to a single day seems like a waste, don't 'cha think?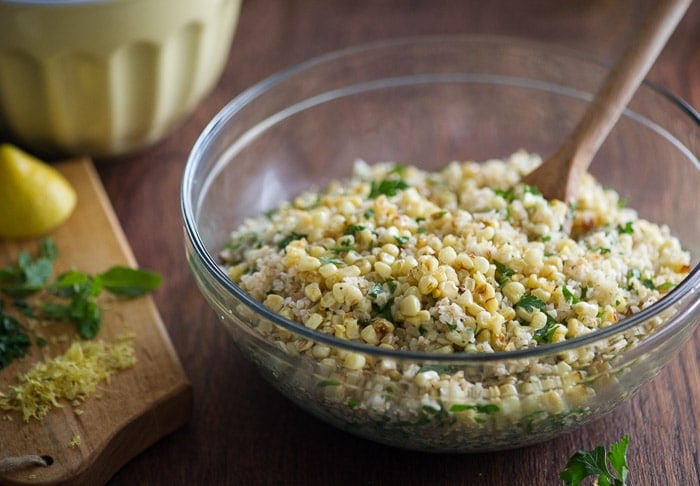 We gave ourselves a week and spent time hiking and fishing in the gorgeous outdoors of Mammoth Mountain Lakes and Devils Post Pile National Monument. If you've never been to that side of the Eastern Sierras, put it on your bucket-list. The lakes there are post-card-perfect and beautiful. There's something for everyone there in the Summer. And if you have time to head back in Winter, there's tons of great skiing. That's where we're headed this Winter!
So now that we're back home, what's next on our Ode to Corn list? Perhaps a sweet cornbread made with fresh shucked kernals. Fingers crossed we can finalize a recipe for you before August ends!
Enjoy,
Diane and Todd
Roasted Corn Tabouli
Recipe is from our cookbook, Bountiful. Homemade tabouli made with a mix of fresh parley and mint leaves is such a treat, especially when we add in roasted corn. The sweet pops of corn kernels in this salad make it one of the highlights of summer. If you really love your corn, just double the amount of roasted corn in the recipe. You won't be disappointed.
Ingredients
1 cup (140g) uncooked bulgur
3 ears fresh corn , husks and kernels removed
1/4 cup (60ml) vegetable oil
1/2 cup (30g) chopped fresh flat-leaf parsley
1/2 cup (40g) chopped fresh mint leaves
Zest of 1 lemon
3 tablespoons (45ml) fresh lemon juice
1 teaspoon kosher salt
1/4 teaspoon cayenne
Freshly cracked black pepper
Instructions
Preheat the oven 450°F (230°C).

In a saucepan, combine the bulgur with 2 cups (480ml) water. Bring the water to a boil, then remove the pan from the heat. Cover, and allow to sit for 20 minutes, until the water has been absorbed. Set aside to cool.

In a bowl, combine the corn kernels with 2 tablespoons of the oil and toss to coat. Arrange the kernels in a single layer on a baking sheet and roast for 8 to 10 minutes, or until cooked through. Allow to cool.

In a large bowl, combine the bulgur, corn kernels, parsley, and mint. In small bowl, combine the lemon zest, lemon juice, remaining 2 tablespoons oil, salt, cayenne, and pepper to taste.

Add the lemon juice mixture into the corn mixture and chill for 15 minutes before serving.
Nutrition Information per Serving
Calories: 203kcal, Carbohydrates: 28g, Protein: 5g, Fat: 10g, Saturated Fat: 8g, Trans Fat: 1g, Sodium: 402mg, Potassium: 276mg, Fiber: 6g, Sugar: 3g, Vitamin A: 702IU, Vitamin C: 14mg, Calcium: 26mg, Iron: 1mg
We are a participant in the Amazon Services LLC Associates Program, an affiliate advertising program designed to provide a means for us to earn fees by linking to Amazon.com and affiliated sites.