Zucchini Pad Thai Noodles "Zoodles"
Our Zucchini noodle pad thai recipe is light, low carb and satisfying when you're craving regular pad thai.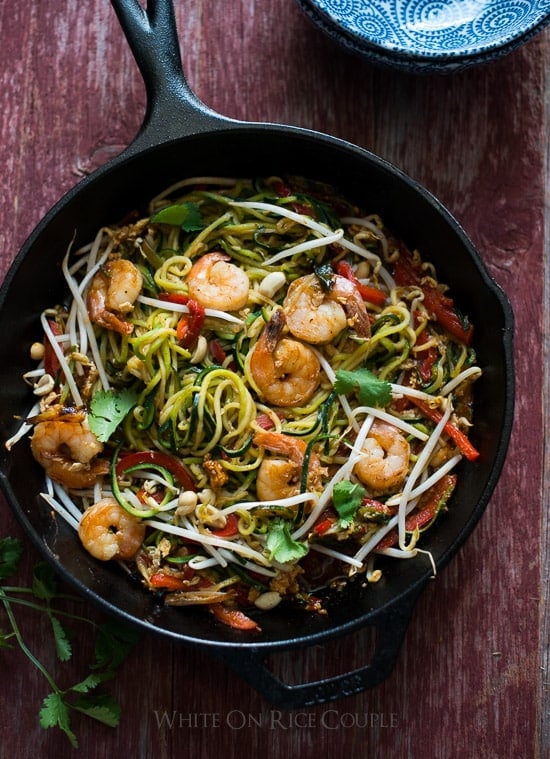 The sound of zucchini pasta didn't exactly entice our appetites. We've heard of zoodles, or zucchini noodles but had never tasted them. Zucchini pasta recipes? Ok….how….interesting. Yes, we judged the humble zucchini. The thought of making zucchini noodles didn't exactly have us running to the kitchen to whip up a batch. Maybe we thought zucchini pasta would be tasteless and we'd rather eat the real stuff and run 5 miles to burn it off. Well, we're here to humbly apologize to the zucchini noodles because we were totally wrong. So, so sorry zucchini, we should have believed in you more.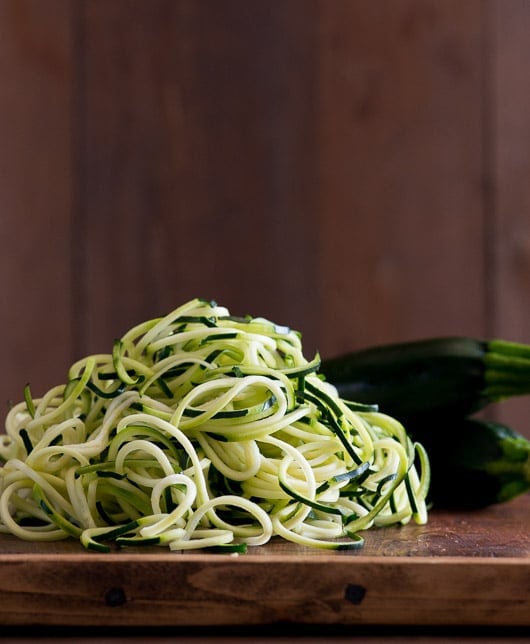 Our minds were blown when we were in Asheville for Food Blog Forum  a few weeks ago and for dinner at Corner Kitchen we had our very first plate of zucchini pasta. Our minds were blown. We're here to apologize again for waiting so long to explore the amazing world of zucchini noodles. And finally, we here to tell you that we're now totally and whole-heartedly addicted to zucchini noodles. What a complete 180 turn-around, right? That zoodle or zucchini pasta meal was so incredibly delicious, that we didn't even miss the pasta. We inhaled our zucchini noodles and couldn't believe how satisfying it was and how healthy it was. Two things that can't go wrong in a dish: delicious AND healthy. We felt full and satisfied, the same way we feel when we eat noodles or pasta. Except without the normally resulting food-coma. But best of all, it was totally healthier, lower calorie and gluten-free. What an amazing option to serve when we have gluten-free friends over! Again, we're zucchini noodle addicts and this zucchini noodle pad thai recipe is super satisfying when we're craving healthy Thai food.
As soon as we returned from Asheville, we went into the kitchen to research, explore, experiment and taste test our recipe for zucchini noodle pad thai. Here's what we were able to play with in the kitchen, along with one of the first recipes we made: "Zoodles" Zucchini Noodle Pad Thai!
Watch this Delicious Zoodle Pad Thai Recipe Video:
Here's what we made on our zucchini noodle play day:
We used this awesome Paderno vegetable spiral slicer to make the curly zucchini noodles or pasta: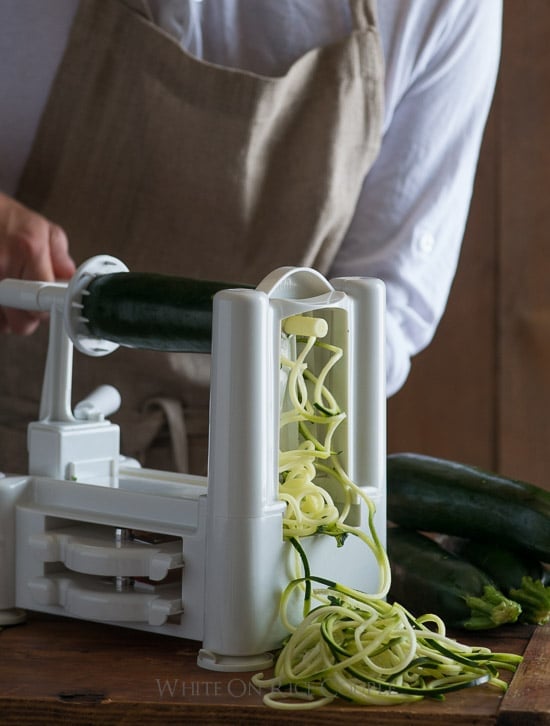 we love this vegetable slicer, especially for making bigger batches of zucchini noodles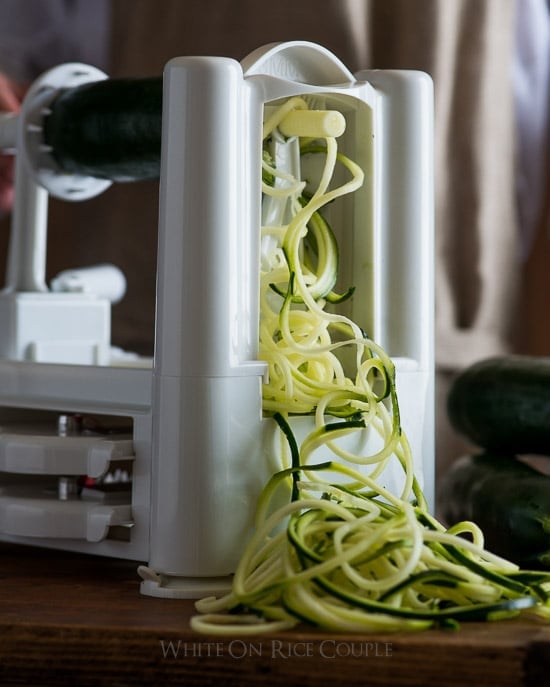 this spiral vegetable slicer, cuts up the zucchini super quick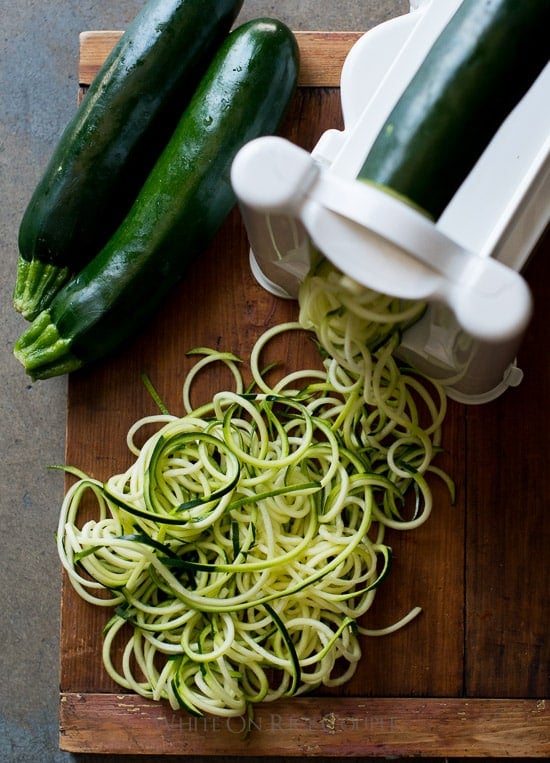 Our OXO vegetable peeler was equally awesome at making the noodles, without the curly look.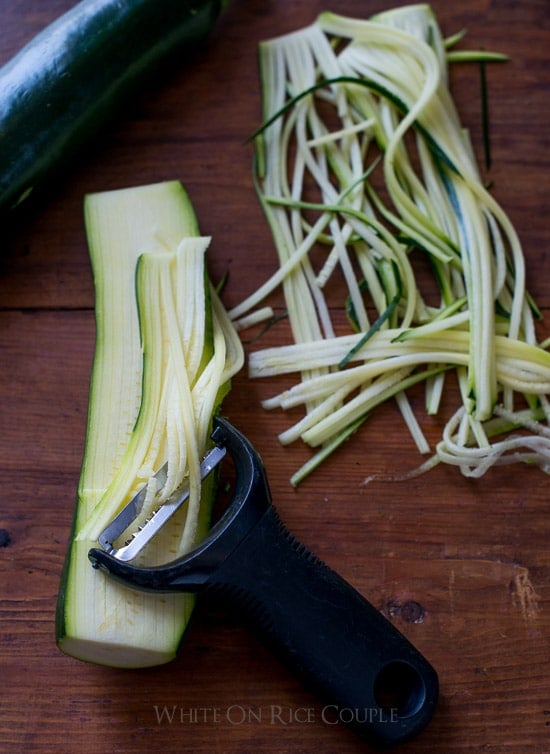 A Mandolin works great as well, but be safe. We used our safety gloves.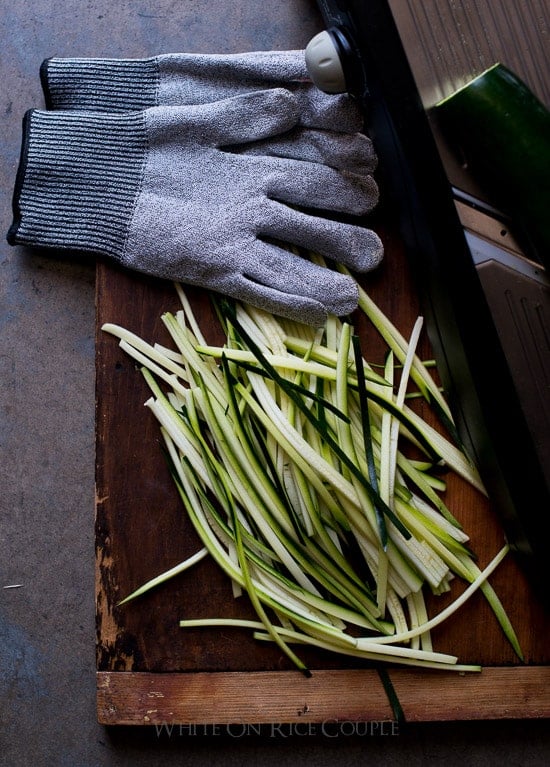 though a mandolin doesn't have the curls either, the zucchini cooks up great.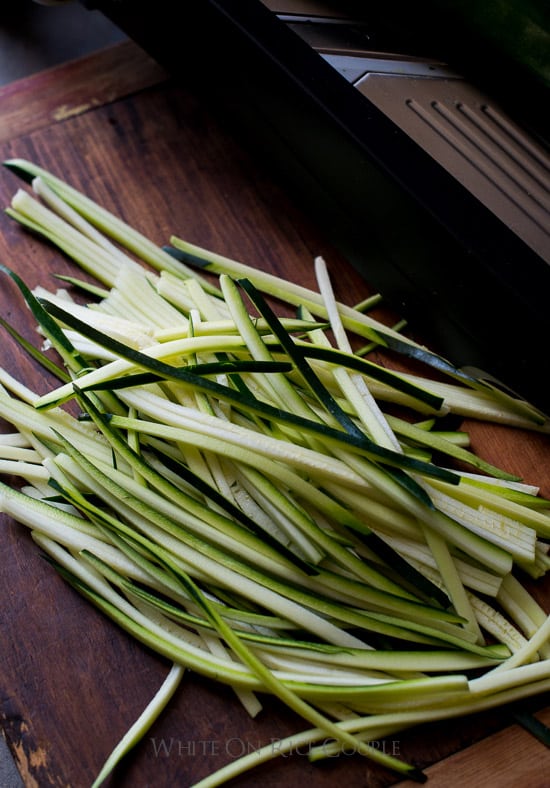 With 20 pounds of zucchini noodles in the kitchen, we cooked up the healthiest pad thai ever.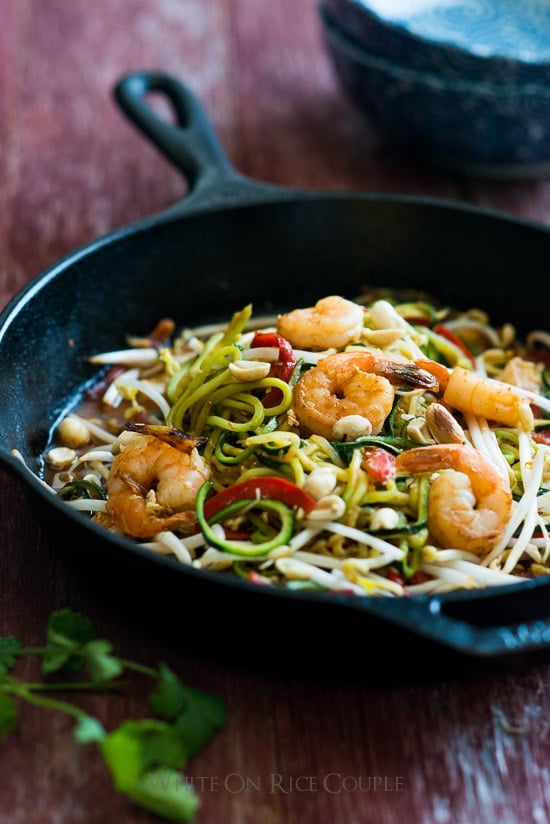 We didn't miss the regular noodles at all and the zucchini was fantastic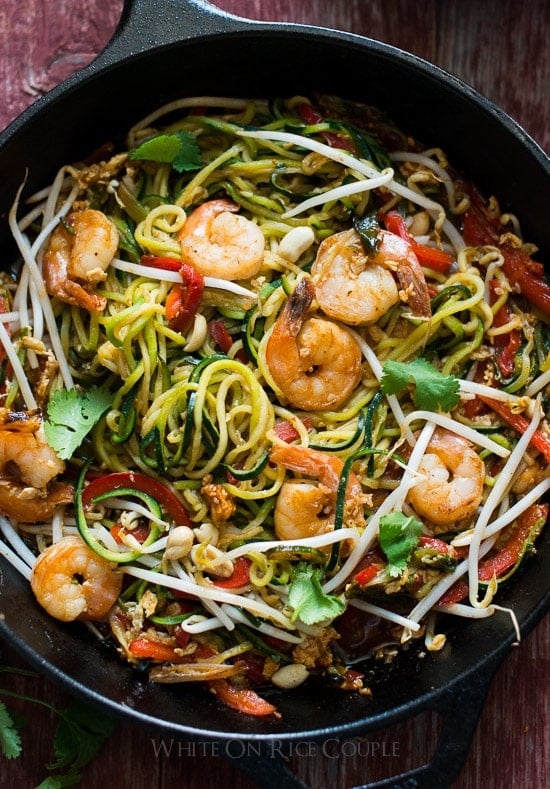 Can you tell? We're obsessed.
Enjoy,
diane and todd
Love Chow Mein noodles, but without the calories? Try our popular and Healthy Zucchini Noodle Chow Mein Recipe Here.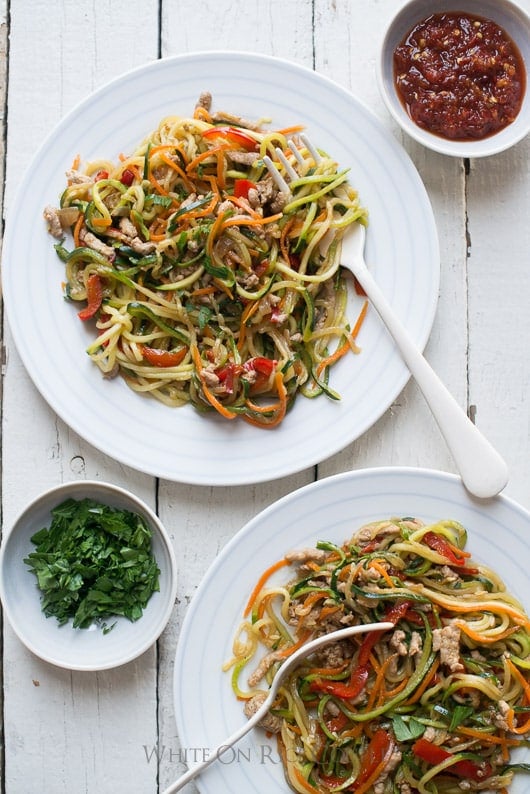 Turkey marinara with zucchini noodles hits the spot. Here's the recipe.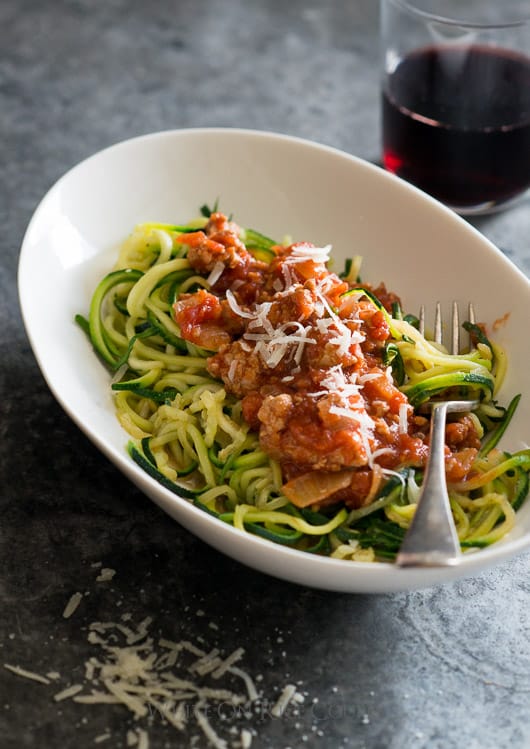 Zucchini Pad Thai Noodles "Zoodles"
Yield: Serves 2
Total Time: 30 Minutes
The best part about this Zucchini Pad Thai is that you can add what ever protein you want. We like to have our zucchini noodles a little on the crunchy side, so we like to cook the zucchini first, then let the water drain from the noodles before serving. The water that's reserved from the noodles won't water down any sauce or flavor in the zoodle recipe.
Ingredients:
for the zucchini noodle pad thai:
about 2 medium zucchini
2 Tablespoons (30ml) olive oil, divided
1/2 pound (225g) peeled and de-veined shrimp or what ever protein you prefer
3 large cloves garlic, minced or crushed
1/2 red bell pepper, seeded and sliced thin
3 green onions, sliced
1 large egg
about 2 cups (480ml) bean sprouts
1/3 cup (80ml) roasted peanuts
1/4 cup chopped cilantro (optional)
Few lime wedges for serving (optional)
for the sauce:
2 Tablespoons (30ml) rice vinegar or distilled white vinegar
2 Tablespoons (30ml) fish sauce or to taste
3 Tablespoons (45ml) ketchup
1 teaspoon (5ml) packed brown sugar
1/2 teaspoon cayenne pepper or 1 small red chili, sliced
1 teaspoon chili garlic sauce, or to taste
Directions:
Make the sauce: In a small bowl, combine the sauce ingredients (vinegar, fish sauce, ketchup, brown sugar, cayenne pepper, chili garlic sauce), then set aside.
Cut the zucchini into noodles or long pasta by using a vegetable spiralizer tool or tools mentioned in our post write up.
Heat a large pan on medium high heat. Add 1 Tablespoon olive oil (reserve the other half for later). Then add zucchini noodles and cook for 2-3 minutes or until the zucchini noodles are tender. Don't overcook the noodles. The zucchini noodles should be slightly crunchy with a tender bite. 
Let the noodles rest for about 3 minutes to allow as much moisture as possible to release. Remove the noodles from the pan and drain the excess water.
Carefully wipe the same pan to remove the excess water, and then re-heat the pan on medium high heat. Add the remaining olive oil and garlic. Cook the garlic until soft and translucent, about 30 seconds. Add the shrimp and cook until shrimp is tender and cooked through, about 3 minutes.
Add the bell peppers and green onions. Cook for about 1-2 minutes or until tender. Add the egg and stir in with the vegetable until the egg is cooked.
Add the zucchini noodles back into the same pan, then add the sauce. Cook for about 1 more minutes or until the zucchini noodles are heated through. Then stir in the bean sprouts.
Serve the warm zucchini pad thai noodles with roasted peanuts, cilantro, and lime wedges.
Hello! All images & content are copyright protected. Please do not use our images without prior permission and do not re-publish this recipe. Simply link back to this post for the recipe. Thank you.
Recipe Note for Salt: All recipes containing salt are based on kosher or sea salt amounts, not table salt. If using table salt, reduce the amount used to taste.
[ad]