Vegetarian Chili with Fresh Roasted Chilies- Memories from a Veg Head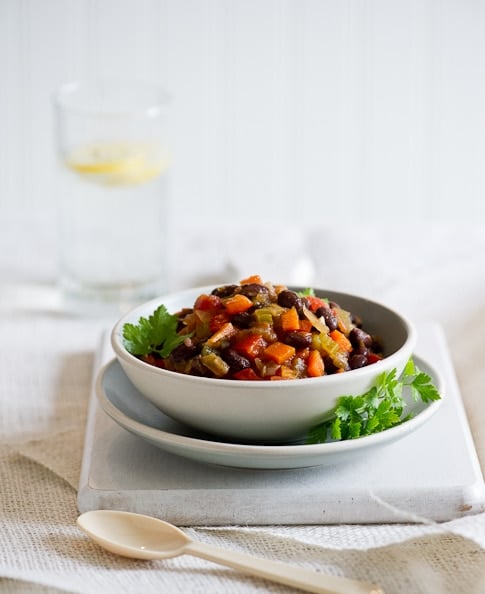 Memories from my vegetarian days were coming back and reminded me of my college years. In fact, my days of being vegetarian lasted till not long ago, 2008. For 19 years, I lived a meatless life where I nourished my days with vegetables, tofu, legumes and occasional dairy products. Then I stumbled upon what was called a "food blog" and I slowly started eating meat again, leaving behind my nearly two decades of eating meat free.
I've been missing those vegetarian days, where I was often called a "veg head" by my circle of carnivores and herbivores. It never bothered me one bit when I was surrounded by meat and my choice back in college to start being a vegetarian wasn't for political, social or religious reasons. I just didn't like eating meat any more. Vegetables, legumes and whole grains satisfied me and nourished me completely. I was a happy eater and that was all that mattered.
Recently I've been craving meatless dishes more often and turning to beans and tofu has put my body back in balance. An occasional meat dish is plentiful for me and I kept finding myself wanting to dive head first into a salad or brown rice bowl.
Recipes from my vegetarian past keep coming back to me and I always remember how much I loved and now miss eating a hearty bowl of chili. A rich collage of meaty beans, scents of cumin and garlic always brought a huge, hungry smile to my face.  My version of chili always had extra vegetables and a zest of fresh chili. I always love me some spice and if it's roasted or charred to bring out that earthy flavor, I'll have second or even third helping.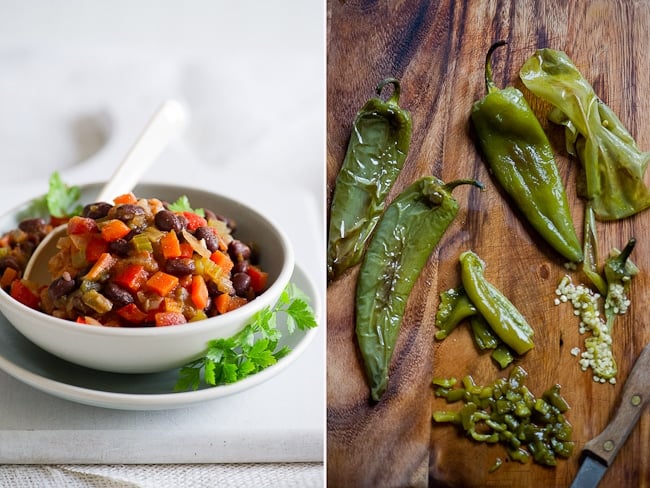 When it comes to making vegetarian chili, I always go the extra step to roasting fresh green chilies. The zest of spice and depth of roasted flavor always make my chili extra flavorful. I never, ever miss the meat part.
Sometimes chili recipes have more meat than beans, but in my case, I've replaced the meat with hearty vegetables and extra helpings of spice. Each bowl has a happy bite of vegetables, beans and flavor.  I love being nourished with my big bowl of veggies and beans and this dish always brings me back to my happy years as the "Veg Head".
Enjoy!
Diane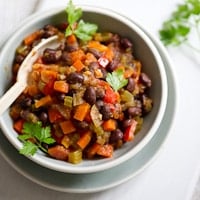 Print Recipe
Vegetarian Chili Recipe with Roasted Chiles
Beware! not all chilies are alike. Normally I use anaheim chiles, but their spice level varies. Proceed with caution and add the roasted chiles to your personal taste and spice level. Also, when handling chiles, try to use gloves.
Servings: 4 Servings
Ingredients
1 medium anaheim chili
15 oz canned red beans , drained and rinsed (or beans or choice)
1 large carrot , small dice, about 1/2 cup
2 stalks celery , cleaned & ends trimmed. Small dice, about 1/2 cup
1 red bell pepper , small dice, about 1 cup
1 small onion , minced, about 1 cup
2 large cloves garlic , finely minced
1 Tablespoon olive oil
2 teaspoons soy sauce
1 teaspoon ground cumin
1 teaspoon chili powder
1/2 cup crushed tomatoes
1 cup vegetable broth
Instructions
Preheat oven to 325°F. Wash chili pepper, pat dry all outside moisture. Rub with bit of olive oil to coat the chili pepper. Put on sheet pan and roast in oven for about 15 minutes, turning frequently for even roast. Roast chili pepper until the skin starts to bubble and char. Then remove pepper from oven and place in plastic bag for about 15 minutes. The steam will release the skin from the meat of the pepper. Remove skin and seeds, discard. Dice the chili pepper, set aside.

In heated medium saucepan, add olive oil until hot. Then add onions and garlic and cook until they are soft and fragrant. Then add carrots. Cook carrots for about 5 minutes or until slightly softened.

Add celery, red bell peppers and green chili. Cook for about 5 minutes or until soft.

Add beans, vegetable broth, crushed tomatoes, soy sauce, cumin and chili powder. Stir pot well and let simmer on low heat for about 10 minutes.

For best flavor, the chili tastes better the next day, once the beans absorbs all the spices.
We are a participant in the Amazon Services LLC Associates Program, an affiliate advertising program designed to provide a means for us to earn fees by linking to Amazon.com and affiliated sites.