Spring's Victory Garden! + Sautéed Soybean recipe
Gallery of the Spring Garden

Today is the first day of Spring! This morning we overheard the pups deep in conversation:
Dante: "Woo wo woo wooo." (translation) "Daddy says today it is officially Spring."
Sierra: "Snort, puff, snort?" (tr.) But I thought it's been spring for months now?"
Dante: "Woof woo woo!" (tr.) "But now it's official!"
Sierra: "Snort, grunt!" (tr.) "I don't get it! I've been nosing flowers for long time now!"
Dante: "Ear flap, woof wo wooo." (tr.) "No, it's not about the weather, it's about the earth's rotation."
Sierra: "Body shake, snort, snort?!" (tr.) "What's rotation? I thought everything revolved around me!"
The year has been flying by at breakneck speed and we've already reached the Spring Equinox.  Spring is officially here.  While many parts of the country, and world, are still getting snow (good for skiing, huh Jen!), we've been basking in warm 70° sunshine (good for growing.)  So for those of you who are ansy to put away the winter clothes, here's a glimpse of our springtime to help warm you up and let you think of the delightful times to come. Smell the sweet blossoms and feel the gentle warmth of the sunshine on your skin.   Ease back in your chair and hear the melodic tweets of the jovial birds. Spring is on it's way.
Cuddling in the warm weather and amongst our plethora of seedlings are the pesky rats. These critters have been attacking our soybean plants to no end. At one point, we thought the plants were big enough to hold their own again these thieves, but waking up to a plot of decapitated soybeans seedling proves that the rats love soybeans.
Well, we love our soybeans too and and can't wait for the plants to finally start bearing beans, if they get to that point at all. So until then, we had a sauteed soybean lunch today that was tasty and satisfying, with the hope of having our own fresh soybeans this summer. We're keeping our fingers crossed that the pests don't eat our grown soybeans before we do. Until then, thank goodness for Trader Joe's edamame!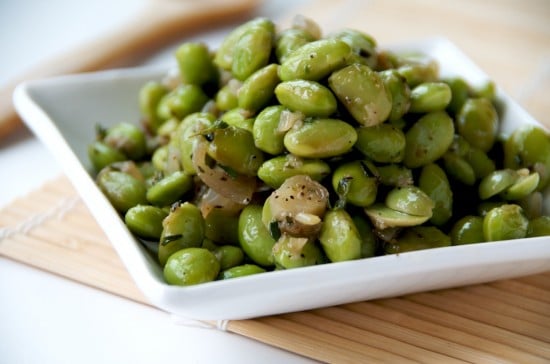 Sauteed Soybean/Edamame Recipe
Quick and easy, this side dish takes only about 10 minutes. Especially if you buy the pre-shelled soybeans.
Ingredients
2 Tablespoons (30ml) Olive Oil
3 Shallots , roughly diced
3 cloves Garlic , mashed or finely diced
1/2 lb. (225g) Soybeans (shelled, pre-cooked)
few sprigs Fresh Thyme , de-stemmed if preferred
fresh cracked Black Pepper
2 teaspoons (10ml) Soy Sauce
Directions
Over med. high heat, warm saute pan. Add olive oil, then after it warms, add shallots. After shallots soften (@2 minutes) lower heat to medium, add garlic and saute for another minute or two.

Add soybeans and thyme. Season with salt, pepper, and soy sauce, then continue to cook until soybeans are fully heated (@ 1 minute).

Serve warm or allow to cool and serve at room temp.
Did you make this recipe?
Let us know what you think!
Leave a Comment or share a photo on Instagram with the hashtag #whiteonricecouple.
We are a participant in the Amazon Services LLC Associates Program, an affiliate advertising program designed to provide a means for us to earn fees by linking to Amazon.com and affiliated sites.