Fudgy Chewy Pumpkin Swirl Brownies
Pumpkin swirl brownies are chewy, chocolate-y and perfect for this pumpkin season or any holiday season.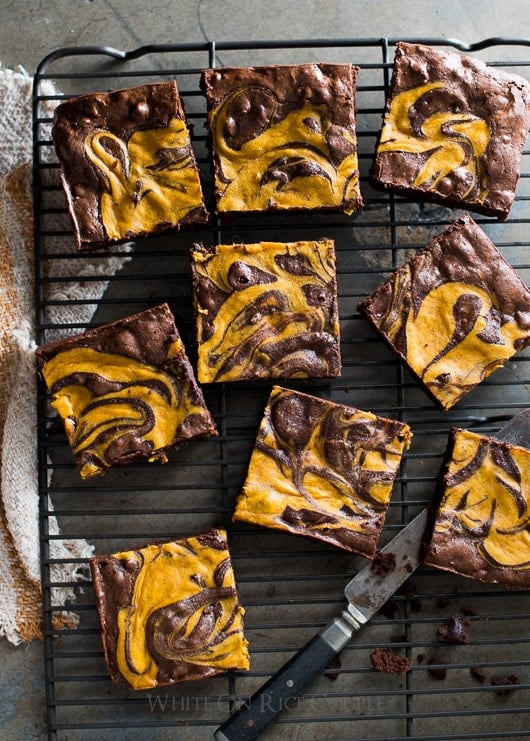 It's been at least three years since we decorated for Halloween. Back-in-the-day we used to drive up to Los Olivos and go apple picking. We never failed to pick way more apples than two people and two dogs could consume.  When it comes to wandering in a grove of apple trees, armed with huge picking bags, we're helpless. All we could ever do was to fill our bags to the brim and then figure out what we were going to do with the apples later.
Pumpkins were always second on our harvest list during our day-long apple picking excursions. The back of the truck would be filled with every type of crinkled, wart-looking and funky colored heirloom pumpkins you can imagine. Again, our second weakness. Give us an empty truck bed and we'll gladly fill it to the max with pumpkins.
Watch the Pumpkin Swirl Brownies being made. So easy and beautiful:
So it's been a while since we've harvested apples and pumpkins up in Los Olivos. We miss it and swore that this year, we'd get back to our October tradition. Though we still have two more weeks to fulfill this obligation, we've slightly accomplished a little bit of pumpkin decorating thanks to Trader Joe's.  They've got some seriously beautiful pumpkins, both traditional and heirloom, for about $6 a pumpkin. Not a bad price for a quick Fall decorating session for the front of the garage. We ended up buying 5 huge pumpkins and feel so great that we've actually accomplished a bit of Fall decor for the house. Perfect time to make these pumpkin swirl brownies.
In September we were on a brownie-making-kick. What started as a craving for brownies became an epic research and development week for homemade brownies. We were slightly obsessed with making a perfect batch of brownies that were both chewy AND fudgy, but with just enough variation for those to like their brownies more cake-y.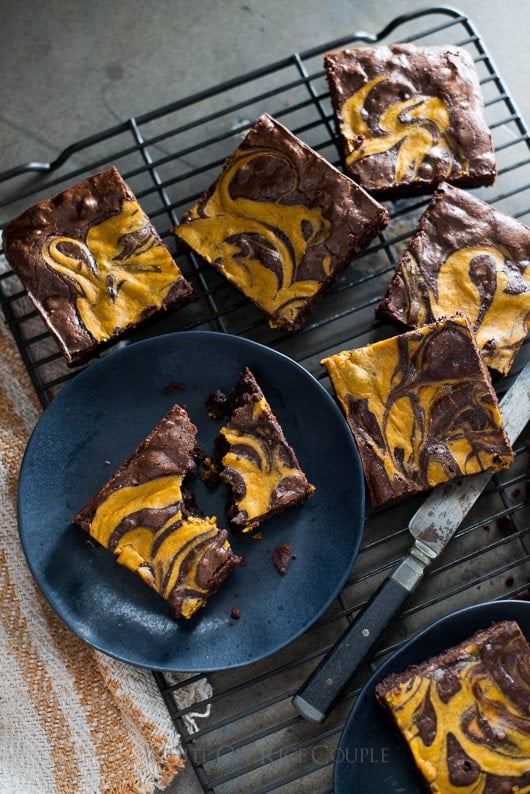 Geez, you should have seen our kitchen. After eating all we could, we still couldn't give away all the pumpkin swirl brownies fast enough. What we ended up making on the last day was this delicious pumpkin swirl brownies for the blog. We've been slow in getting to our regular recipe blogging regime and wanted to be good bloggers and catch up to some seasonal sweets. What we ended up with were multiple batches of these awesome pumpkin swirl brownies that's perfect for all the big and little kids in your family.
And guess what? These brownies aren't just for Fall. You can easily whip up a batch without the pumpkin swirl and you'll have a go-to brownie recipe for all occasions.
Happy October!
diane and todd
Heres some more great pumpkin recipes for pumpkin lovers.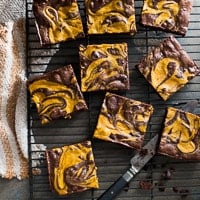 Fudgy-Chewy Pumpkin Swirl Brownies
If the cream cheese isn't softened enough, either briefly microwave it to soften (removed from the foil) or make sure to beat it smooth before adding to the pumpkin puree or else it won't blend together smoothly. If it ends up being clumpy after adding to the pumpkin puree (happened to us once when I didn't let it soften enough), you can press the mixture through a fine mesh strainer before adding it to the brownie batter and it will bake fine.
Ingredients
For the Pumpkin  Swirl:
2 ounces (57g) cream cheese , softened
1/4 cup (62g) canned pumpkin puree
1 Tablespoon (15g) sugar
1/4 teaspoon ground cinnamon
1/4 teaspoon ground nutmeg
For the Brownies:
1/2 cup (1 stick or 115g) butter , melted
3/4 cup (150g) granulated sugar
3/4 cup (65g) unsweetened cocoa powder
1/4 teaspoon kosher salt
1 teaspoon (5ml) vanilla extract
2 large eggs
1/2 cup (63g)  all-purpose flour
1 cup (6 ounces or 170g) chocolate chips
Directions
Pre-heat oven to 350°F. Line an 8" x 8" pan with aluminum foil and lightly grease.  Set aside.

Make the Pumpkin Swirl Mixture: Whisk together the pumpkin swirl ingredients *see headnote until smooth (cream cheese, pumpkin puree, egg, sugar, cinnamon, and nutmeg). Set aside.

Make the Brownie Batter: Combine the melted butter, sugar, cocoa powder, salt and vanilla. Stir until well combined (make sure the sugar gets fully dissolved). Don't worry, it will look a but gritty, but everything will smooth out once you add the eggs and flour. 

Stir in the eggs, one at a time. Mix together thoroughly (batter should look thick and shiny).

Stir in the flour until fully incorporated. Make sure to beat thoroughly (about 50 strokes if doing by hand) or else the butter may not emulsify completely and will separate during baking. Stir in the chocolate chips.

Pour into the prepared baking dish. Make sure to use a rubber spatula to scrape all the sides of the bowl.

Place big dollops of the pumpkin swirl over the brownie batter. Use a butter knife and cut through the pumpkin swirl and the batter, creating a marbled look.

Bake for 30-40 minutes or until a toothpick inserted into the middle comes out mostly clean (these brownies should be moist and fudgy - so the brownies should cling to the toothpick some. If the toothpick comes out dry, the brownie will be cakey and drier. We like our brownies fudgey, so when the toothpick comes out of the center with a few moist crumbs on it, then we know it's our perfect fudgey texture)

Allow the brownies to completely cool before lifting the brownies out of the pan. Cut into squares and enjoy!
Did you make this recipe?
Let us know what you think!
Leave a Comment or share a photo on Instagram with the hashtag #whiteonricecouple.
We are a participant in the Amazon Services LLC Associates Program, an affiliate advertising program designed to provide a means for us to earn fees by linking to Amazon.com and affiliated sites.