New Potato & Pea Salad from Melissa Clark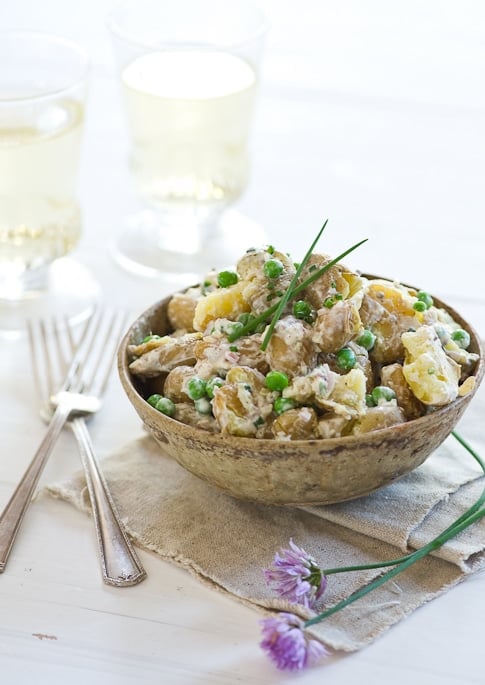 Potato and Pea Salad Recipe 
The end of Spring is fast approaching and we're enjoying sweet peas as often as we can until the last pod appears at the markets. With another Spring Fling event planned for this week, we were searching for some interesting pea recipes to share. Nothing really unique came to mind and our collection of cookbooks didn't have a recipe that really popped off the page either.
Then, as if someone was hearing our plea, Melissa Clark came to our rescue shared her recipe for Crushed New Potato and Pea Salad with Mustard Seed Dressing on Twitter. Gasp! The name of the recipe alone was a jubilation not only because it had peas in it, but the title embodied everything we were loving and craving.
Tender, baby new potatoes gently crushed with their skins still on with bright sweet pops of spring peas, all married together with lovely earthy toasted mustard seeds had us gasping for air. Just the thought of these three ingredients in a bowl together sounded magical and honestly, darn amazing.
New Potato Varieties
In her post, Melissa said it perfect about the dreamy texture and flavor of new potatoes: "New potatoes, with their gossamer thin skins and moist, almost nutty-tasting flesh, really are different – and better – than old potatoes. They have a rich, buttery flavor that doesn't need a lot of fat to bring it out."
If you have the opportunity to get your hands on new potatoes, you'll be in for a real treat, especially with this wonderful salad.
So thank you Melissa for saving the day. We made this salad our whole meal and enjoyed every single warm, flavorful bite.
For the this fabulous New Potato & Pea Salad recipe, please visit Melissa's website.
last of Spring Peas
tender potatoes and mustard seeds
[ad]
We are a participant in the Amazon Services LLC Associates Program, an affiliate advertising program designed to provide a means for us to earn fees by linking to Amazon.com and affiliated sites.