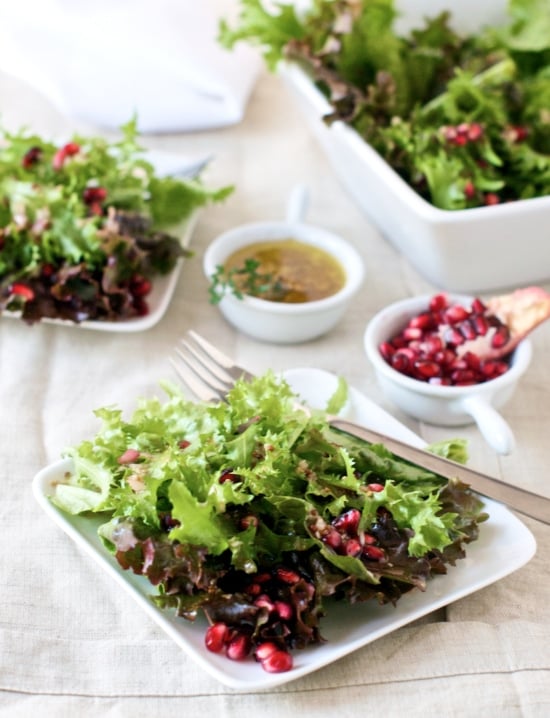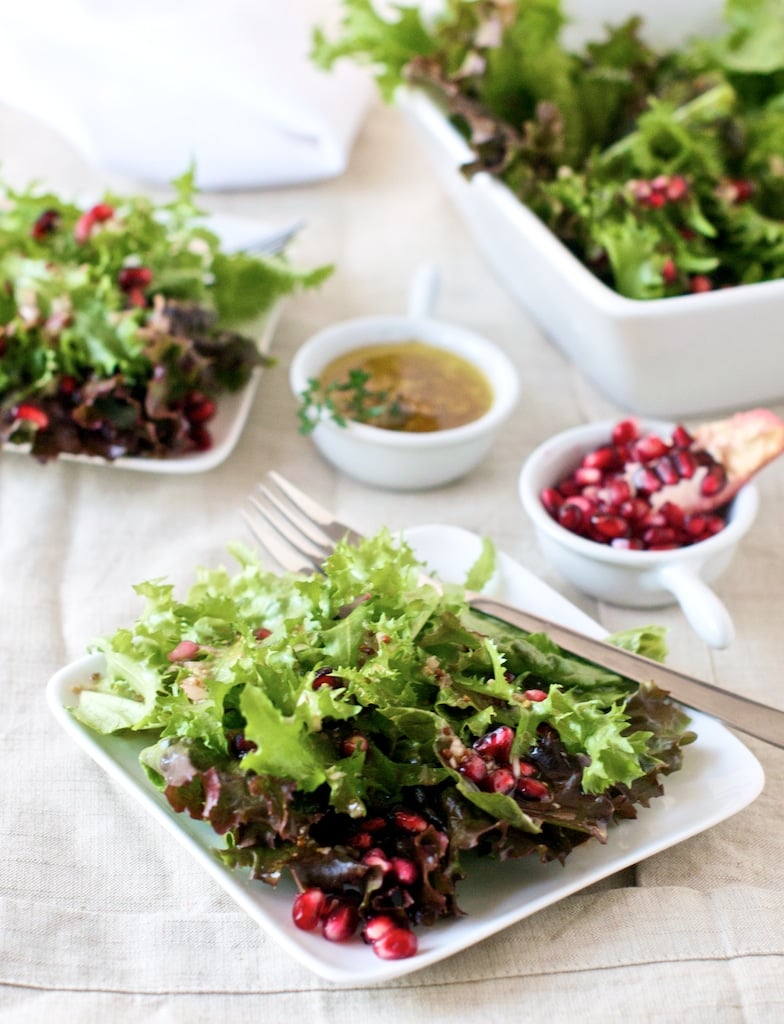 I have my little red seasonal joys, those tiny flavorful things that are plentiful this time of year—-pomegranate arils! These juicy, tangy, sour, sweet pops of flavor are such perfect accompaniments to salads. It's amazing how simple additions can change the whole dynamic of a salad. When my salads feel lost and lacking, I love adding fresh fruit for that missing piece of the puzzle. In Autumn and Winter, I feel so fortunate that our pomegranate trees dangle huge red orbs in our face, reminding us that pomegranates can be enjoyed in a bundle of frilly greens.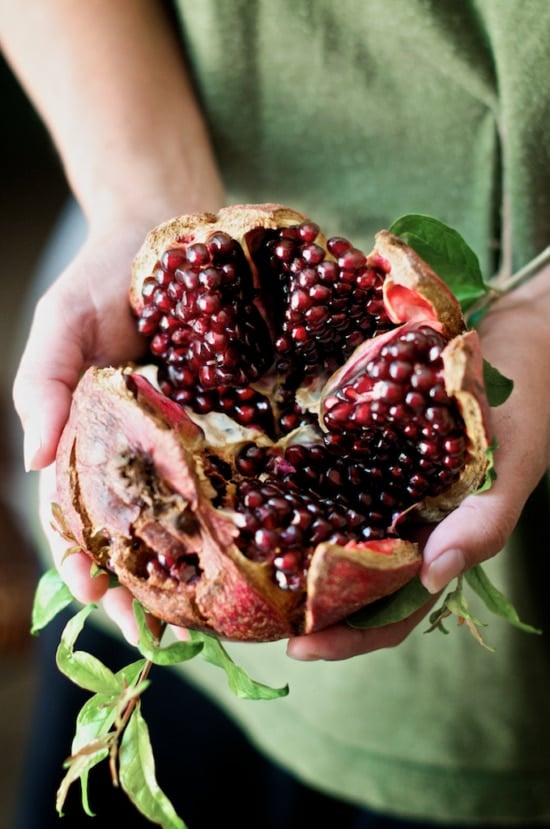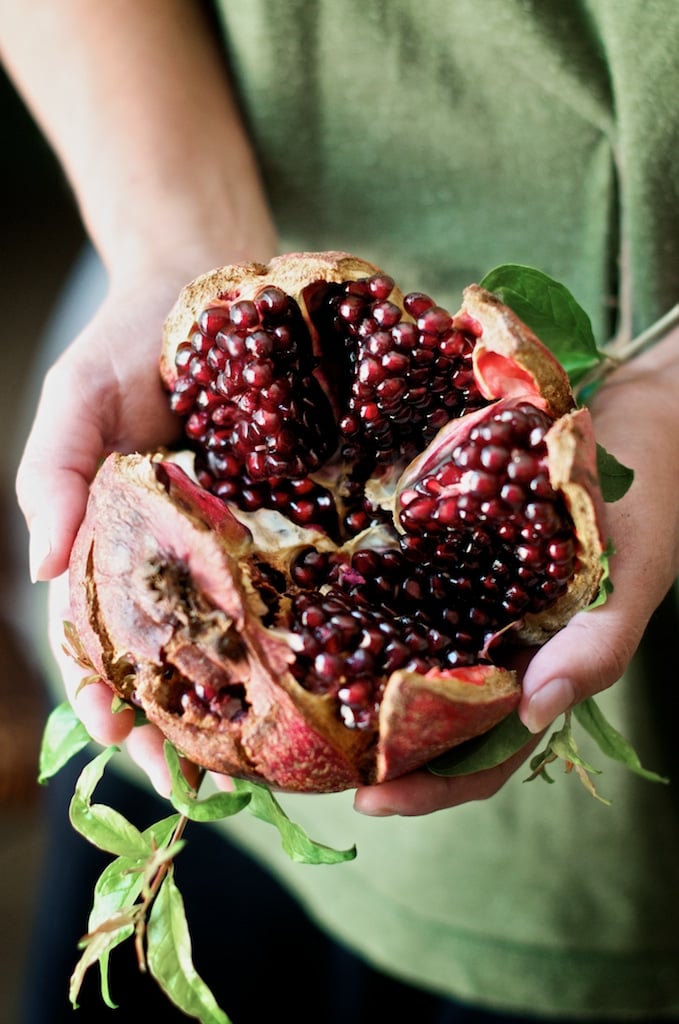 Gigantic garden pomegranate! "Almost" bigger than my head.
I've been seriously lacking in eating salads as of late and blame it all on oven cooking because it's so much more therapeutic to dig my face into a hot casserole on a cold day. Anyone with me on this? But after reading David's splendid post on How to Make French Vinaigrette, I'm reminded of two things: it's time to eat salad again and I've been butchering the classic the French Vinaigrette with my soy sauce. My apologies to fine Frenchman like Romain to set me straight.
My addiction to soy sauce as the savory/salty element to a dressing started at birth. My parents seasoned everything with fish sauce and soy sauce for umami depth to their cooking, so naturally, I evolved into the same type of cook: forget the salt, pass the soy sauce! I blame it all on Mom and Dad.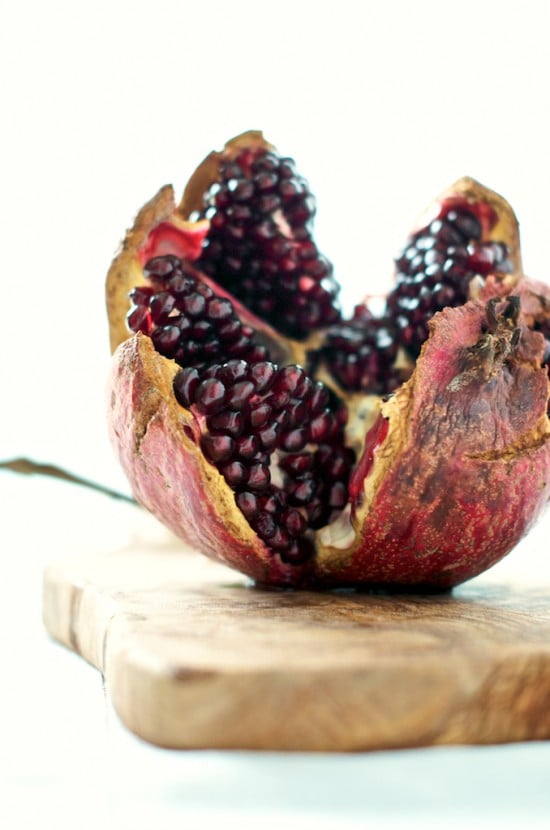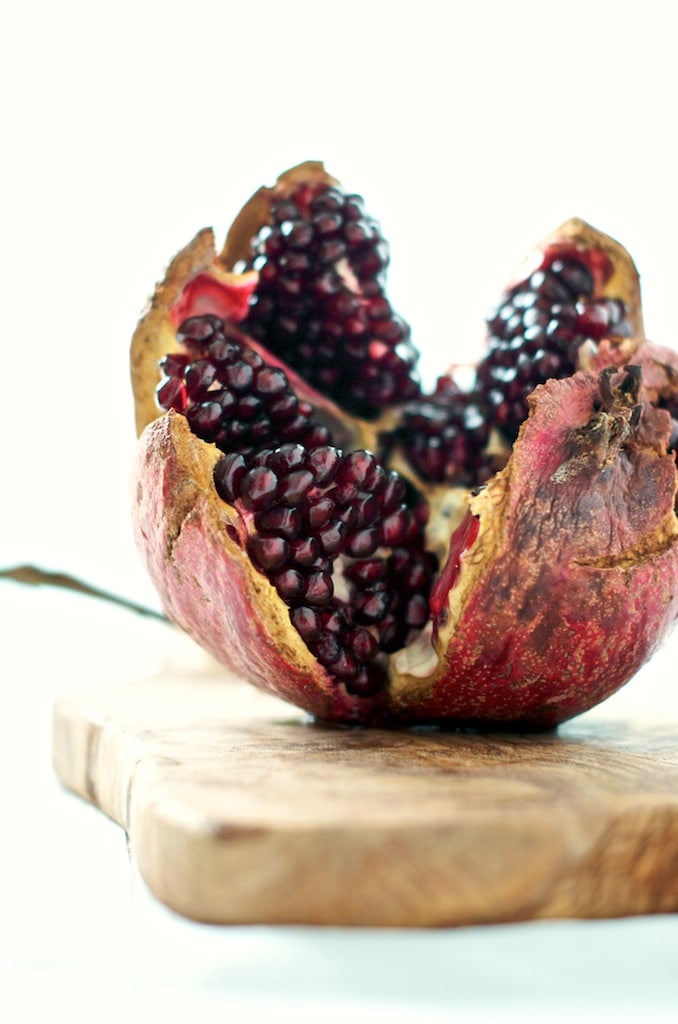 Juicy sweet tart pomegranate arils for pomegranate salad
Maybe I should just stop the blame and accept that fact that I do love making Romain and David's French vinaigrette recipe with soy sauce. I obviously can't call it a true French Vinaigrette anymore, but maybe I can still call it a Soy Vinaigrette? Or maybe Vinaigrette a la Soy Sauce? or Franco Asian Vinaigrette avec Soy Sauce? Regardless of what's it's called, I thank David & Romaine for teaching me how to make it right and maybe I'll let go of the soy sauce and reach for the salt someday.
The soy sauce adds lots of exceptional flavor to the dressing for me and this pomegranate salad adds the perfect fruity balance to the dressing. Salads that are loaded with flavor, delicate texture and simple ingredients are my favorite. Just simple, crisp, fresh lettuce and my pommy seeds make a fabulously seasonal pomegranate salad. Everyone that has ever had this pomegranate salad has walked away happy, satisfied and a even bit confused that they just had a French vinaigrette with soy sauce in it. Oh well, I'll get it right one day. Oui Oui!
Pommy happy,
-diane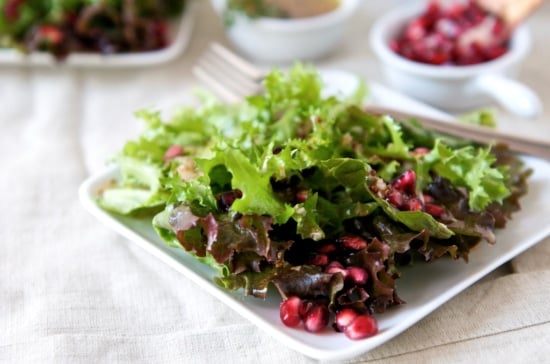 Pomegranate Salad Recipe with Soy Vinaigrette
Yield: Serves 2-3
Total Time: 5 Minutes
Adapted from David Lebovitz.
Try adding soy sauce to the dressing, it adds nice depth of flavor. But if you'd rather keep the vinaigrette more traditional, replace it with 1/8 teaspoon salt.
Ingredients:
about 1 head of lettuce, washed, drained, torn
about 1/2 cup pomegranate seeds (1 small pomegranate)
3/4 teaspoon soy sauce
1 1/2 tablespoon red wine vinegar
1/2 shallot, minced and peeled
1/2 teaspoon dijon mustard ( I also like to use whole grain mustard)
3 Tablespoons Olive oil
fresh thyme (optional) or other herbs
Directions:
In small bowl, whisk together all ingredients.
In large bowl, add lettuce. Add dressing to lettuce and gently toss. After plating the salad on individual plates, toss pomegranate arils on top.
Hello! All images & content are copyright protected. Please do not use our images without prior permission and do not re-publish this recipe. Simply link back to this post for the recipe. Thank you.
Recipe Note for Salt: All recipes containing salt are based on kosher or sea salt amounts, not table salt. If using table salt, reduce the amount used to taste.
More Pomegranate Recipes:
[ad]