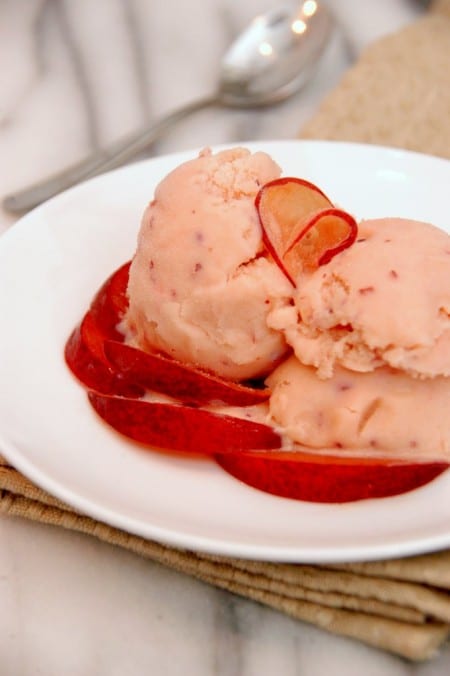 We've been dying to grow a plum tree. For quite some time now, whenever we stroll our garden, we look to see where there's enough space to squeeze in a plum tree. Maybe "squeezing in" might not be the best gardening technique, but when you're desperate, anxious and impatient gardeners like we are, anything will work. Until we figure out how to rearrange the garden (can this be possible?) to make room for our glorious plum tree, we'll have to continue drooling over all the plums that we find at the farmers market and road side fruit stands. So what type of plum would we grow? A Santa Rosa plum tree, of course! These incredibly sweet and juicy plums are our favorite and eating a Santa Rosa means protecting yourself with towel or napkin because the fleshy, juice laden fruit is bound to explode on your favorite shirt!
But our minds might just have changed since visiting a plum orchard in Fresno during our little road trip last week. This amazing orchard of stone fruits featured a new variety of plums called Red Beauty plums. The farmer informed us that this variety is now replacing our beloved Santa Rosa plums because Red Beautys (or Red Beautes) are heartier for shipping. Red Beautys are just as juicy and sweet as Santa Rosa's, but hold up to shipping better because of their firmer flesh. Could there be a replacement for our Santa Rosa's? Naw….nope….nada…..uh, uh…no way…could anything replace the sweet explosion of the Santa Rosa's. Well, after a taste test of the Red Beautys, we're hooked, but maybe not enough to be convinced that the Red Beautys are better, but they are still damn good! The flesh of Red Beautys are firmer, less perishable, but just as sweet and "almost" as juicy (we're still SR plum fans!)
Armed with two bag fulls of delicious Red Beauty plums from our trip, the timing is perfect for some summer gelato and for Mike's I scream, You scream event. This summer's is inspiring us to make gelato for this event. As most of you know, gelato is the Italian cousin to ice cream. Smoother and more rich, it is also, ironically, less fattening. Made with whole milk instead of cream or half and half, but with just a bit more egg, it develops it's incredible texture by incorporating less air into the custard. Another bikini factor (or speedo? Sorry, hell no!) is that you are usually satisfied with much smaller portions due to the richness.
Plum and what? That was the question we posed to ourselves. What could we add to the plums to make the gelato special, but not interfere with or overwhelm the flavor of the plums? After all, they are ingredient we wanted to highlight the most in the gelato. Upon searching the cabinets, we found a bottle of semi-dry Muscat wine and we knew we had a "Winner! Winner! Chicken Dinner!" (We watch too much Sportcenter!) Feeling experimental, we crafted two different batches. One by poaching the plums in the wine, the other by using only the raw ingredients blended into the custard. Both were tasty, the first taking on the distinct qualities of poached plums, the latter having the fresher and brighter flavors of the plums and muscat. Personally we liked the latter better, but if you are a big poached fruit fan, that version is quite tasty. We aren't 100% happy with the texture yet on either. Coming off the ice cream maker, they are perfect, but after a night in the freezer and solidifying more, it's a touch icy. It may be from the blending, and we are going to try again with a more gentle mixing process, or maybe from too much wine. As is, the recipe is 90% there and well worth the time to try it. We are going to have to pick up some more plums to finish our research.
There is a reason almost every gelataria also has an espresso maker. Nothing goes better together on a hot afternoon like a well-made espresso and your favorite gelato. The intense contrasts of the bitter and the sweet. Hot and cold. We are salivating just thinking about it. BTW, if you are ever in the Los Angeles area, stop by Pazzo Gelato in Silverlake. Their gelato is incredible and the espressos are damn good, too!
Plum and Muscat Gelato Recipe
This recipe was based off of a Grape Gelato w/ Saba recipe in Gelato! by Pamela Sheldon Johns. We did two variations, one poaching the plums in the wine, the other leaving the wine and plums uncooked. We liked the latter version better, so that is the recipe here, but if you want to try the poached version, cook the ingredients in Step 1 for 20-25 minutes or until the plums are tender and the mixture has thickened a bit. Set it aside to cool, blend in a blender or food processor, then combine it with the custard as directed in the following recipe. We aren't 100% happy with the texture after it freezes overnight in the freezer, but it is perfect when it first comes out of the ice cream maker. As we perfect the recipe, we will update it for you. In the meantime, this recipe is still very good and worth the time to make.
Plum and Muscat Gelato Recipe
Ingredients:
2 lbs Plums (@ 8 plums)
1 c Semi-dry Muscat Wine
3/4 c Sugar
3 c Whole Milk
pinch of salt
6 Egg Yolks
Directions:
Cut plums into pieces, then put in a blender or food processor. Add muscat and 1/4 c of the sugar. Blend together well, then place in fridge until needed.
In a saucepan, combine milk and salt. Over medium heat, cook until bubbles begin to form around the edges.
In a blender or food processor, beat the remaining 1/2 c of sugar and the egg yolks until the mixture has thickened. With the machine running on it's slowest speed, gradually add the hot milk. Return the mixture to the saucepan and continue to cook while stirring constantly over medium heat for 6-8 minutes, or until custard coats the back of a spoon. Remove from heat and place in an ice bath and stir for at least 2 minutes. Cover and refrigerate for at least 2 hours, but preferably overnight.
Combine the chilled custard and the plum mixture in a blender or food processor (we are going to try mixing by hand next time. It may come out better), then transfer to an ice cream maker and freeze according to the manufacturers directions.
Hello! All images & content are copyright protected. Please do not use our images without prior permission and do not re-publish this recipe. Simply link back to this post for the recipe. Thank you.
Recipe Note for Salt: All recipes containing salt are based on kosher or sea salt amounts, not table salt. If using table salt, reduce the amount used to taste.
Serve with a nice espresso or a glass of the muscat.
Making this gelato was a delicious experience and we're submitting our gelato to Mikefor his You Scream, I Scream, We all Scream for Frozen Desserts event. Tis the season to make a cool desserts for the sweltering summer heat! It's a great event and here's Mike's call out to everyone: "So I'm calling on you, fellow food bloggers, to put your creativity towards cooling off with something sweet this summer. Create some delicious, summery frozen desserts–whether they be ice creams, gelatos, sorbets, granitas, frozen mousses, frozen yogurts, kulfis, etc–and send them in!".
More dessert dishes that you might enjoy:
Grilled white peaches w/honey balsamic glaze and homemade creme fraiche
Silky chocolate whiskey tangerine pie
Mangoes and rum cream
Puff pastry diamonds
[ad]